THE ERA O F THE STATION WAGON
Original story (1980) by SAL DE FRANCESCO
Edited to the site, pictures shown here are from the original news letter. (2016) by FRANK NATHANSON
Possibly the first Dodge station wagon, this model was offered about 1918.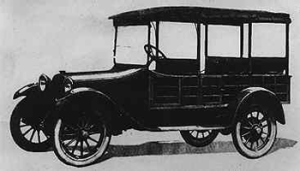 It was made by Martin in York, Pennsylvania,
who called it the Park Auto Body
The railroad was a fitting background for this 1935 Dodge Westchester.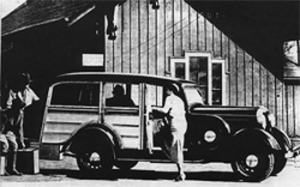 Today, when someone wants to do some light moving, carry some large objects like a bureau, T. V. or maybe a sofa, the first vehicle they look for is a hatch back. After they get the hatch back, the next question is, does it fit? No? Oh well, who do you know owns a station wagon? This is what happens today. The smaller hatch backs have taken over most of the smaller hauling jobs from the larger station wagons. Yet only 45 years ago all the station wagons you wanted were being made. The mid 50's was the era of station wagons. Everywhere you looked there was a station wagon.
Station wagons have been around for quite a number of years. In fact even in the early days of motoring. In the early days they were known as a Depot Hack, and a fruit and vegetable merchant had what was called a Huckster wagon. Eventually they were also known as 'Estate Wagon' and 'Suburban' in the more wealthier upper class. 1918 is said to be the year when station wagons were first built, and know a station wagons. They were Dodge Brothers chassis with a Martin-Body mounted. The body came from York Penn., Martin Truck and Body Corp. being the name of the company. That's where they were assembled after receiving the chassis from the Dodge Brothers. In 1915 a Ford had its first wood body built by J. T. Cantrell and Co. of Huntington, NY. It was called a Depot Wagon and said to be the first of its kind. The Cantrell Company later became well known as one of the major body builders for Dodge. As these wood bodies got popular, many other companies got into building them. Many stating the usefulness of such type bodies. Outing, picnics, hotels, schools, and small bus for sight seeing or picking up, and dropping off travelers at railroad stations. Another rowing use for these vehicles, was its ability to carry materials, other than people in its body area.
This was just right for the New York City area at that time, I'm still referring to 1915, because the area around N. Y. C was still rural, and a utility vehicles of this type was very convenient transportation. This was also convenient for the Cantrell Co. because of their Huntington, Long Island, N.Y. location. The 20's saw a number of auto makers using the Cantrell bodies. Essex and Studebaker were added to their list, alongside ford and Dodge. Some of the other body companies were the Cotton Body Company of Concord, New Hampshire who built bodies for Maxwell
The1923 Dodge Cantrell Suburban.
The Cotton Bod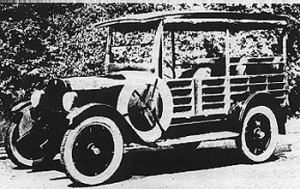 Company mounted its Beverly Suburban on a 1924 Maxwell chassis. The picture, copied from an original trade journal, shows an unusual "A" pillar, cowl covered with imitation leather, and a front seat back owner than the others. Waterloo Body Corp. of Waterloo, NY who also built bodies for Dodge. Waterloo's first wood body was a Suburban for a 1922 Ford Model T. The Dodge version was commercial chassis. Most of these 'Depot Wagons', 'Station Wagons' were being produced on commercial chassis. In fact, all the auto makers that produced them, at that time, also had a truck division. This was the wagon chassis until 1938, when Dodge had the wood bodies built on passenger car chassis. By this time Dodge also had a look alike producing wagons. Plymouth had been utilizing the same Westchester bodies built by U.S. Body and Forging Company, Tell City, Indiana, that Dodge was using. In fact, Plymouth's first wood body was in 1934, it was put on a modified passenger chassis, classifying it as a commercial vehicle.
It seems like I jumped a number of years in this short history. Getting back to the 20's, Ford and Dodge were the 2 main chassis producers for wooden bodies. In those years many changes, and innovations were made to the bodies. Side curtains gave way to safety glass, which were fixed position, slide opening or drop action. Seats got more comfortable, they were padded thicker than their predecessors bench seats. Heat was even introduced to these vehicles, now that they had glass enclosed bodies. They were more comfortable, and now were starting to look a little like the family car. .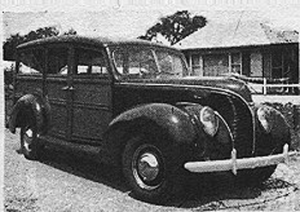 1938 Ford (Woodie) Station Wagon
Below is the front view of all the station wagons in this.

Star Cars, an automobile company founded by Wm. C. Durant in 1922. This was Daurant's try for the light car field. In 1923 they had what is considered the first production station wagons. Meaning, they were built within the Star Car factories. The Star-Car name lasted till 1928

| | | |
| --- | --- | --- |
| Star wagon 1923 | Chevrolet Screenside Canopy express 1933 | Ford Station Wagon 1929 |
As the years passed, and the station wagon was slowly being accepted, the major auto makers decided to incorporate the wagon into their line up. But it was still a commercial vehicle. Ford in 1929 advertised a station wagon which was sold as a commercial vehicle. The wood working was still being sent to other body builders. Yet it was a good year for them. Ford lists 5,251 of those station wagons for that year.
I n 1934, General Motors Cars were offering the first production all-steel turret top for their complete 1935 line up of models in all five divisions. Chevrolet had an all- steel station wagon body. It was built on the chassis of a panel delivery truck. It didn't catch on. The all-steel body will gave to wait fourteen years before it would be accepted by the people.
In 1940, when Oldsmobile offered 'Hydramatic' automatic transmission as an option, station wagons accounted for less than 1% of the total motor vehicles in the country. In the late 30′ the station wagon body was finally being put on the auto-mobile chassis. So, as the 40's came in, the wagon was being produced by a number of auto makers. It had finally been accepted as a multi purpose utility vehicle by the public.

The 1942 bodies were getting a little larger, and body doors were getting curves in them. To help enclose the disappearing running boards. At this time, of the Chrysler cars, Plymouth was the most dominant in wagons. In the General Motors camp, 4 of the 5 companies were producing station wagons. LaSalle had disappeared in 1940, making the G. M. C. group number 5 instead of 6. Chevrolet had 2 wagons in 1940, a Master 85, and Special DeLuxe. Only 411 of the Masters, and 2126 of the Specials were sold. In 1942, when civilian production stopped, 1057 Chevy wagons had been built. Pontiac's highest priced car in 1940, and 1941 was the Custom Torpedo station wagon. Its price was $1250. in 1942 they had 2 Woodie bodies, one on a Standard, and the other was Chieftain. Buick in 1940 had an Estate wagon, and Oldsmobile had a Series 60 wagon.

Find a 1941 Buick Special Estate Wagon, and you'll have one of only 838 ever built for domestic sales.


First Mercury wagon came out in 1941, had wooden top and body.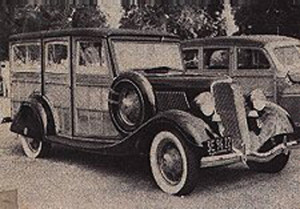 1933 Ford
It was capable of carrying 8 people, was also the heaviest Mercury, weighing in at 3,408 pounds. Style wise, it was built like the Ford. Of the independent companies, Nash, Packard and Studebaker, in 1940 only Packard had wagons. These are known to be great looking cars. A very sought after collector car.
PART 2
World War II came, and auto production stopped, all the auto manufacturers went into military production, which helped the U.S. overpower the Axis countries. The war ended in 1945. So the 1946 models were the first autos introduced to an auto starved country. The 1942 models were 4 years old already. The 1946 cars were warmed over 1942's, yet the public wanted them, and they sold, even if it was a half production year. 1947 models were very similar to the 1946's. Of interest in 1946 was the Town and country Hardtop which Chrysler built. They built only seven of them along with 100 town and country sedan. These were automobiles with wood bodies, but definitely not wagons. They also produced convertibles till 1948. Chrysler was not alone with the Woodie convertible, Ford had a sportsman convertible, and was joined by Mercury with a similar sportsman convertible. Mercury only built the sportsman in 1946, whereas Ford continued into 1947 and 1948.
Beautiful 1948 Ford Super Deluxe Sportsman convertible.

1949 showed up as a turning point for the station wagon. Plymouth introduced the Suburban, an all-steel bodied station wagon. This was quite a time after the 1935 Chevy all-steel wagon. But this time it caught on. In 1950 many other companies were making steel wagons, and sure enough, in 1951 all manufacturers were building wagons with complete steel bodies. Pontiac, and Oldsmobile also built an all-steel wagon in 1949. Yet because of price, the Plymouth was more popular.
1949 Plymouth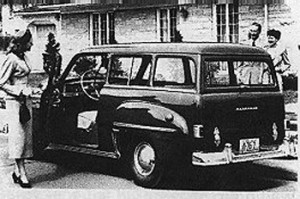 In 1947 a new automobile was introduced to the American people. It was really 2 autos, Kaiser and Frazer. In 1949 Kaizer had a Deluxe Vagabond. It was known as the Traveler /Vagabond Utility Car. A standard sedan with a double-door hatch cut into the rear section, and a fold down rear seat. This was probably the first authentic hatch-back. As the wood bodies disappeared in the early fifties, the wagons got bigger, as did the standard line up of cars. The next big change in wagons came in 1955, when Chevrolet came out with a wagon called Bel Air Nomad. It was a blending of a hardtop and wagon. It turned out to be a beautiful station wagon like nothing else before it. many of them are still around today, also the '56 and '57 Nomads. Production figures were high, 1955 gave us 8530, 1956 almost as high with 8103.
Nomads first made their appearance in 1955 as a specialty series in the Bel-Air line. They were an immediate hit despite a relatively high price tag.

In 1957 they had 6534. With those figures, that's the reason you can still pick up one today. Many are in the hands of collectors at this time, still some are advertised for sale by individuals at nominal prices. Pontiac in 1955 also had a hardtop-styled Safari 2-door wagon. It was based on the Chevy Nomad, and was built like that till 1957. They were priced higher than the Chevy Nomad. Consequently less were sold, A total of 9094 for the three years, 1955 to 1957 compared to Chevys's 23,167 total for the same years. It makes them more sought after and a real collector car.
These mid fifties station wagons were getting quite a number of owners. Many people were moving out of the city into the suburbs. The wagon was ideal for hauling, busing and camping. Many auto companies built them, some 2-door, some 4-door, some had six cylinders and some had eight cylinders. These were the station wagon years. It's now 1957. Fourteen manufacturers are producing station wagons. Ford, Chevrolet, Plymouth, Mercury, Buick, Oldsmobile, Rambler, Studebaker, Chrysler, Dodge, Pontiac, Willys, DeSoto and Packard. These are only auto manufacturers, there were also a few truck companies that produced them. I'm not going to mention the trucks at all. That's another area, and I'm not familiar with it. Here now, I've only listed 14 companies, yet these companies had a number of station wagon models they produced. They competed with each other as to size, roominess and also style. A few of these companies don't exist anymore, but their autos are still with us. Will start our 1957 breakdown with the DeSoto, which stopped production in 1961.
For 1957 DeSoto had four new exciting station wagons in two great series, the Fireflite and Firesweep. The Eireflite 4-door station wagon had the Fireflite Explorer and Firesweep Shopper, while the Firesweep 4-door S W had the Firesweep Explorer & Firesweep Shopper. The basic difference was in the engine and transmission. Fireflite had a 341 cu. in., 4 barrel carb. with standard equipment torque-flite 3 speed automatic transmission. With the Firesweep also having a V8 engine with a 325 cu. in. displacement, and a 2-barrel carb. A 3 speed manual transmission was standard equipment. The Explorer of the 2 series, sported a rear facing third seat. The Shopper without the third seat, had more cargo space. Fireflite featured new triple range push-button drive selector for it's torque-flite transmission. These were long and low wagons, as were most of the Chrysler line.
Chrysler had 2 models, Windsor Town and Country, and New Yorker Town, and Country. The difference between the 2 were again engine and transmission. The Windsor had a spitfire, 354 cu. in. V8 engine. Transmission being manual, 3 forward 1 reverse. Torque-flite was available as an option. The New Yorker sported a firepower V8, displacing a 392 cu. in. engine and it's transmission was the automatic torque-flite with push button control.
When we talk about Dodge in 1957, we see them list 5 station wagons. Custom Sierra 4-dr. was available in 9-pass., with rear facing 'spectator' seat or in 6-pass. with conventional seating. Then they had the Sierra 4-dr. which was listed the same as the Custom Sierra, 9-pass. and 6-pass. Both had a 325 cu. in. engine as standard equipment, the Custom had more power with a 4-barrel carb. The fifth Dodge model was the Suburban Station Wagon. A 2-dr. 6-pass. wagon that carried the same engine as the others, but less power. As for the transmissions, the Torque-flite was optional on all V8 models. These 5 models came with a fully automatic 2 speed transmission with torque converter. Dodge also had the torque-flite panel on the dash board. This was the age of push buttons.

Some 1957 Station Wagons

Part 3

Suddenly, it's 1960. This was the way Plymouth started advertising for 1957. They came in with 4 station wagons for this year. The Suburban line as it was called consisted of the sport suburban 4-door V8 or 6 cyl. (passenger or 6 passenger). The Custom Suburban 4-door V8 or 6 cyl. (9 passenger or 6 passenger). Custom Suburban 2-door V8 or 6 cyl. The "suddenly, it's 1960" campaign was good for Plymouth. They had for the new year, new double-header lights. New pushbutton transmission control. New Torsion- Aire ride that absorbed the bumps before they reach the car's frame. Revolutionary new flite-sweep styling. All this added to a great year for Plymouth.
Ford had 5 brand-new wagons-with Ford's exciting low look. The 9 passenger country sedan 4-door with it's long and lower body has plenty of room for nine big all-Americans. The 2-door Ranch wagon, a budget priced beauty with plenty of room for six huskies or a full load of cargo. They also had a 6 passenger county sedan which gave a spacious cargo deck of nearly 9′ by 5′ with the stowaway seat tucked away tailgate down. The Del Rio Ranch wagon, a stylish work and playtime partner for six big people or unlimited cargo. The last of the 5 is a 9 passenger Country Squire. A very distinguished station wagon. It retained a look of wood with the simulated decal on it's sides. The basic engine used in all five models is the 212 HP Thunderbird 292 V8. They also had a 6cyl., the 144 HP mileage maker six. Ford-o-matic, overdrive or conventional transmission were available with any engine. Ford station wagons accounted for 321,170 of Fords sold in 1957. It brought the Fords almost in first place with a total 1,522,406 units. Chevy still held on to first place with just 130 more cars sold.
Mercury, 1957 dream car design had 6 models in their station wagon line. They listed them like this. Commuter 2-door 6 pass., Commuter 4-door 6 pass., Commuter 4-door also came with a 9 passenger. Voyager 2-door 6 pass., Voyager 4-door 9 pass., Colony Park 4-door 9 pass. The Colony Park was made with the simulated wood paneling. Safety-surge engine with 255 horsepower 312 cu. in. was standard on station wagons. As for transmissions, here again it was a choice. It could be a Merc-o-matic drive or conventional transmission. Mercury also had keyboard control, push button gear selection.
So far I've listed six auto makers and the station wagons they produced. I count 26 different variants, and if it stays this way, by the time I go through fourteen, I'm sure it will easily go over 50 variants. That's quite a lot of station wagons, and another point to remember is I'm only listing 1957. Those other 1950 years had quite a line up of wagons. Let me get back to the list and see how many I do come up with. No doubt, I'll still miss a few. I'll start here with Chevrolet. It was one of the most popular makes of station wagons. With two years already behind it, the Nomad was still a very hot item in 1957. It was listed as the Bel Air Nomad 2-door 6 passenger station wagon. A Bel Air Townsman 4-door 6 pass., was another model which also came in a 4-door 9 pass. version.
The 'Two-ten' series carried # 3 different wagons. A Beauville 4-door 9 pass., a Townsman 4-door 6 pass., and the Handyman 2-door 6 passenger. The last of the line was the 'One-fifty' Handyman 2-door 6 passenger. The engines on these cars were basically the same as they were since 1955. That's when Chevy came out with a V8 which had a displacement of 265 cu. in. This engine has quite a history of it's own. That's the engine you would find in the Chevy wagons. They still had the old reliable Chevy 6. Here again, along with engines and transmissions, the combos were numerous. The power-glide automatic was a popular option, and priced less than $200. It was a smooth running transmission, and it was used in the complete Chevy line. They also had manual transmissions for those who preferred it. Here's a little bit of information for those who care. The basic price for the Chevy Nomad was $2857.00. Not bad for an auto which became a very much sought after collector car.
Another sought after collector car is the Pontiac Star Chief Custom Safari 2-door 6 passenger wagon. It was Pontiac's answer to Chevy's Nomad. There were four more in the Pontiac line up for 1957. Super Chief Safari 4-door, Chieftain Safari 2-door, Chieftain Safari 4-door, and one more which was introduced later in the year, Star Chief Custom 4-door Safari. The ultimate in luxurious convenience! 'Styled To Stand Out. . . Powered to step out. This magnificent new Safari-a custom creation inside and out-is powered by Pontiac's barrel-chested strato-streak V8 with its 347 cubic inch displacement 10.0 to 1 compression ratio. From its reclining lounge type seat to its gleaming chrome luggage rack. Here is the last word in high fashion teamed with the ultra-convenience of the big stationwagon style.' That was an example of the type of copy. that was written for these wagons. They were definitely part of the auto scene.
Part 4

Oldsmobile and Buick were the other GM cars that put out wagons. Cadillac didn't produce any, there were special body shops which used to convert the Cadillac chassis to special station wagon styles. These were not production runs, many only one of a kind. Finding one of them, and latching onto it would be a great feat. They were collector cars as soon as they were built. Buick offered a wagon with a Spanish accent. It was called 'Caballero' and it was offered in the Century and Special lines. It was billed as a 4-door hardtop station wagon, with a deluxe interior which was Buick's answer to the Chevy Nomad, and Pontiac's Safari, they introduced in 1955. Now Buick had a nice looking wagon with hard- top styling. The Specials were made in 2 and 4 door Estate Wagons'. The Century also had an Estate Wagon. Oldsmobile had a similar line up as Buick. These wagons are of special interest because for 6 years, the Oldsmobile had no wagons listed in their car line up. So their '57 Fiestas were the first for Olds in the late 50's. They came with, and without pillars in the 88 line. The Super 88 Fiesta, only came pillarless. The engines used in all the
Olds wagons were a 271 cubic inch V8, 277 BHP. They had optional engines which were 371 cu. in. V8 which came with 300 BHP. or 312 BHP. Because 1957 was the year they started remaking wagons, to get one and have it for a collector car would be ideal. In fact of all the G M cars of the '57 year, Oldsmobile seems to be the one that's sure to be a collector car. That is besides Chevy for 1957 which already is a collector car. As far as I can figure, Nash had no station wagons in 1957 but Rambler did. A M C was dropping the Nash name and concentrating on Rambler. So the wagons I've been able to search out are Ramblers. The Rambler Custom Cross Country had a flat rear roof section that was ideal for mounting an accessory roof rack. Rambler also had the Super Cross Country with the same features as the Custom and it also boasted a feature that would become standard on all steel wagons. A roll down rear window that disappeared into the tailgate, doing away with the dangerous upper tailgate which had been standard since 1949 Plymouth. It is interesting to note, the Custom Cross Country had two-toning which was in woodgrain instead of a contrasting color which most of the line carried. Rambler continued to be a company with new ideas for their wagons, in 1960 they even sidehinged the rear door.
Studebaker had four station wagons in their 1957 line up. According to production figures, just over 5,000 were made of the 2-door and over 5,100 of the 4-doors. They had two 4-doors, and two 2-doors, further production breakdown between them I haven't been able to find out. Here's the different types they produced, a President Broadmoor 4-door, Provincial V8 4-door: Parkview V8 2-door and Pelham Six 2-door. So maybe they weren't the greatest looking wagons of the year, but because of the low quantities that were produced, it now makes it an interesting car for any collector. During this year, Studebaker was aligned with Packard under their label, Studebaker-Packard Corporation. It had been like that since 1954, when Packard had purchased the ailing Studebaker. Before 1957 Packard was in difficulty. The financial situation prevented a fully new Packard from being introduced for '57, so they took the largest Studebaker chassis and pieced together the Packard Clipper from the previous years models parts. The Packard production for '57 wasn't a great amount, only 4,809. Of that total, 3,940 sedans were built and 869 wagons. As for the wagons, they were the first Packard wagons since 1950. This 'Country Sedan' as it was called, was a luxurious looking wagon for hauling plenty of cargo in a quality car. Although it was built on a slightly smaller wheelbase, 1 161/2 in. compared to the Clipper Town sedan 1201/2 in., it resembled the sedan. The engine was a Studebaker 289 V8, 275 HP. Even if it had many Studebaker parts. The styling was strickly Packard, and was priced accordingly, much higher than Studebaker, Packard had one more year for car production, then the Marque would disappear. In 1958 another 159 wagons were built out of a 2,622 total production run. So for the two year station wagon runs, only 1,028 were made. That is quite a low production figure, and makes them very desirable for any collection. In fact they show up at Packard and Studebaker meets, because of the close association in the last years.
One more auto manufacturer has to be. mentioned for building station wagons in 1957. Willys, their station wagon is still considered a variant of the Jeep. Yet by the early 50's there was a difference. I've drove the World War II version, and the 1952 station wagon on jobs I've had. I found the wagon to be a more smoother ride and the interior was done up more like an auto with color coordinated upholstery. It was a strong hauler for its size, and very convenient to drive in lower Manhattan. I used to haul printed matter for a bookbindery company, and believe me that stuff gets heavy. Because of the narrow streets, and heavy traffic, many were the times I had to resort to jumping the sidewalk. The wagon was small enough to enable me to do it. It's rugged- ness was just right, so that type of driving didn't hamper it one bit. The Willys Company also made an auto in the early 50's, but that's another story. The Jeepster, as they called it, was being made before, and during the time the autos were made. 1955 was the end of the passenger autos, but the Jeepsters continued on. Along with the manufacturing of the small army type 4 X 4 Jeep, Willys started building commercial series of 4 wheel drive station wagons and pick up trucks. These 'utility' style vehicles looked a lot like the Jeep with it's high slatted grilles. Production was from 1947 to 1964, with a variety of models. Two and four wheel drive with 4 or 6 cylinders. I must mention again, for its size it handled a good size cargo. Because its high roofed entry, it measured 100 cubic feet for cargo space. For anyone who desires to collect any station wagons, there were much produced in the late 50's. All of them were steel bodied. The wooden ones were in the late 40's. Many of them can still be seen at shows. Many can also be purchased from any of the auto magazines listings. Prices are going to vary from one to the other. A good practice to follow, is, checking the prices in the old car price guide. These large haulers have had their day, the hatch backs have taken over most of the jobs the wagon used to do. They are smaller, just like all the standard cars, all are getting smaller in to days market, with gas getting scarce. But it still makes a great showing in any car show. Possibly the one you own will have its day again.