1960 MACK B-61 ST
⇒ Mack 673 cu. in END 673 Diesel 237 hp. engine
⇒ 5 x 4 Mack Quadraplex transmission
⇒ Top speed – 53 MPH
This B-61 ST was one of six trucks ordered by Ecoff Trucking of Indianapolis, Indiana to haul acid. It has a rare integrated sleeper cab that pales in comparison to the sleepers of today, but was considered innovative for 1960. Mr. Cochran was still using this truck for his business when Iowa 80 purchased it in 1990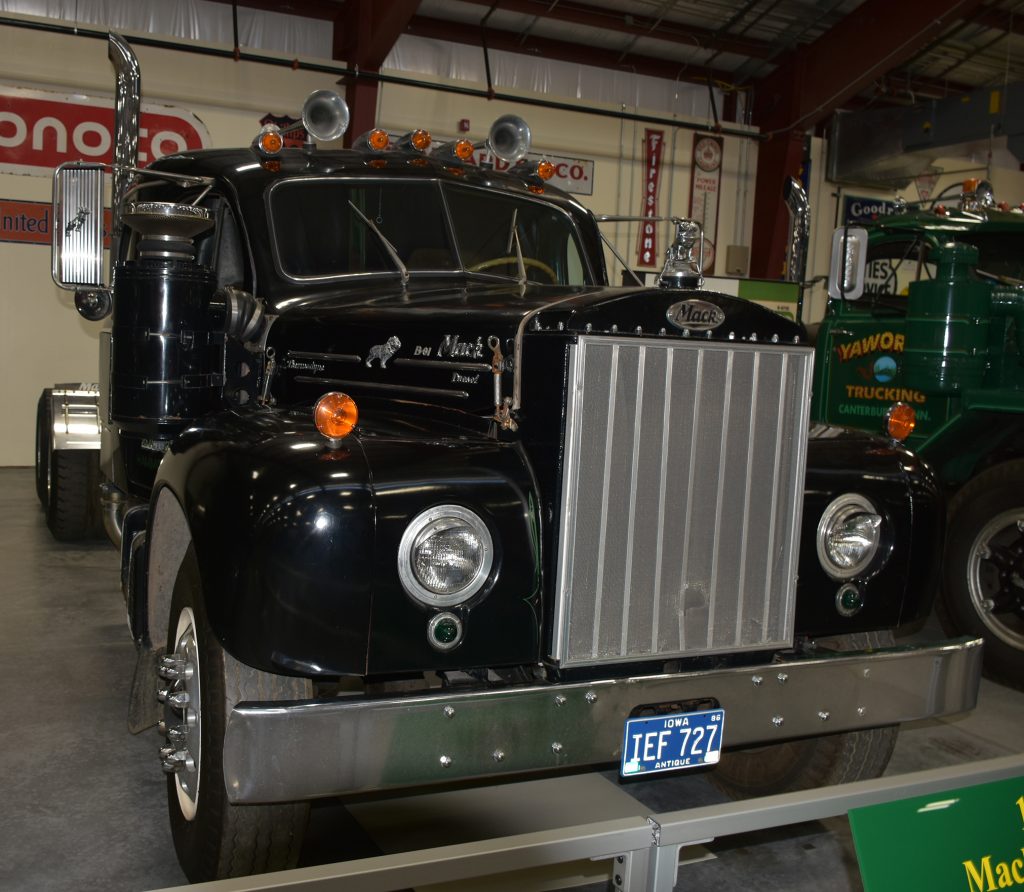 1963 MERCEDES UNIMOG
⇒ Engine: 6-cylinder Mercedes Benz M180 2.2 liter
⇒ Transmission: 6 speed
⇒ Top Speed: 90 KPH or 55 MPH
The design for this 1963 Mercedes Unimog is over 50 years old. Mercedes built them for the German military and they are still making them today. Nowadays, they have more creature comforts and options, but the overall design has not changed. This is an all-wheel drive vehicle and the axles on this truck are higher than the center of the tires; they are driven by gears at the end of the axle hub. This truck can go through water with higher ground clearance. The small downward shining lights are for wartime conditions and give the driver just enough light to drive, yet so the enemy aircraft could not see the truck from above.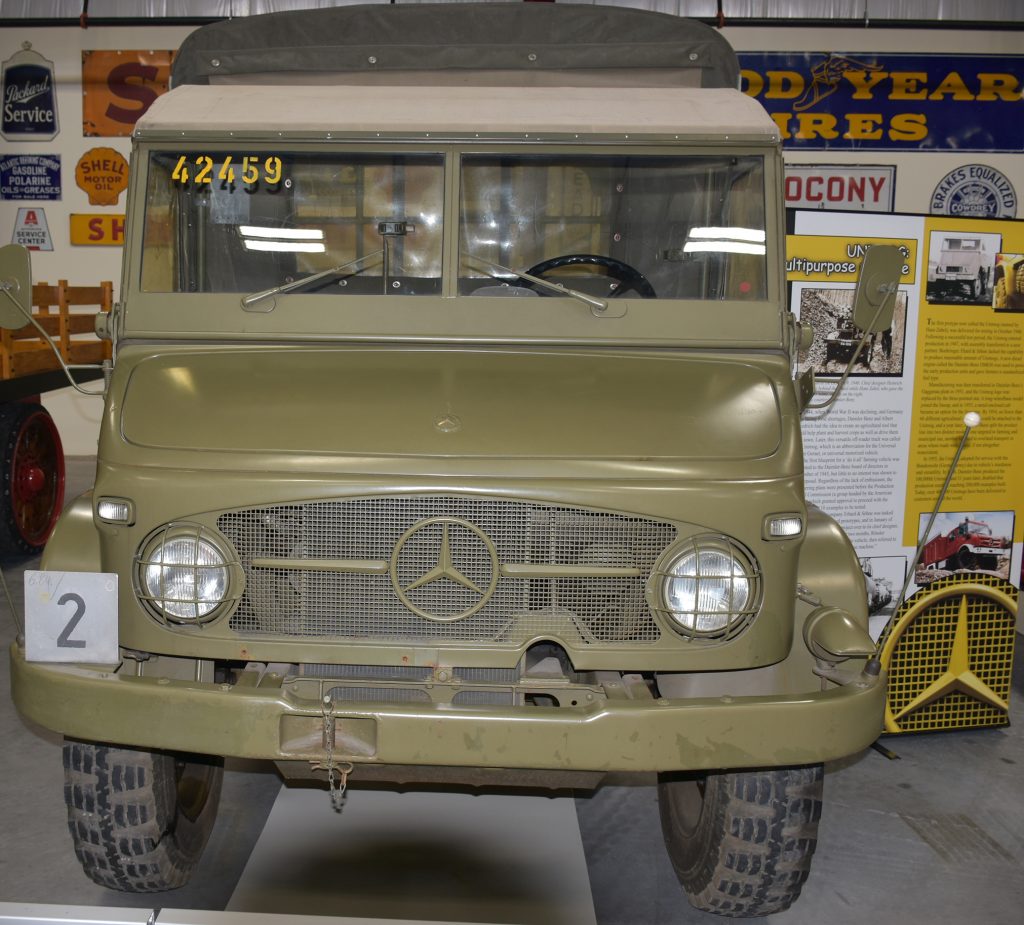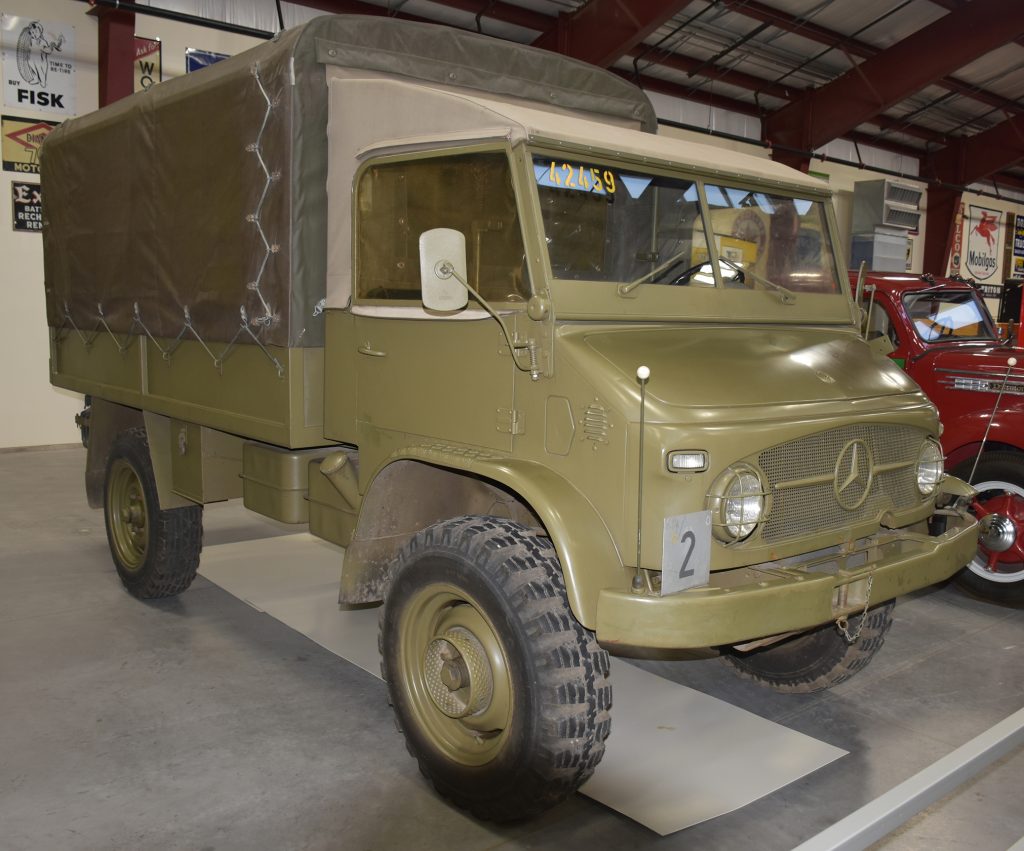 1964 MACK B-873 SX
⇒ Engine: NTC 335 Cummins Turbocharged, 6 Cylinder
⇒ Transmission: 5-speed Mack with Brown-Lipe 3 – speed
⇒ Top Speed: 60 MPHA
This Mack truck was originally purchased by Ole Hanson & Sons Inc., a rigging company located in Pleasantville, New Jersey. The Mack B-87 was the largest B Model built for over the road. They were produced from 1956 to 1964 and only 75 rolled off the assembly line. Mack offered this chassis specifically for heavy duty, off highway dumper, mixer, logging, oil filed and carry-all tractor operations. It was touted to be powerful, dependable and set high standards for economy nd a long life span. The chassis weighs in at 27,760 pounds and has a 186 1/2″ wheelbase. This Mack still has the factory tinted windshield and factory "Mack Green" paint. Dennis Yaworski bought this truck from the original owner at auction. It was later owned by Gary Mahan. The Iowa 80 Trucking Musum acquired the truck on July 13, 2011.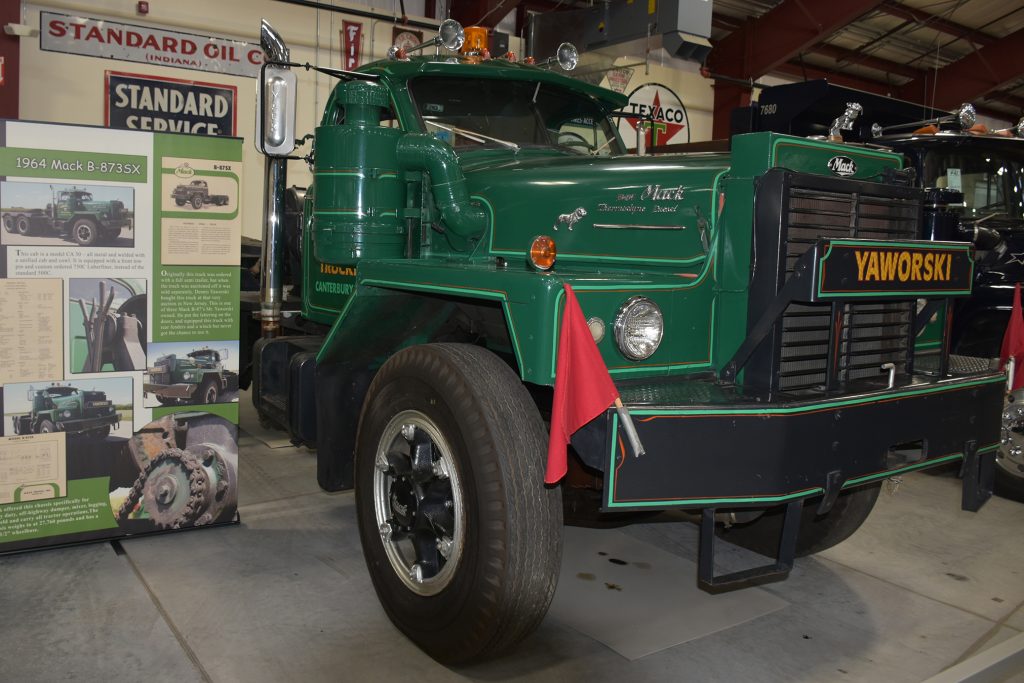 1965 FORD N-750
⇒ Engine: 361 HD V-8 Gasoline
⇒ Transmission: 5 Speed with 2 speed rear
Following the success of their F line of trucks, Ford launched their new N-Series in 1963. In 1965, Ford's N-Series was designed with a short, 89-inch bumper-to-back-of-cab distance, allowing more chassis and payload with to be transferred to the front axle. This shift along with the use of a wide-track front axle and narrow fender widths were alterations that improved the truck's general maneuverability, while a sloped nose also improved visibility. Originally owned by Dennis Miller, a retired Ford engineer from Dearborn Michigan, this N-750 was used on Miller's family grain farm for several years. At Ford's Centennial Anniversary in 2003, this truck was on display with a Fordson tractor loaded on the back.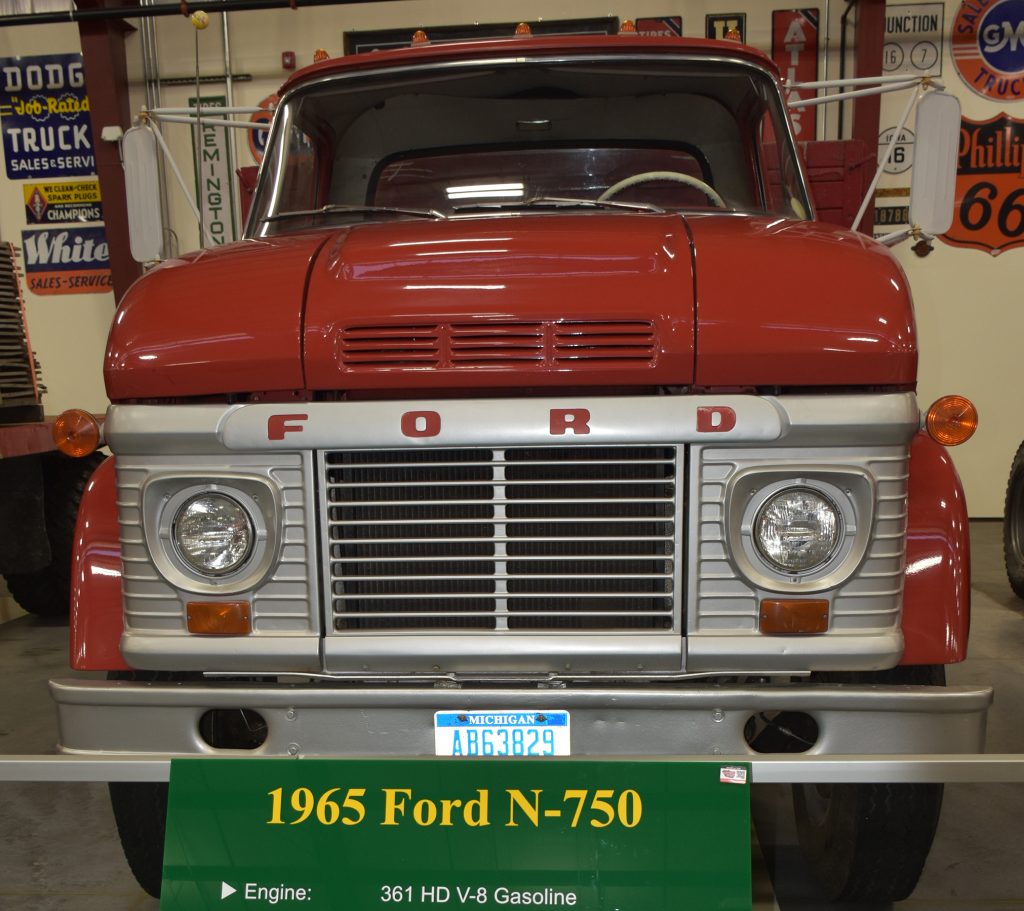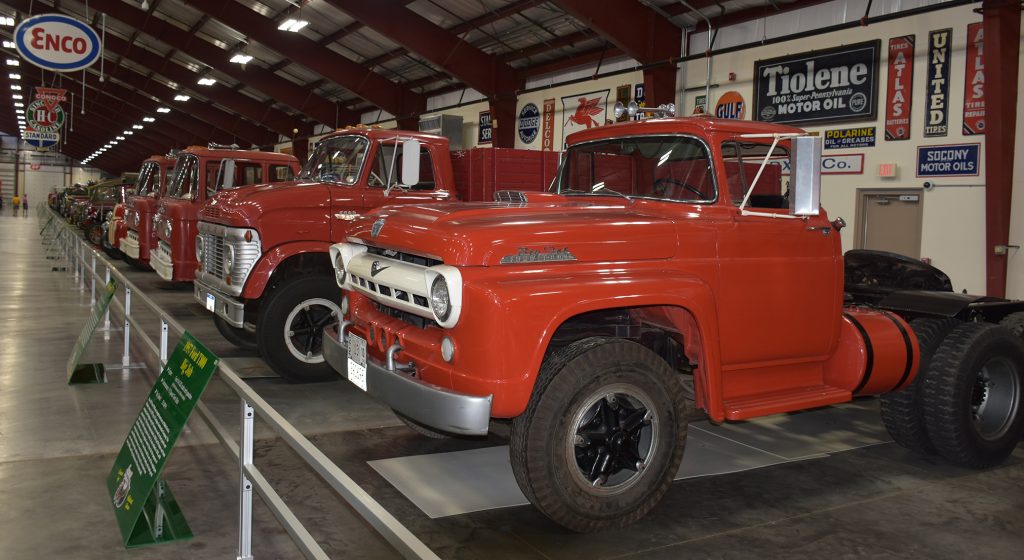 1966 AUTOCAR DC65T
⇒ Engine: C-180 Cummins Diesel
⇒Transmission: Spicer 6352 with 5 speeds
Spicer 340C Two Speed Rear
⇒ Top Speed: 60 MPH
This 1966 Autocar is built from stainless steel sheet metal supplied to Autocar by Edgcomb Steel Company. Edgcomb, who was a supplier of both ferrous and nonferrous metals, was founded in 1923 in North Philadelphia, PA. In 1951, Edgcomb decided to make their fleet of trucks even more spectacular by having the cab, bumper, hood, fenders, running boards, radiator shell, aprons and exhaust stack to be made entirely of stainless steel. For several years Autocar made these, one or two at a time, for Edgcomb Steel. Th is is one of the 13 Autocars built for Edgcomb Steel through the years; eight or nine have survived.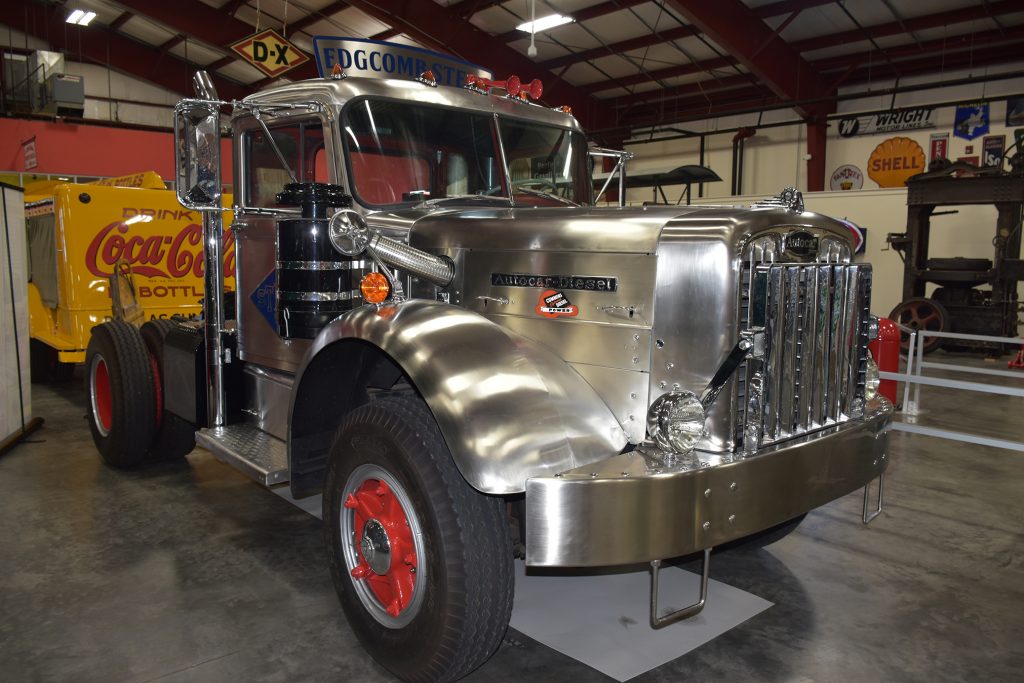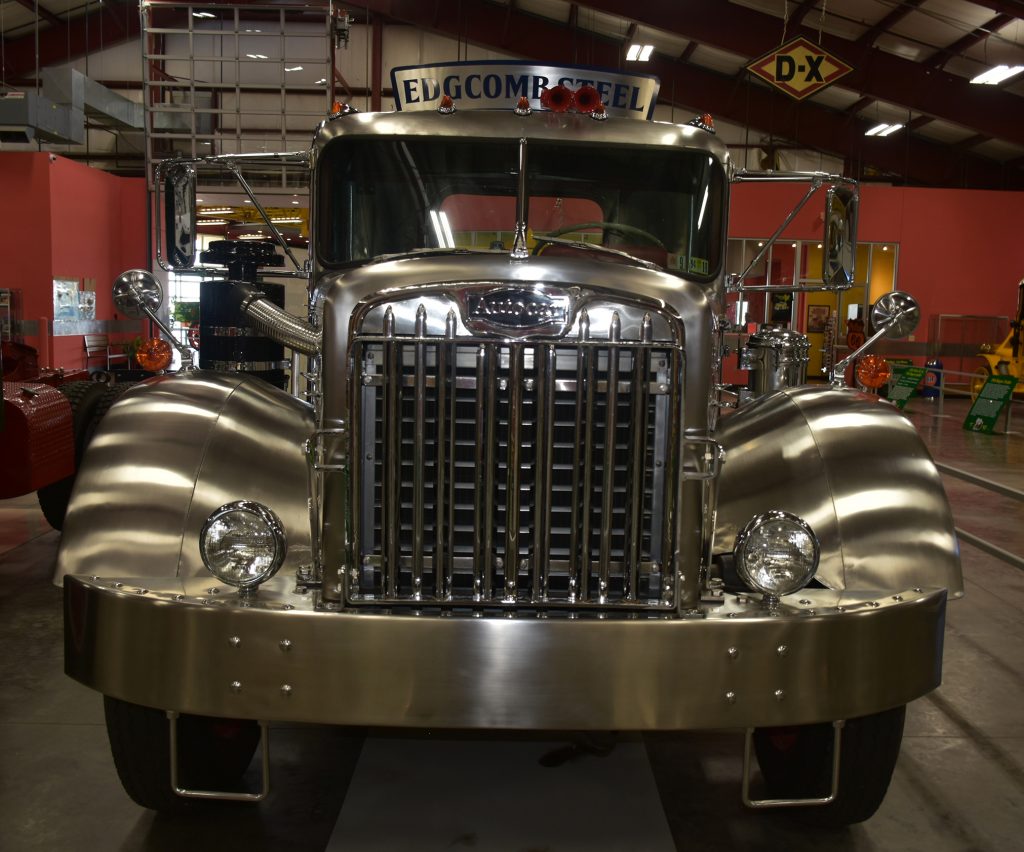 1968 FORD F250
⇒ Engine: 360 Cubic Inch, 8 cylinder,
179 Horsepower at 4,000 RPM
⇒ Transmission: Automatic C6
⇒: Top Speed: 75 MPH
This Ford F250 ¾ ton with 2 wheel drive is what was called a "Camper Special." It rolled off the assembly line in San Jose, California in February 1968. The camper special package included: dual bright-metal 6″ x 10″ extended arm mirrors, extended tailpipe, camper wiring harness, dual electric horns, extra cooling radiator, an optional 110 volt alternator under the hood and the "Camper Special" emblem. It is supported by Ford's special Twin "I" Beam which provided a softer, quieter ride with better handling and less maintenance. This special package was only offered in the 5th generation of Ford F-Series which spanned from 1967 to 1972 and was made in relatively low numbers, making this truck from Annie Barker of Hurricane, Utah on May 8, 2008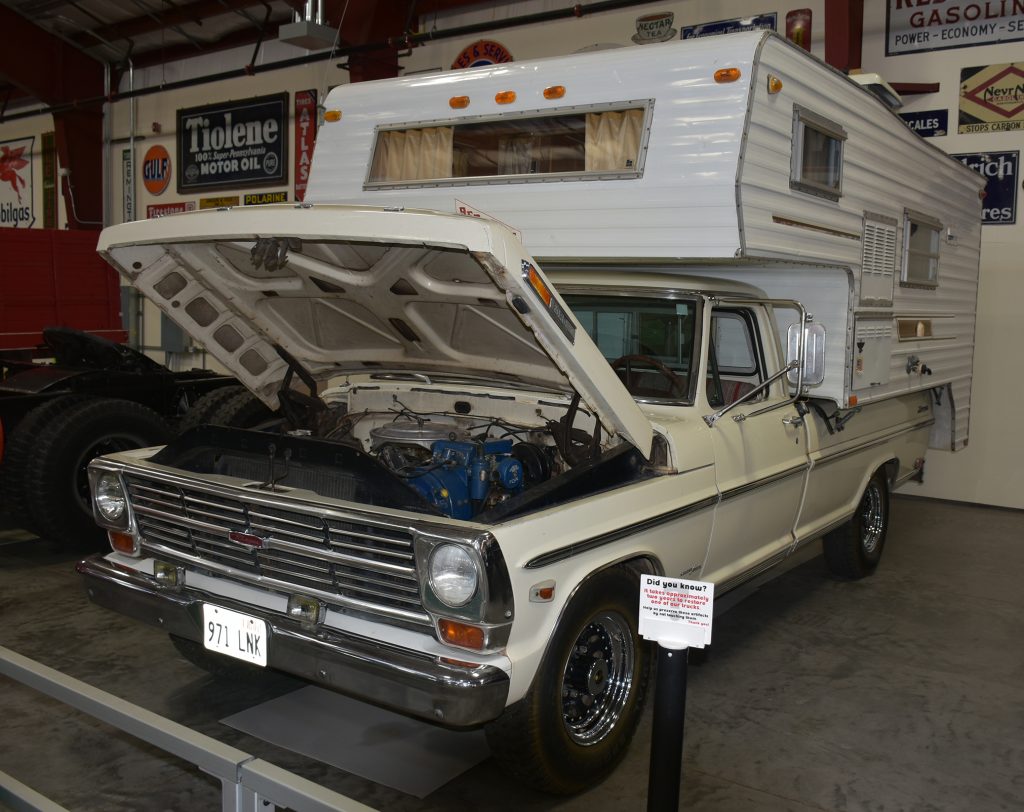 1969 INTERNATIONAL LOADSTAR 1600
⇒ Engine: V-8 Gasoline, 345 Cubic Inch
⇒ Transmission: 5 Speed with 2 Speed Rear Axle
⇒ Top Speed: 60 MPH
Built to transport mobile homes, this 1969 International Loadstar 1600 was designed with special features to accommodate its workload. Unlike other trucks, the Loadstar's mirrors are not attached to the frame. Due to allow driers to see around the load they were carrying. Another adjustable feature is the wheelbase. This truck was used for over-the-highway transport and arranging mobile homes on lots, therefore, different wheelbases were used depending on the situation. A longer wheelbase would be used on the highway for better handling, while a shorter wheelbase was easier to maneuver through smaller spaces. While these trucks are no longer in use, their purpose provided them with a unique design.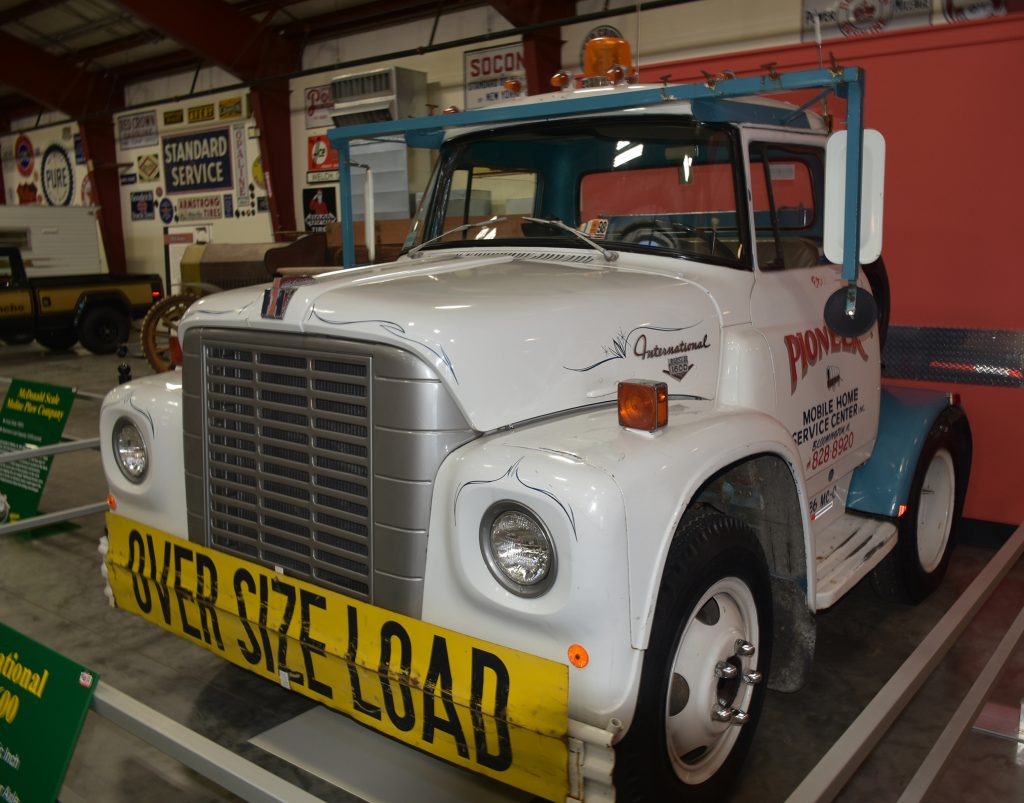 1981 KENWORTH K100 AERODYNE
⇒ Engine: Detroit Diesel 8V92 Turbocharged 500 hp.
⇒ Transmission: Eaton-Fuller RTLO-14313 Double Overdrive
⇒ Top Speed 100 MPH
This 1981 Kenworth K-100 Aerodyne – known as Hank's Highway Hilton – is a pretty famous truck. It has traveled nearly 1.6 million miles, participated in two European Goodwill Show Truck tours, been featured in well over 200 newspaper and magazine articles, and appeared on several television shows and movies. It was owned by Hank Good, who won over 121 trophies for this truck in parades across the globe. The first truck show Hank's Highway Hilton appeared in was the Englishtown Raceway Truck Show and Drags in May of 1982. It's last show was in September of 2001 at Bristol Speedway. Hank has been fascinated with the trucking business ever since He was boy living in New York watching trucks go in and out of town all the time. He used to trick truck drivers into giving Him a ride after his paper route just so He could hop in the big rig, but He would always help unload supplies after. He bought this truck on July 23, 1981 and quickly started decorating it. Hank likes lights; that's why there's 220 on His truck. He graciously donated it to the Iowa 80 Trucking Museum in November of 2014. The 1981 Kenworth boasts 500 HP, and a wheelbase that measures 170 inches. The truck itself is unique; it is an Aerodyne with the elevated cab to make it aerodynamic. It originally had a 435 HP 2-stroke Detroit Diesel; after about a million miles that was replaced with a 475 HP 2-stroke Detroit Diesel. The transmission and rear were also replaced at the time of restoration. Hank is a very friendly guy; He loves to talk about trucking. He is a good ambassador for trucking and He is still out on the road trucking with a newer Kenwortgh that also includes HG on the grill.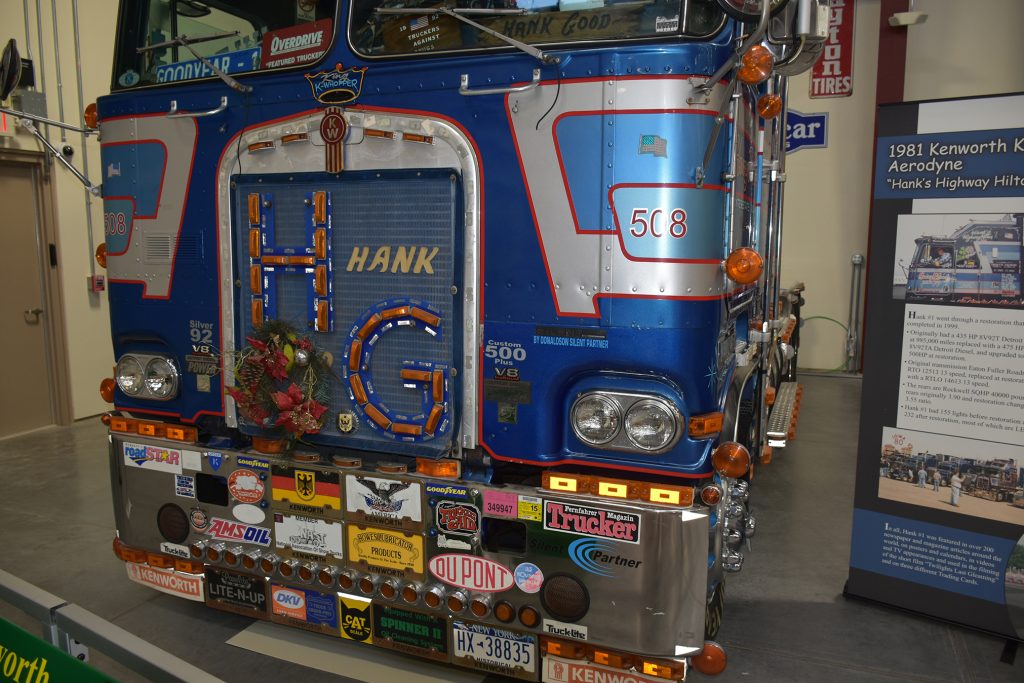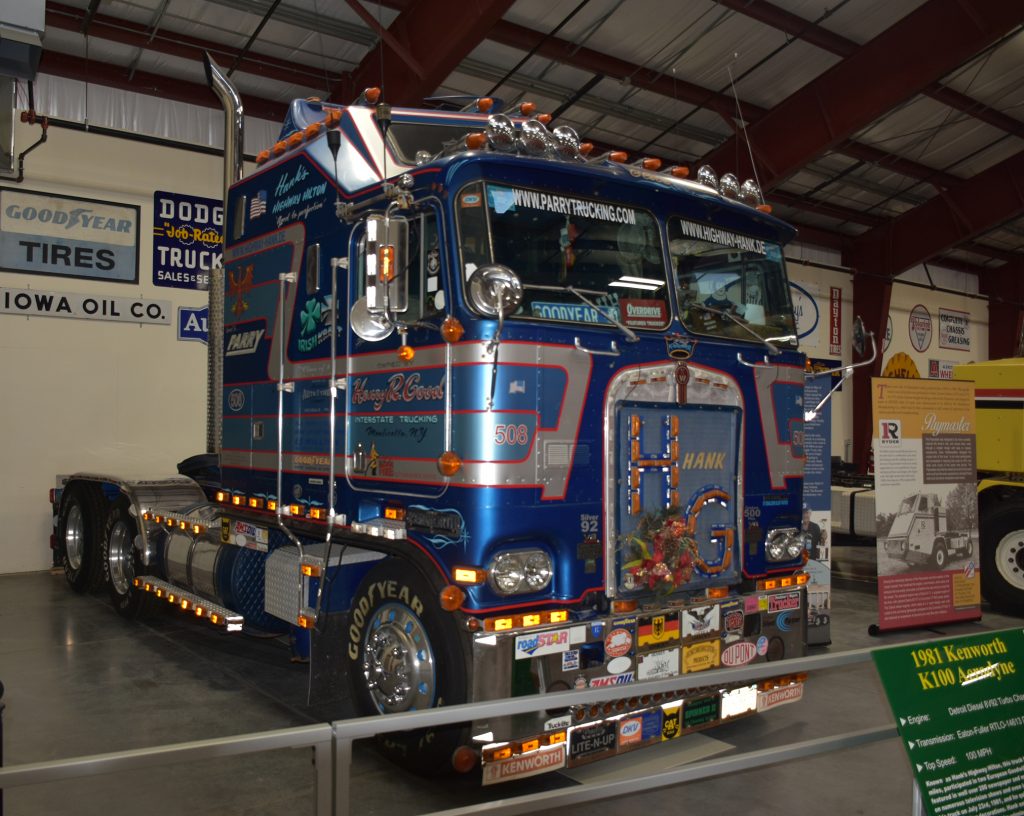 1983 FORD 9000
⇒Engine Type: Cummins Fleet 270 NH Series.
855 Cubic Inch Displacement,
⇒ 270 Horsepower at 1600 RPM
⇒ Transmission Type: Spicer 1372-A 7-Speed
This 1983 Ford CL9000 COE – now affectionately known as Ole Number One – is the first truck purchased by Con-Way Central Express, AN LTL (Less Than Truckload) company launched by Consolidated Freightways, Inc. It has no sleeper because it only made trips from terminal to terminal. This one pulled two short trailer. It was built in Ford's Louisville, Kentucky plant and it has almost 600,000 miles on it. It was used mostly for runs from Cincinnati, Ohio to Indianapolis, Indiana. Con-way Central Express restored this truck in 1992 and it sat in the lobby of their office building for quite a while before they donated it to the Iowa 80 Museum. Several of the driver who drove the truck were her for the dedication when the truck was delivered. It a very basic cabover truck with 270 HP – not heavily powered. There's only about six or seen gauges in the dashboard. Also, this truck has an air starter. An orange tank on the right side of the truck in front of the fuel tank is for air. When you start it, it foes ZOOM. You know an impact driver at a tire shop? That noise they make? Well, that's what this sounds like. It's very loud. And the only thing yo didn't want to do is run out of air because then you'd have to have somebody air you up before you could start it. Despite being a very basic truck, it still has air conditioning. The drivers said that other terminals were always trying to get it way from them; they would call and say they needed a truck, and then the drivers always had to make a call to get it back.