⇒
⇒
1941 FREIGHTLINER
⇒ Engine: Cummins HB, 150 HP at 1800 RPM
⇒ Transmission: 5-speed with a 4-speed auxiliary
⇒ Top Speed: 45 MPH
Bil Moon noticed this truck posted for sale by Gerry Noordman of Enumclaw, Washington and commented that it was a rare truck, and someone should really buy it. Jerry was a long time truck collector. Jerry believed, as did Bill moon, that old trucks are significant pieces of history and shouldn't be scrapped. A few years later the truck was for sale again. It was at this time that Iowa 80 purchased the truck.
All Freightliners of this age were built for Consolidate Freightways, and in those days Freightliner made less than 50 trucks per year. Like all of the other early Freightliners, this truck was rebuilt from an existing truck and carries a rebuilt stamp. You can see the Fageol front fenders and their distinctive headlight mounts. The rear ends are Timken worm drive. the crane on the back of the truck would have been used to load freight onto a flatbed trailer that was pulled behind. The HB Cummins engine block has a casting date of December 8, 1941 one day after the bombing of Pearl Harbor.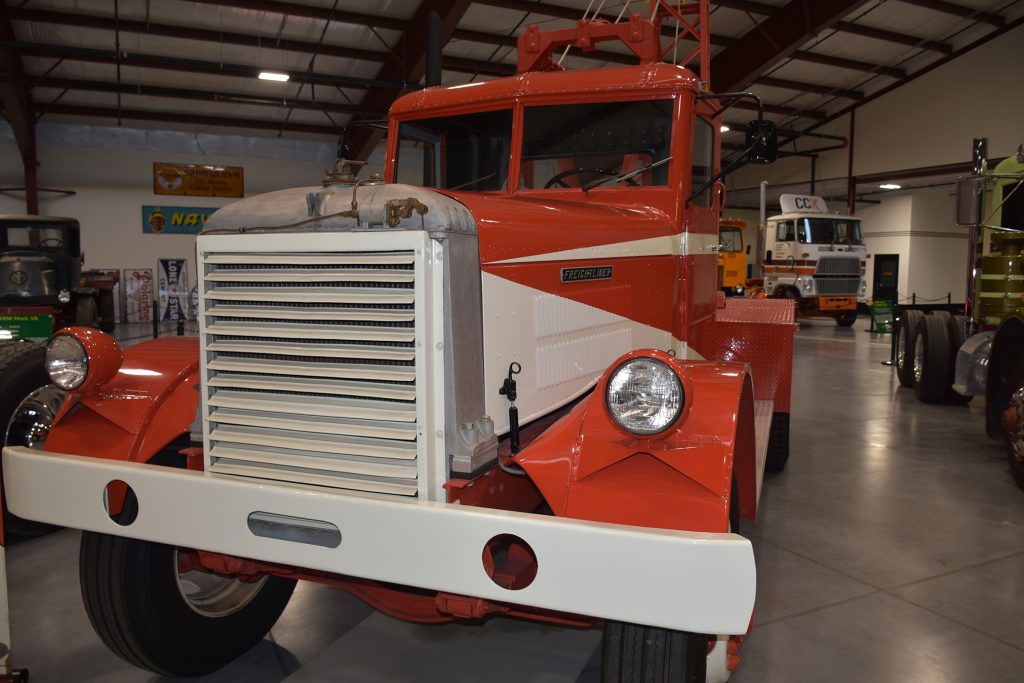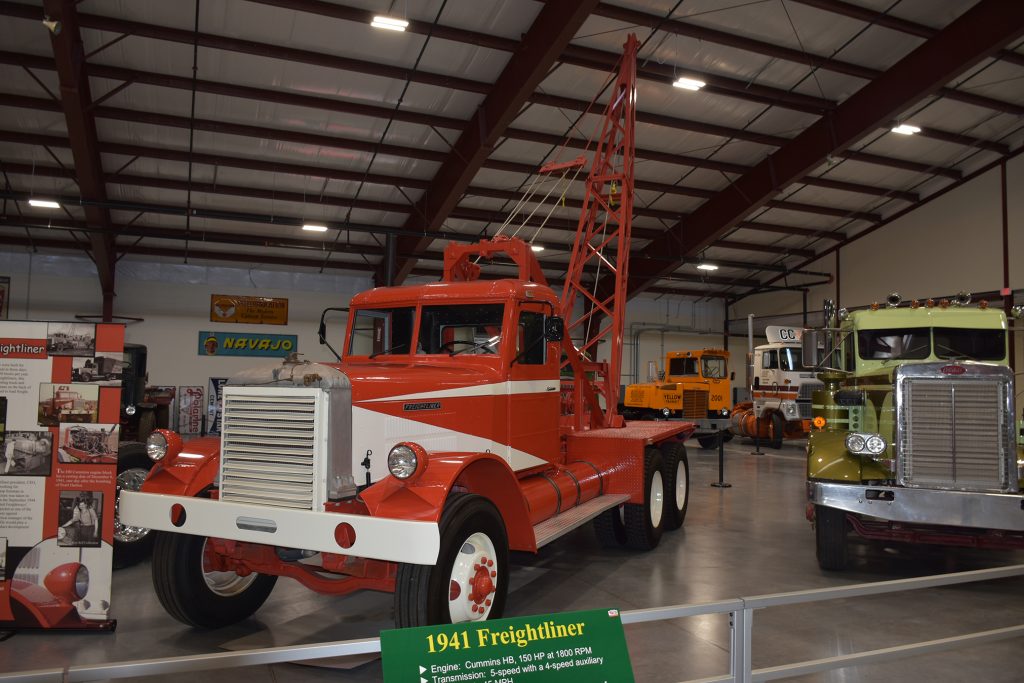 ⇒
1942 MACK FJ
⇒ Engine: Mack Model EO, 6 Cylinder
⇒Transmission: Mack TR – 15 with TRA-12 Auxiliary
⇒ Top Speed: 27 MPH
This truck was 1 of 322 originally manufactured with only 98 of them made in 1942. It was built to be a heavy duty work truck. The bare chassis weighs 15,360 pounds. The whole assembly empty weighs in at 24,680 pounds, but is capable of a maximum loaded weight of 50,000 pounds. This model has 136 Horsepower at 2100 rpm and 368 foot-pounds of torque at 900 to 1300 rpm. According to the original registry, provided by the mack Trucks Historical Museum, it was sold in a group to the War Department North Atlantic Division. The truck was delivered to New York City on July 16th, 1942. From there, it was assigned to a contractor for the Army Corps of Engineers. In its initial configuration it was a dump truck, and used as such until the end of World War II. When the was ended it was sold to Geo. Negri Ready Mixed Concrete and converted into a concrete mixer. The Iowa 80 Trucking Museum purchased it from Carl and Grace Mazzuchelli in January 2010.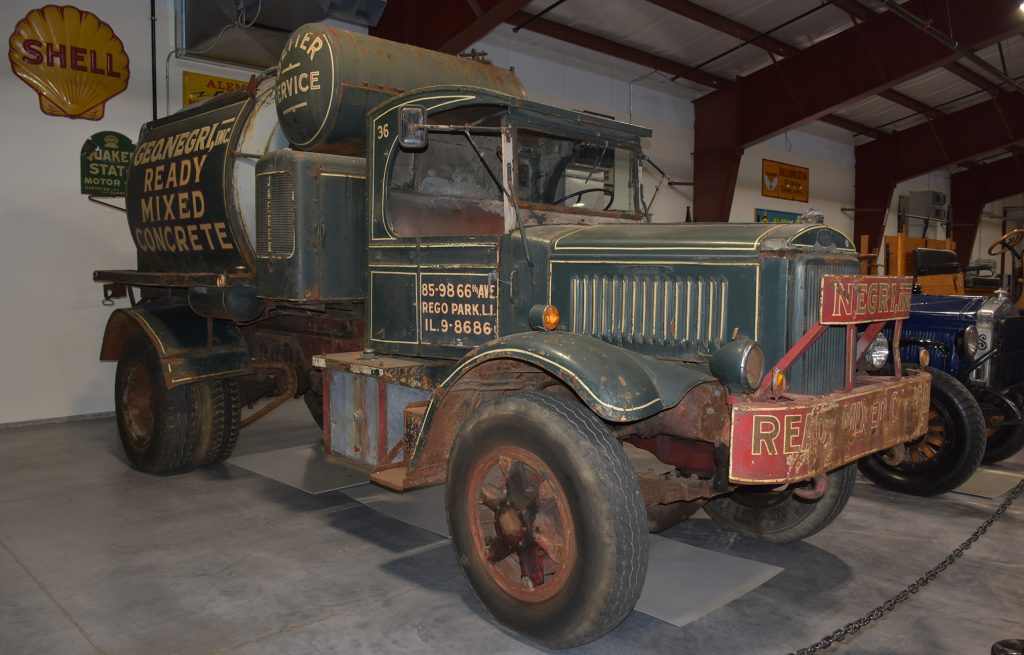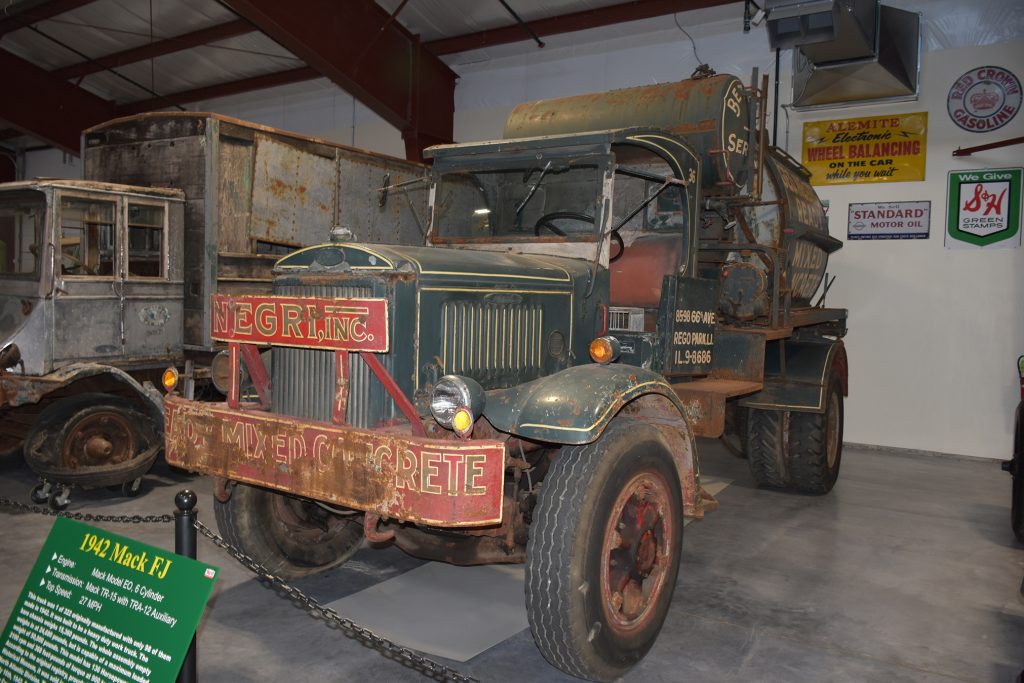 1942 GMC AY-809
⇒ GMC 6CU 426cu. in. 126 hp engine
⇒Spicer 5-speed model 553A transmission
⇒Top speed – 50 MPH
Originally this was a tanker truck for the Denver Fire Department in Colorado. It is an uncommon model that includes a cab sleeper. The doors are also rear-opening "suicide" for easy entry.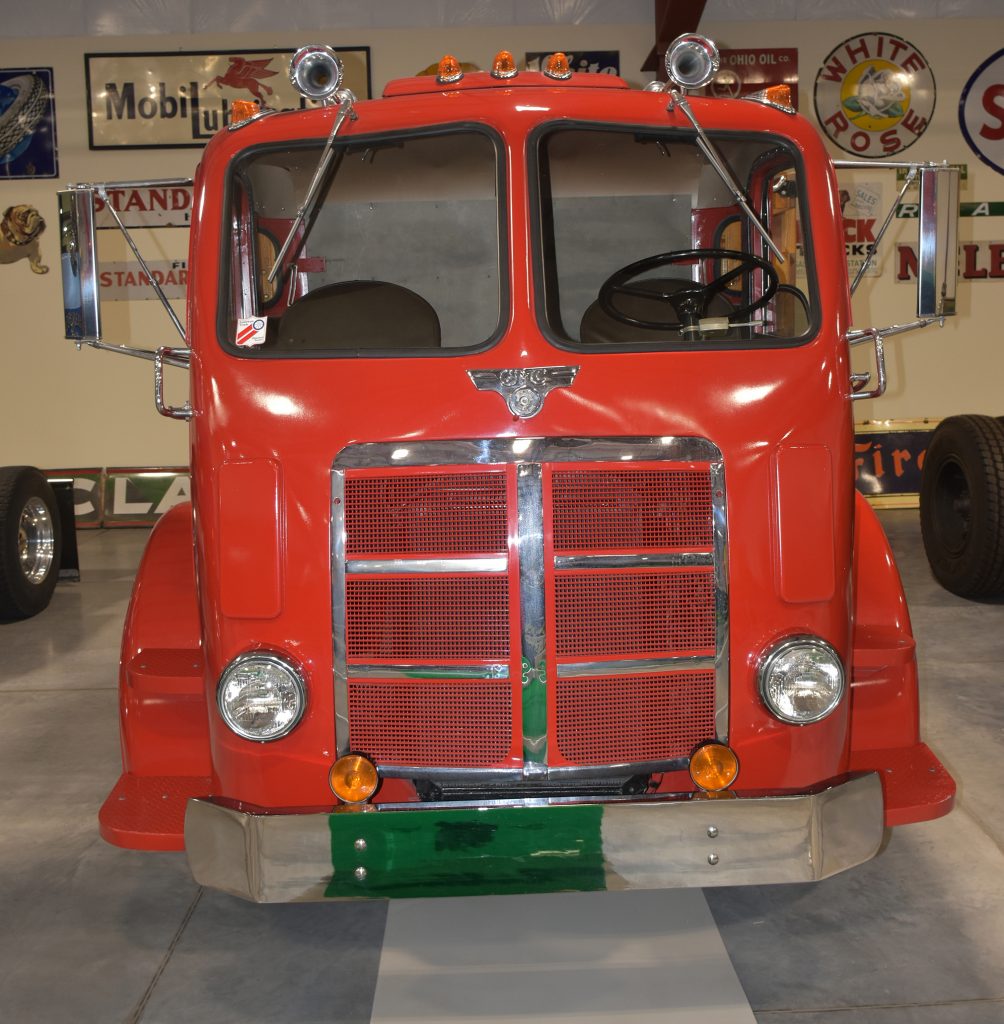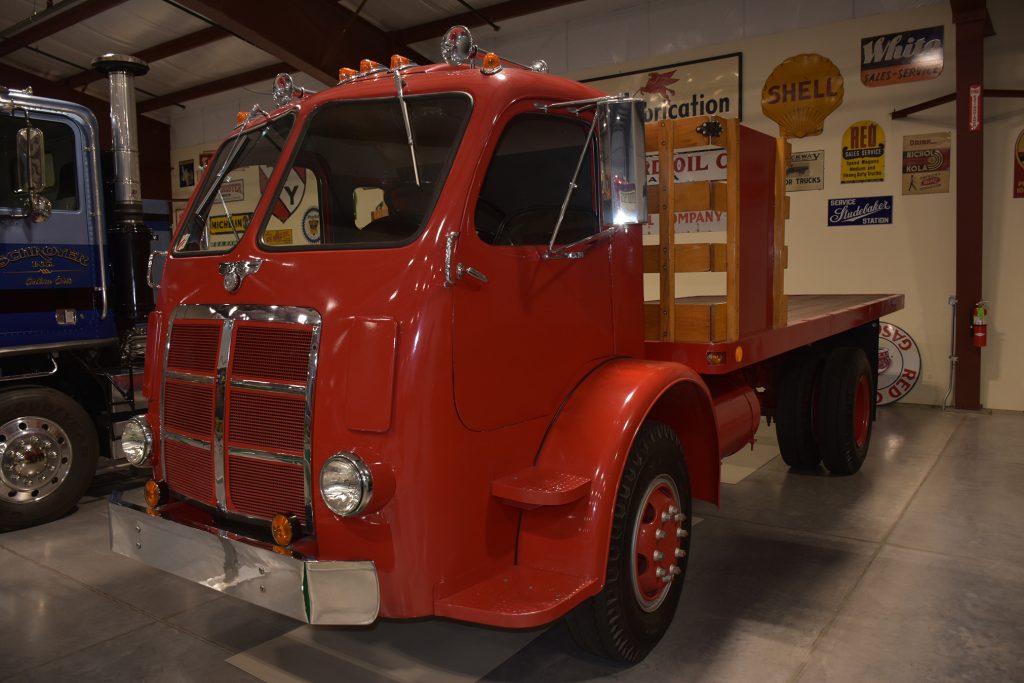 1942 PETERBILT
MODEL 270 DC
⇒ Engine: Cummins Model 6 HB, 150 HP
⇒ Transmission: Brown-Lipe 4-speed
⇒ Top Speed: 18 MPH
This truck was shipped on November 20, 1942 to Permanente Metals Corporation in San Jose, California. It is one of only three chain drive Peterbilts Known to exist today. Pemanente Metals was a division of Kaiser Industries that built 747 "Liberty Ships" for WWII. This truck was painted the color "Olive Drab" from the factory. The engine is a Model 6 HB Cummins with 150 horsepower. The transmission is a Brown-Lipe Model 7741 with four speeds forward and one reverse. Notable factory options included tow hooks, two rearview mirrors, two windshield wipers and a hand operated turn signal. Due to the low top speed of this truck it was only used around the shipyard.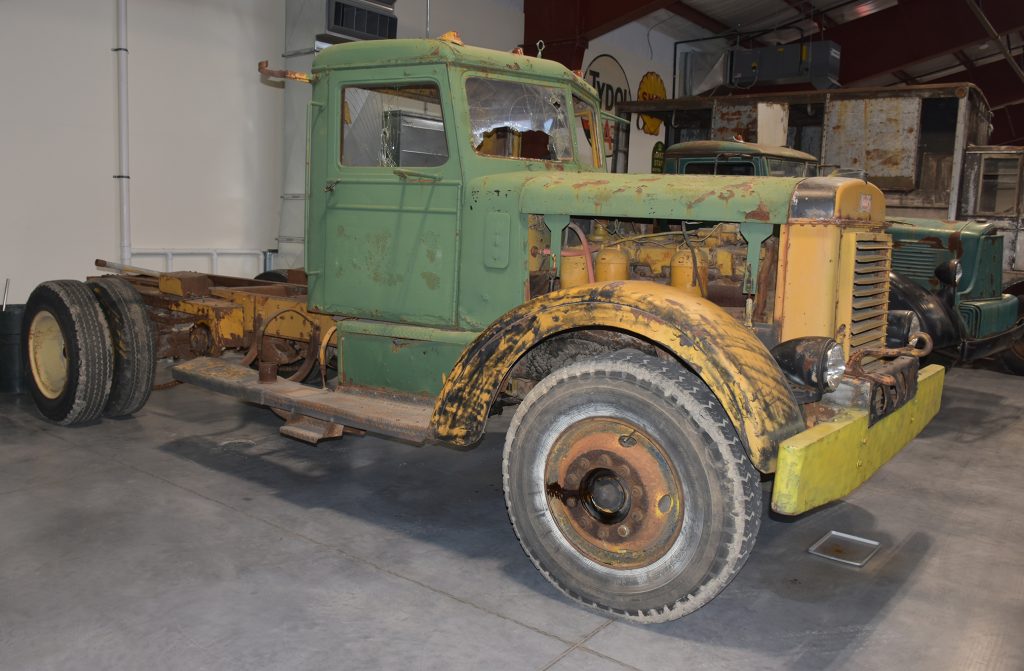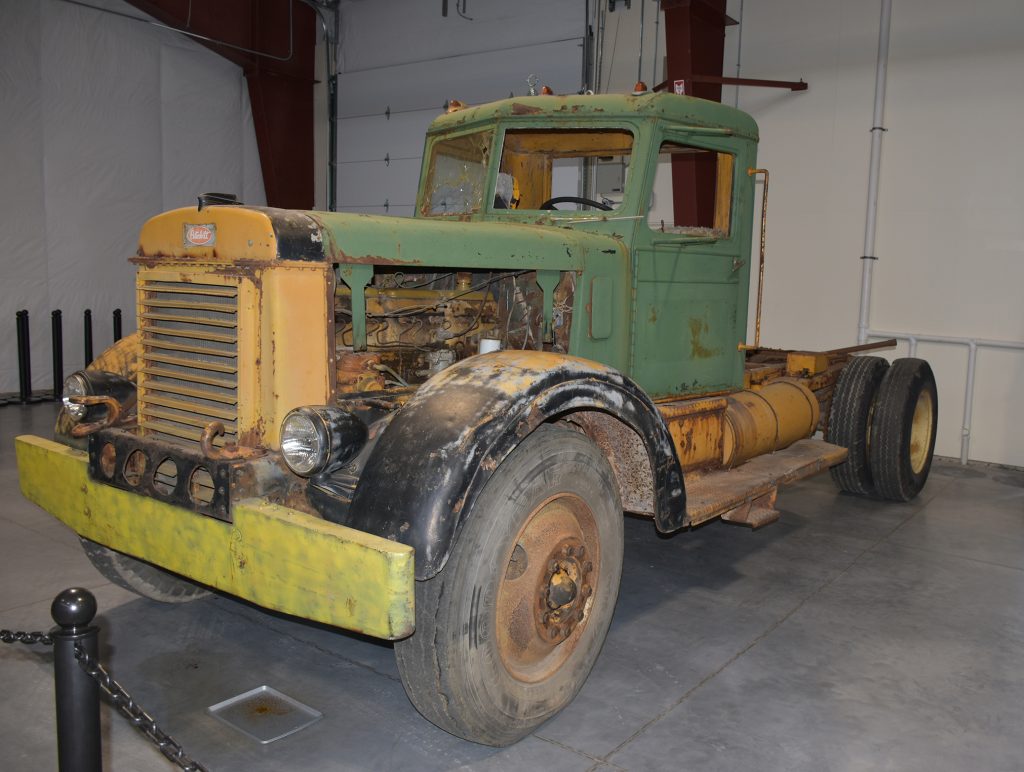 1944 MAC EQT
⇒ Engine: Mack 6-Cylinder Gas Engine
⇒ Transmission: 5 Speed
⇒ Top Speed: 40 MPH
This Mack EQT was built in 1944 during WWII, with little to no chrome used it's construction. During the war, chrome was conserved for building engines or various projects aiding the war effort. If someone used excessive chrome on their truck it was seen as distasteful and flashy since the material was needed elsewhere. Over the course of WWII, Mack provided roughly 35,000 trucks to the Allied forces to contribute to the war effort. Ranging from tank transporters, wreckers, personnel carriers, and more. Mack had a heavy presence both on the war front, and back at home. While this EQT was not sent overseas, it is believed to have been used as a local delivery truck.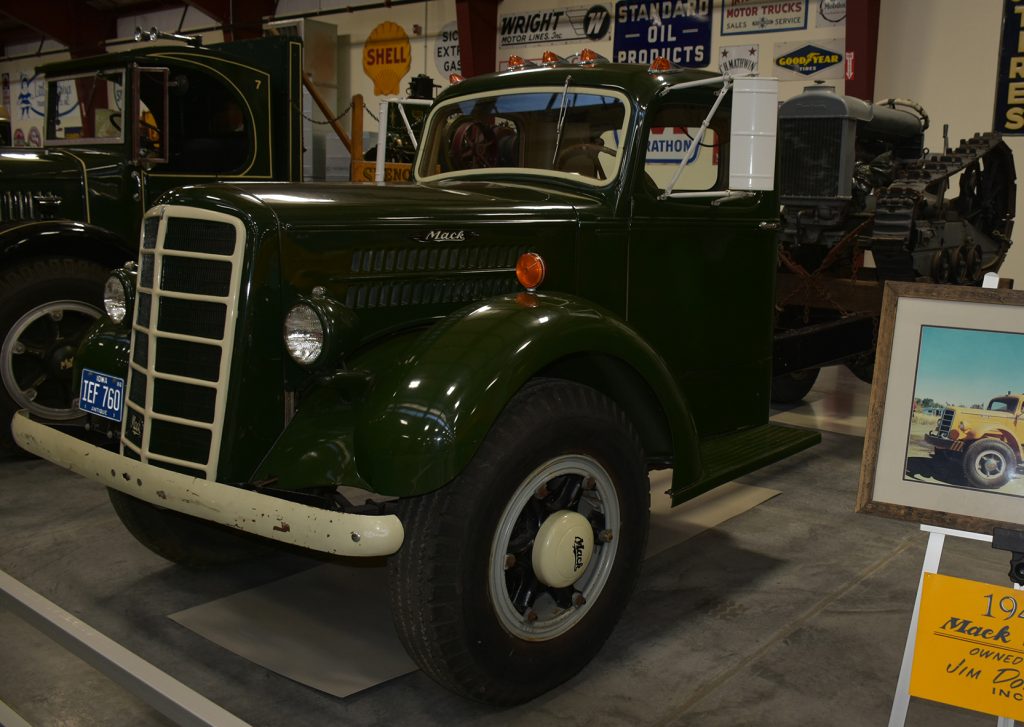 1945 CHEVROLET MASTER WITH TRAILER
⇒ Engine: 6-cylinder gasoline
⇒Transmission: 4-speed
⇒Top Speed: 45 MPH
This truck and trailer were both purchased new by the Dusenberry Family of Tucson, Arizona, where they were used until the mid 1950's. This display is an excellent representation of a typical moving van for the time period. The truck is a "Master" Model. It has a 6-cylinder gasoline engine that is 235.5 cubic inches with a 3 & 9/16 bore and a 3 & 15/16 stroke. The compression ratio is 6.62 to 1 and it produces 81.5 horsepower at 3,100 RPM. It has a four speed transmission with a 2 speed rear axle. This trailer was one of the first fully enclosed moving vans that was in operation in Arizona. The Dusenberry family generously donated this unit to the Iowa 80 Trucking Museum in its current condition.
1945 FORD FUEL TANKER
⇒ 239 CID Flathead V-8 engine
⇒ 4-speed transmission
⇒ Top speed – 45 MPH
This 100 horsepower truck has an amazing 3,300 original miles on it. The truck was originally sold as a fuel tanker, but converted to a water tanker by the fire department that purchased it.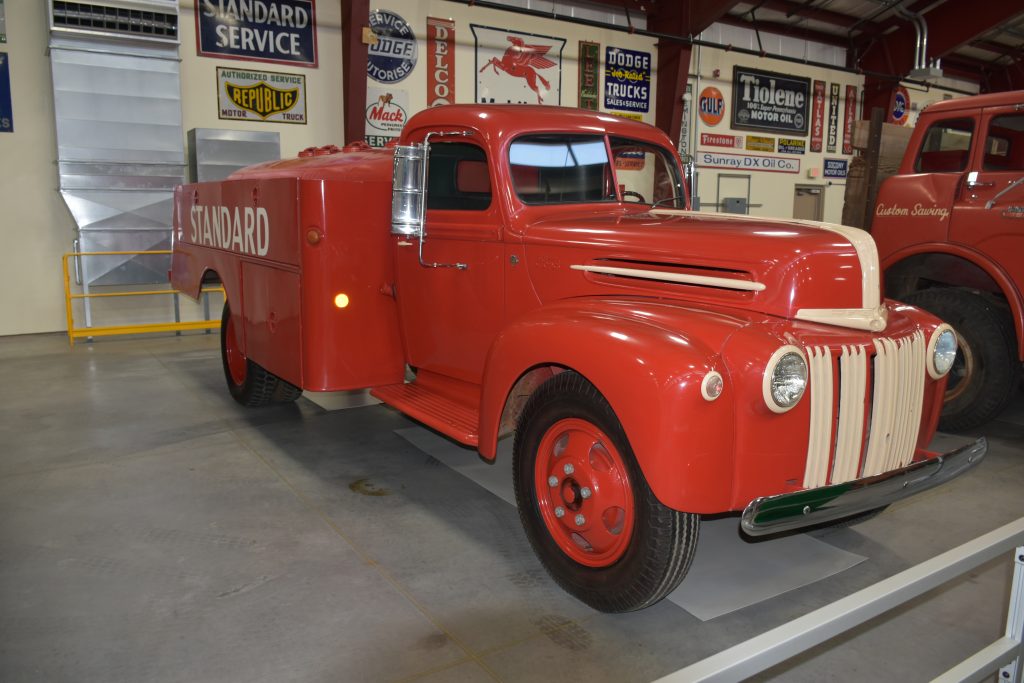 1946 AVAILABLE
CS 20-SP
⇒ Waukesha Flathead 6 engine
⇒ Clark 5-speed transmission
⇒Top speed – 50 MPH
This truck was made in Chicago, Illinois by Available. It has a Timken single speed rear axle, and hydraulic brakes. The unit has Elston electric sanders which would meter sand in front of the rear tires to aid traction when road conditions were icy. Only 2,500 total trucks were made from 1910 to 1957 before the company was bought by Crane Carrier Corporation of Tulsa, Oklahoma.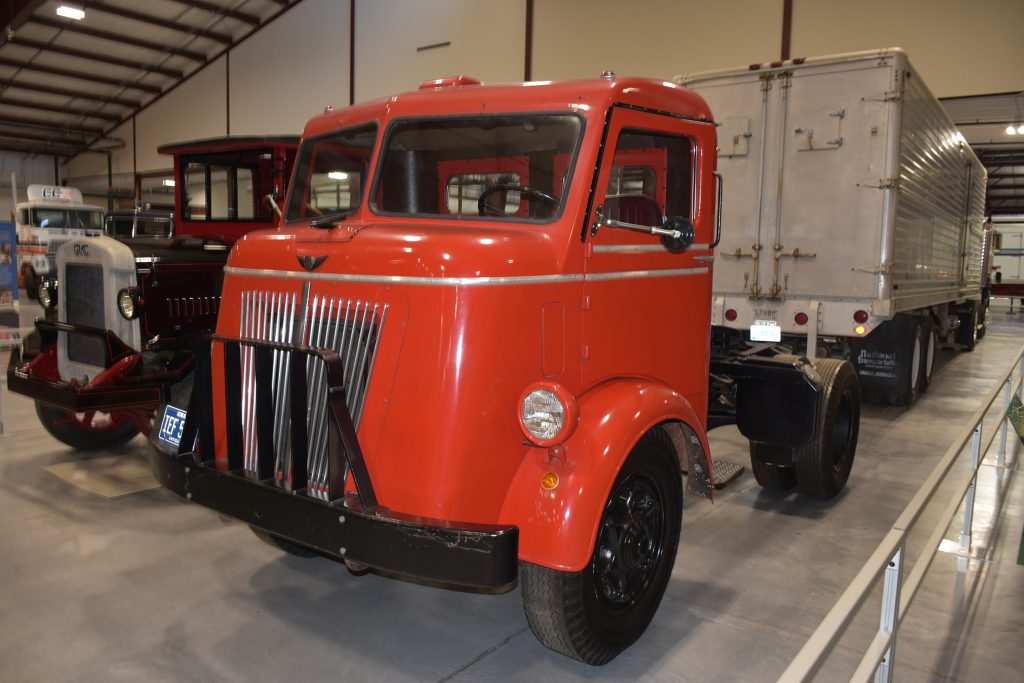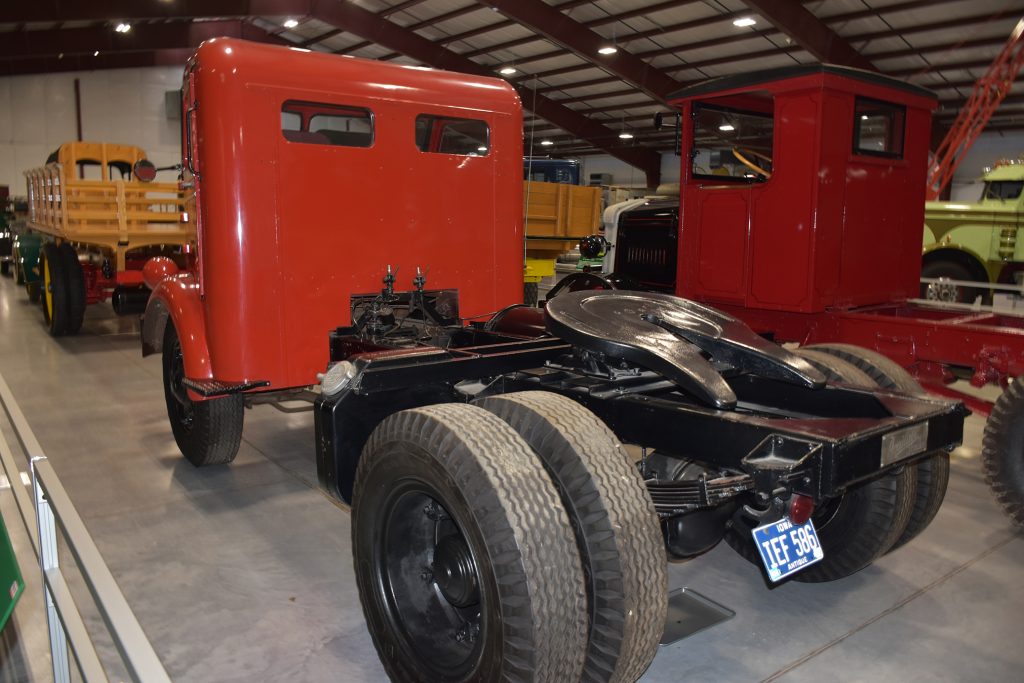 1946 BUMBLE BEE STUDEBAKER & STOCK TRAILER
⇒ Engine: 245 cubic inch, flat-head, 6 cylinder
⇒ Transmission: 4 Speed
⇒ Top Speed: 45 MPH
This truck is a model M-16 Studebaker, which were produced during the years: 1941, 1942 and from 1946 thru 1948. In 1946, 19,450 M-16 models were produced. This Bumble Bee was built in South Bend, Indiana on June 22, and was purchased by Mr. and Mrs. Hall in Connecticut. Originally, this truck was a two-axle, six wheeler, 1-1/2 ton with a standard cab and chassis. Mr. Hall soon hand-built a 12 foot long trailer to go along with the truck. He also added a third axle to the M-16, making it a 10 wheeler, as well as a hand-made sleeper box, which he mounted to the trailer above the cab of the truck.
The truck was restored in 1998 and the trailer in 2001.
The Iowa 80 Trucking Museum acquired this truck in 2011.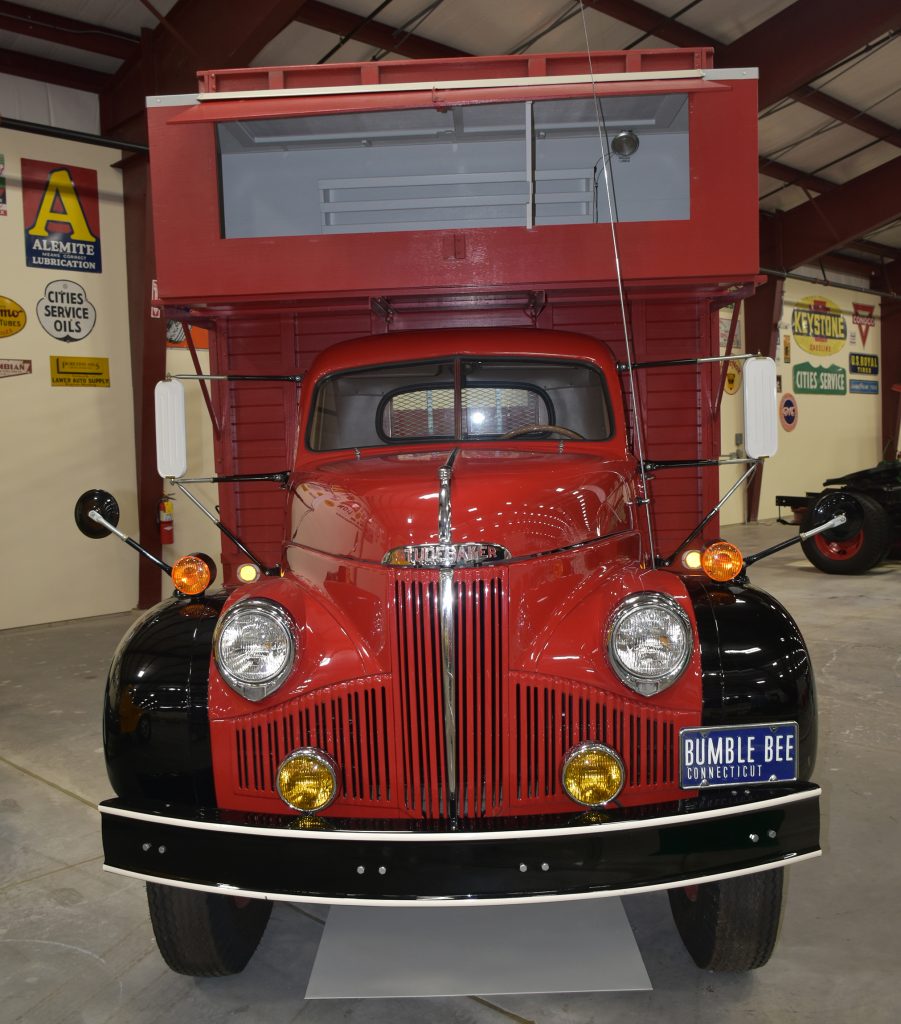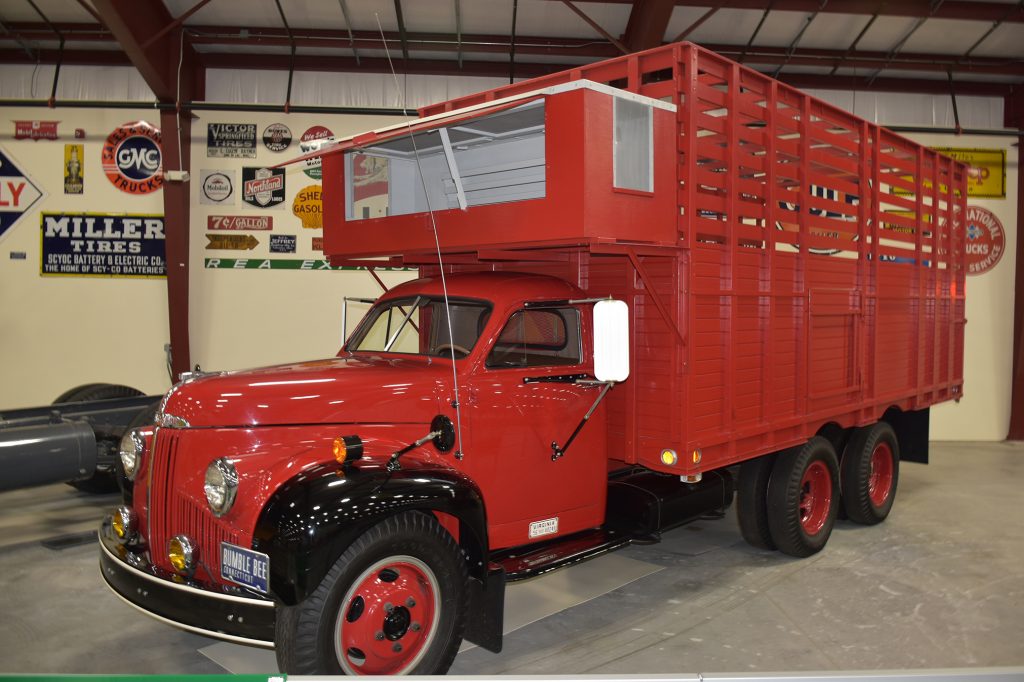 1946 WHITE WA – 22
⇒Engine: 386 cu. in. White 6-cylinder gasoline
⇒Transmission: 4 – Speed, 3 – Speed Auxiliary
⇒Top Speed: 55 MPH
This truck rolled off the assembly line in Cleveland, Ohio in April of 1946. The original owner lived in Beaver Dam, Ohio. The truck was then licensed and used by Mayflower Transit until 1979, and had one primary driver for all 33 of those years. This truck has a top speed of 55 mph., which was more than sufficient given that the speed limit where it mainly operated was only 45 MPH. This particular White has one of the first integrated sleepers seen in production; it is only 18 inches wide. It also has one of the last wood structured cabs that White ever built; starting in 1947 all cabs produced were constructed of steel. This truck has been in the Iowa 80 collection for a number of years, but was newly restored in 2012.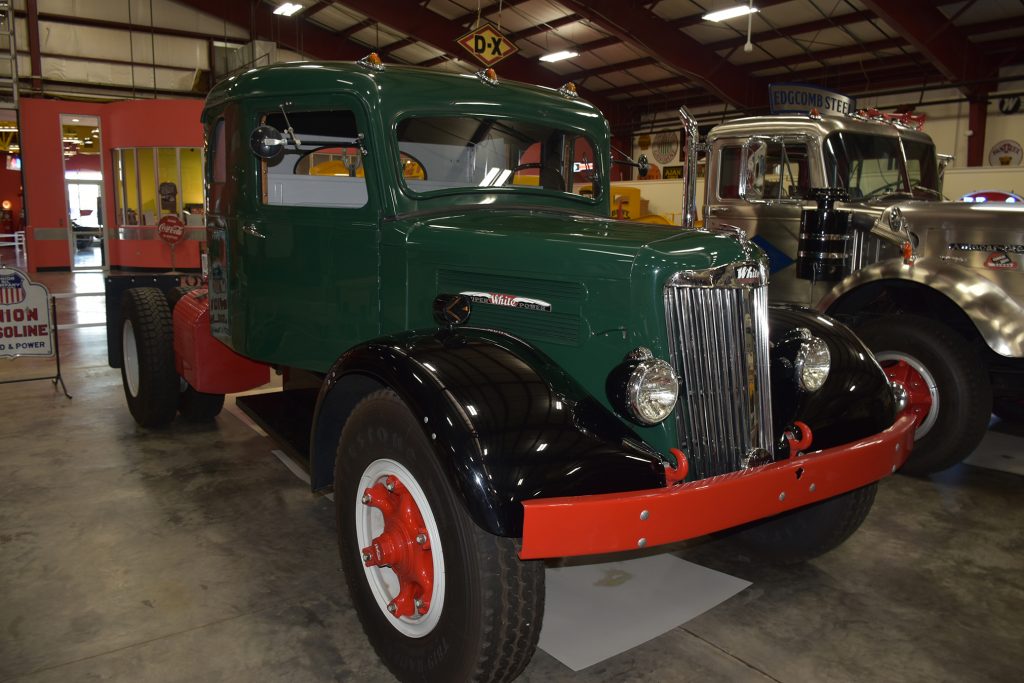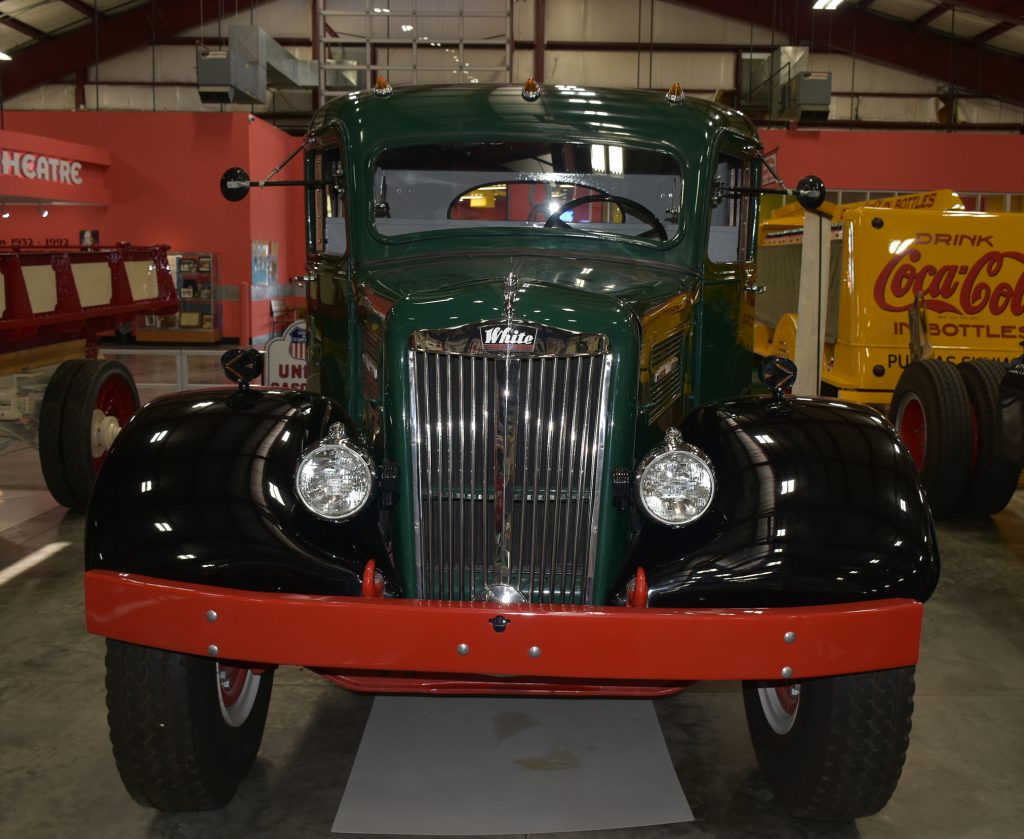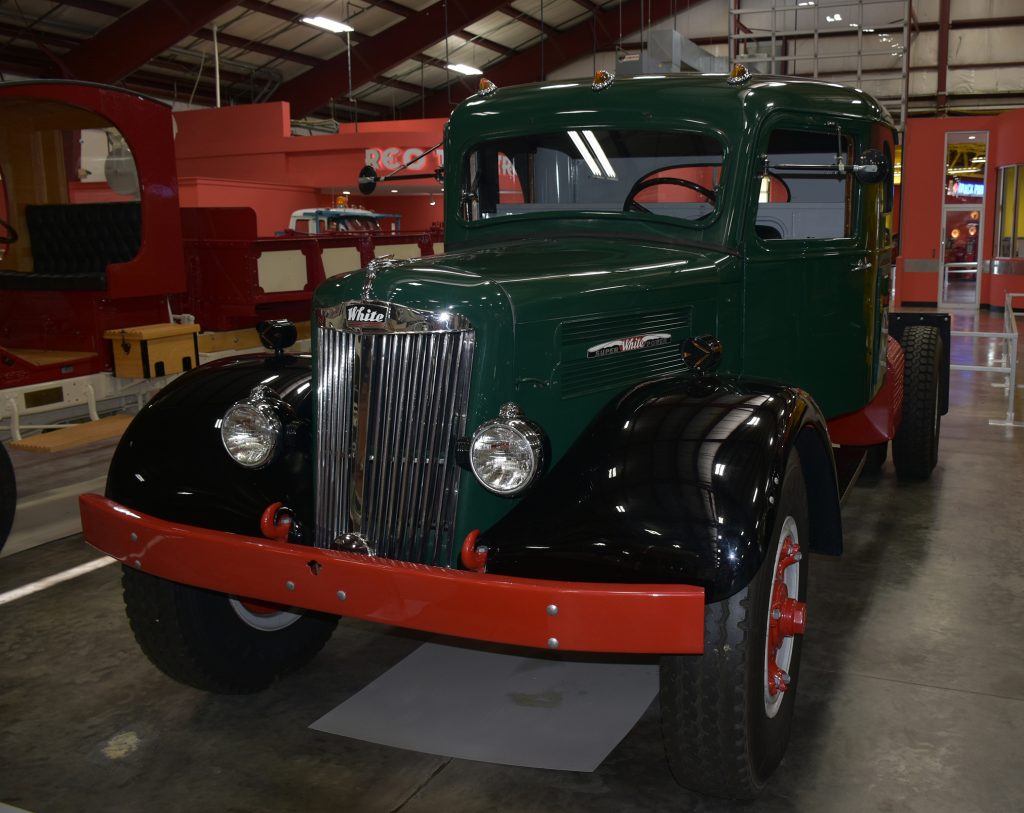 1947 STUDEBAKER
M-16 TRACTOR
⇒ 94 HP 6 cylinder Flathead gas engine
⇒ 4-speed transmission
⇒ Top speed – 45 MPH
Studebaker started out as a wagon manufacturer in the mid1800's before developing into truck manufacturing in 1902. In November 1940 Studebaker began producing the M Series trucks. Not many were produced prior to World War II when production was switched to M Series Military Trucks. After the war, Studebaker began manufacturing civilian trucks as soon as possible. Though the design was different, the frame running gear and cab are the same as its military counterpart.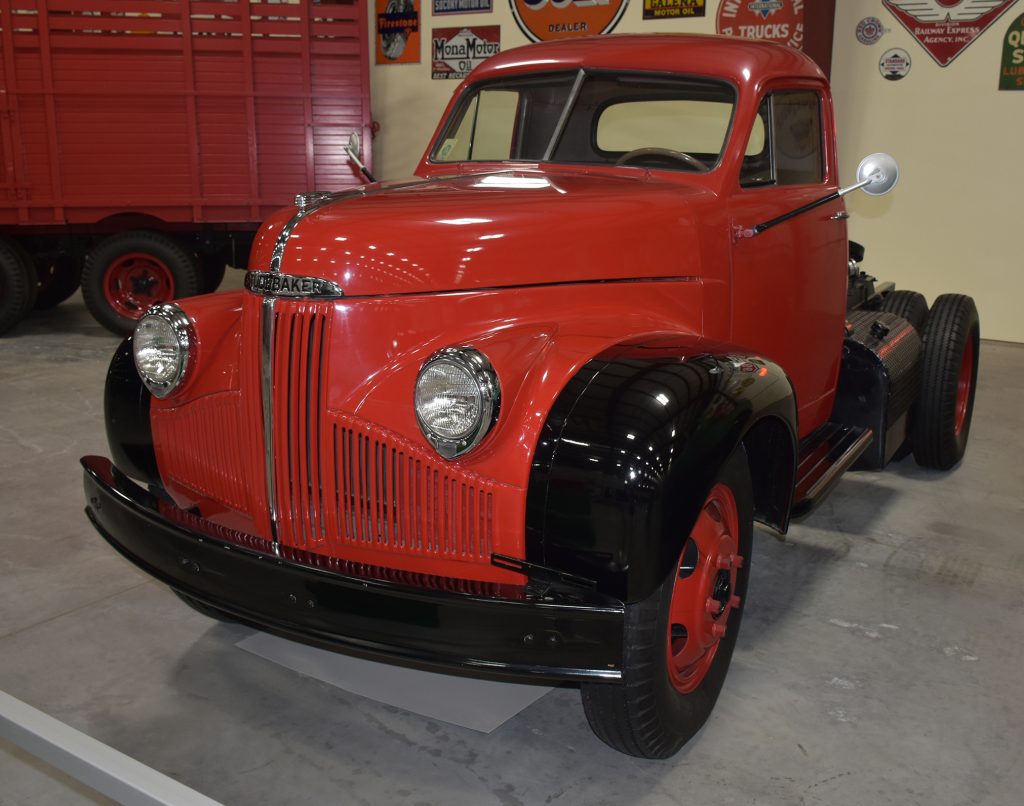 1948
Diamond T 201 – 1 Ton
⇒ Hercules 6-cylinder flat-head engine
⇒ 4-speed transmission
⇒ Top speed – 45 MPH
The Diamond T 201 – 1 Ton was introduced in 1938, costing $1,800. It has hydraulic brakes. Diamond T was considered high-end and was known for its stylish design and quality. Over the years, Diamond has built tow trucks, dump trucks, delivery vans, buses, fire engines, and a variety of additional heavy-duty commercial vehicles. The Diamond, know for its famous trademark of a gold-bordered green diamond with a "T" in the middle, is a highly sought after collector item.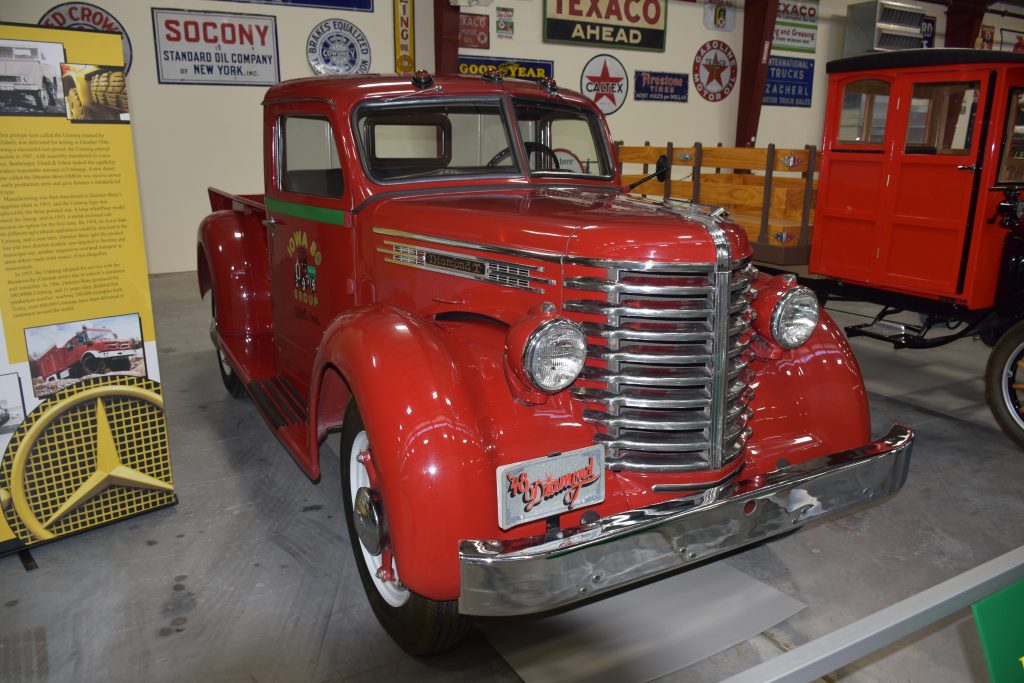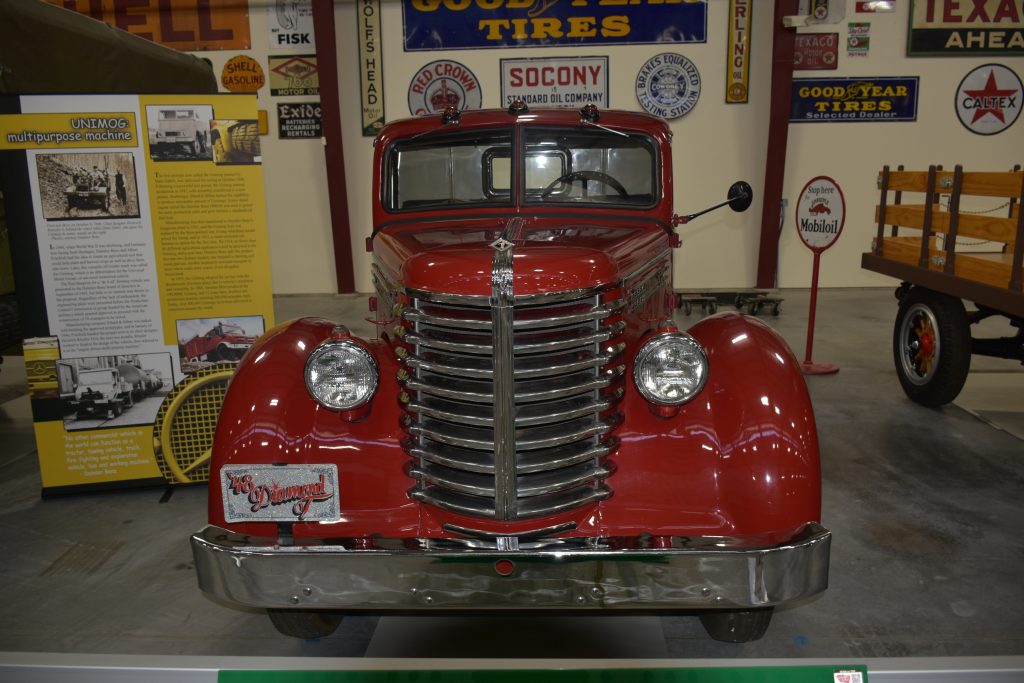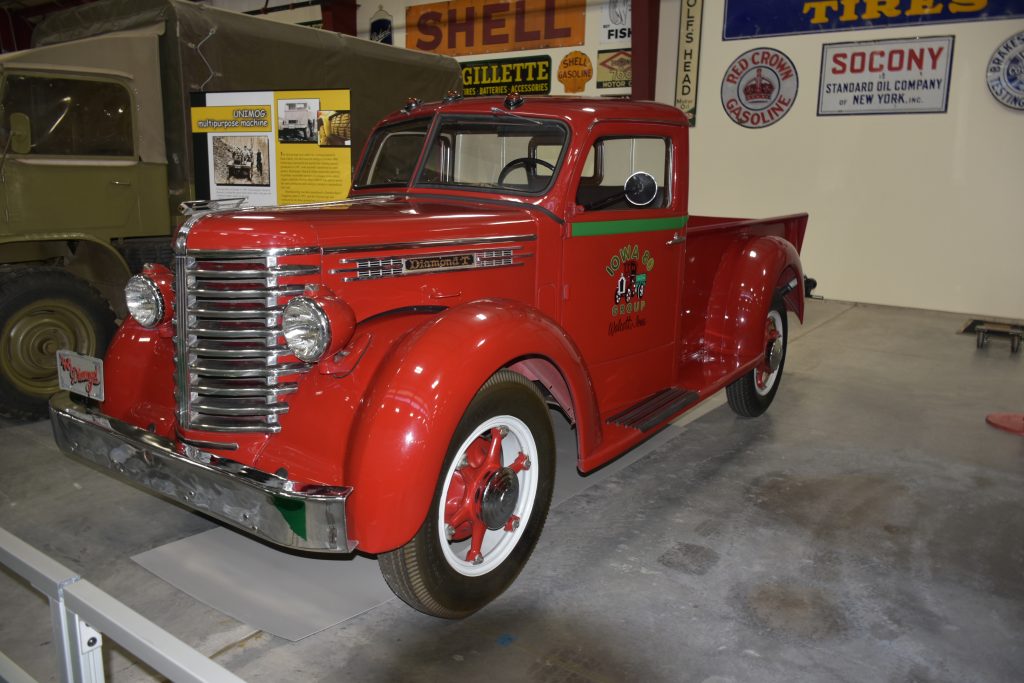 1949 BROCKWAY
⇒ Engine: 579 cubic inch. Continental Gas
⇒ 5 speed and 2-speed rear axle
⇒ Top Speed: 55 MPH
Brockways, like this 1949 model, were viewed as top-of-the-line trucks during their time. Built in Cortland, New York, they were considered a custom truck like the Kenworth and Peterbilts on the west coast. It has a wood cab and the typical Brockway frill, which is highly ornamental and difficult to make. There is still a starter crank hold. You probably couldn't start this engine with a crank, but you could turn it over to set the timing. The valves did not have hydraulic lifters, so you set the valve clearance by hand. On an unrestored truck like this, you can see the faults in the truck's construction. It is rusted out in places like the windshield are exposed. There was a problem with the drainage; water sat there all the time. Furthermore, the hinges are exposed. While that makes for quick-and-easy construction, it's not the best for longevity of the hinge. The hood is also exposed, and the paint is faded and falling off. Still, there is a lot of metal left and a surprising lack of holes; it isn't rusted through like a lot of old unrestored trucks we find. Construction of this truck was pretty basic – the fenders don't even have a rolled edge with a wire in it. Lots of fenders were rolled under and that would make it look more finished, more attractive. This truck doesn't have that, so it didn't have a place for salt and water to collect which has helped its longevity.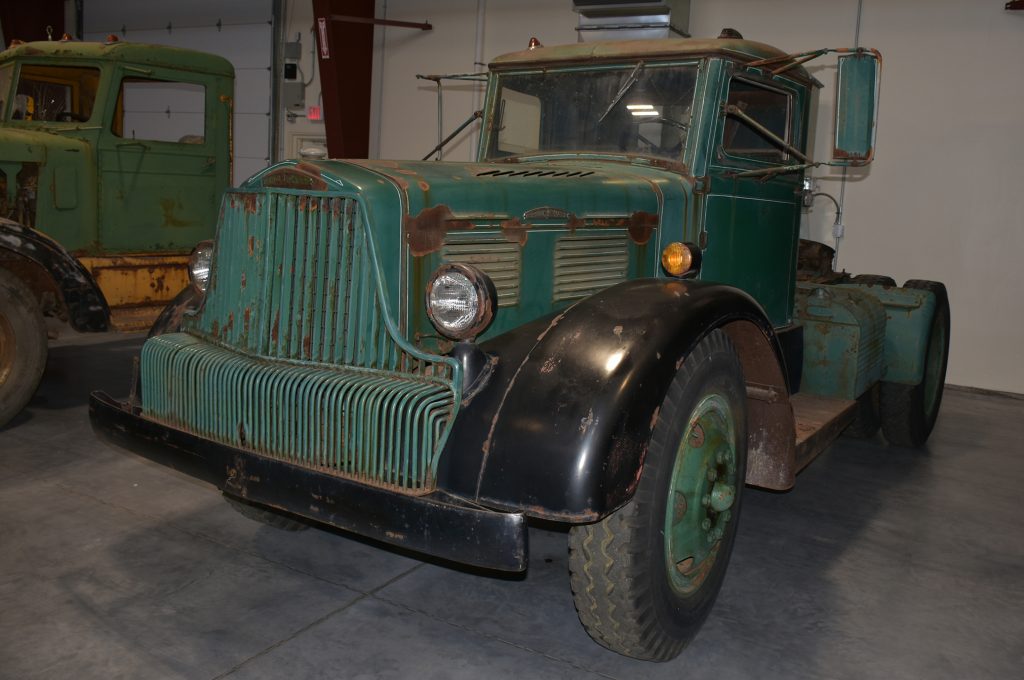 1949 BROCKWAY 260 XW
⇒ Engine: 579 cubic inch Continental gas, 203 HP
⇒ Transmission: 5 speeds and 2 speed rear axle
⇒Top Speed: 55 MPH
Brockway started as a wagon maker and made it's first truck in 1912. In 1956, Brockway was bought by Mack and the last Brockway was built in May 1977. Built in Cortland, N.Y., it was considered a custom truck like the Kenworths and Peterbilts on the west coast. This truck has a wood framed cab with metal over the frame and a wood trim on the outside of the doors. These old gas trucks were cold blooded; they were hard to start on a cold day and not easy to start on a warm day either. The carburetor had to be choked hard to get this truck started and keep it running. That was the nature of how trucks used to run back then.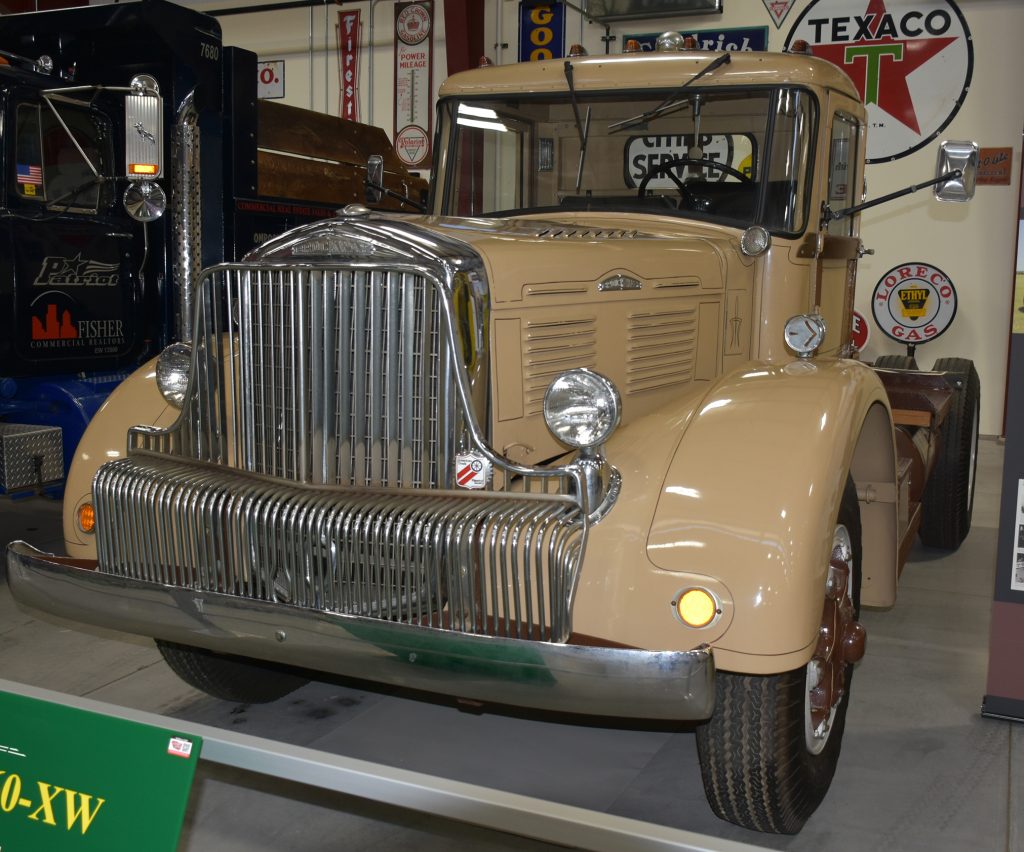 1949 INTERNATIONAL HARVESTER KB – 11
⇒International Red Diamond 450 6-cylinder Overhead valve engine
⇒5-speed Fuller Direct and 3-speed Brown-Lipe Auxiliary transmission
⇒Top speed – 50 MPH
The KB Series was manufactured by International with 14 different models. KB-1 through KB-1 was a pickup model with each number progressively heavier duty than the previous up to the KB-14 model, the biggest, heaviest duty truck. The KB-11 was a very popular model and equipped with a Timken rear axle.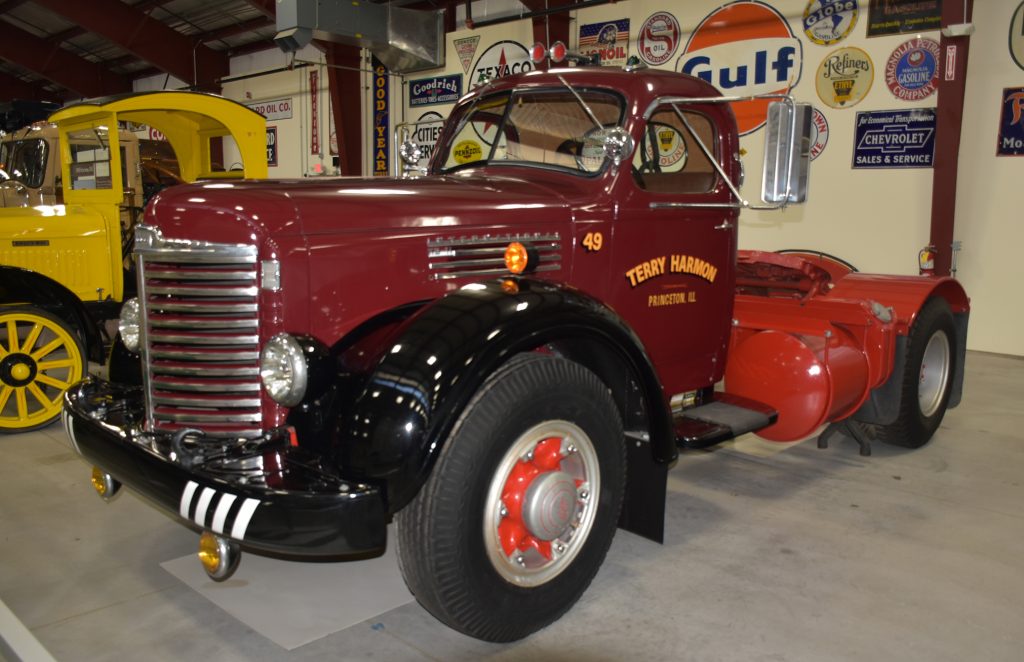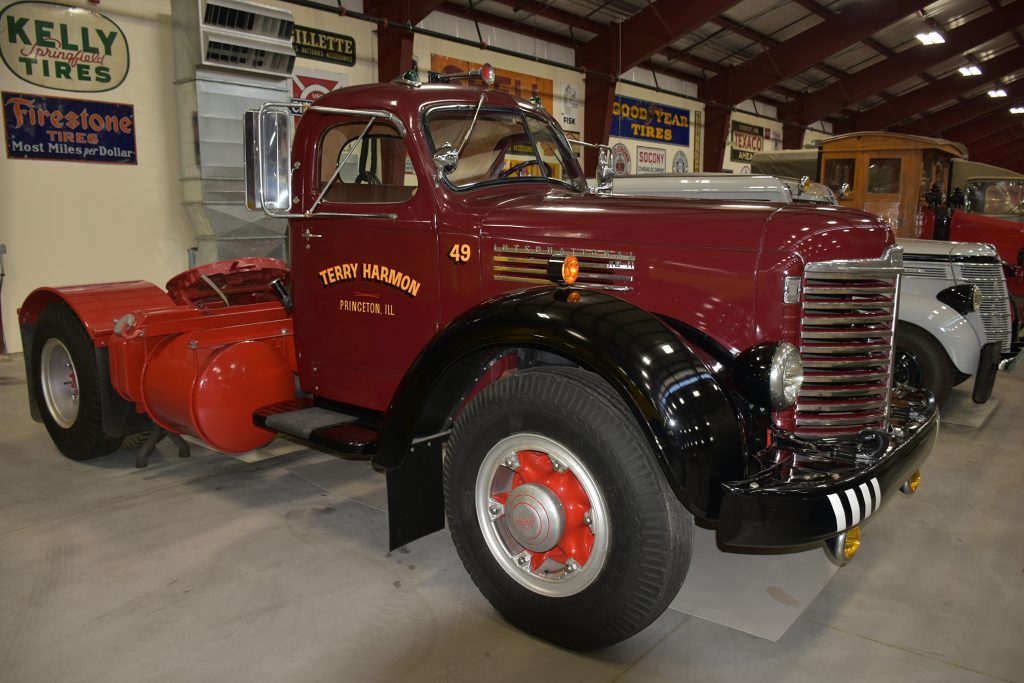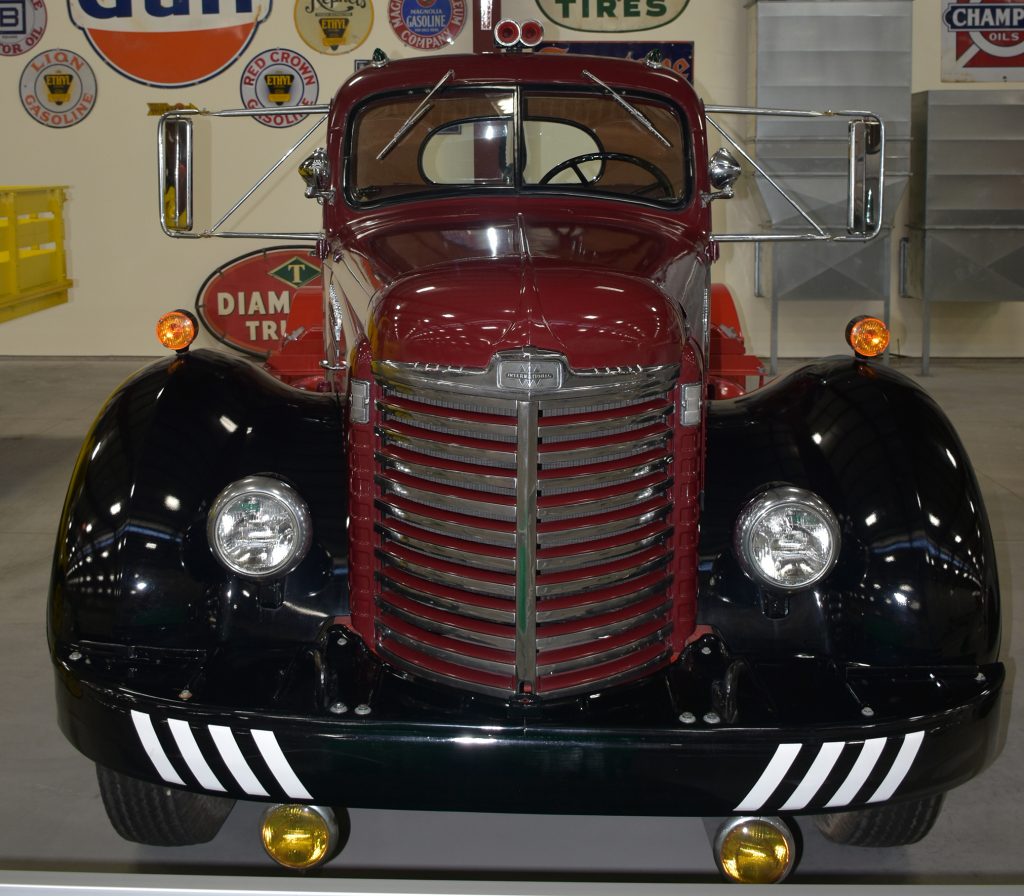 1949 KENWORTH MODEL CD-524
⇒ Cummins NHRS 275 hp with supercharger
⇒ Spicer 5 x 3 speed transmission
⇒ Top Speed – 72 MPH
General Petroleum originally used this truck to haul fuel for Mobil Oil Company. Iowa 80 purchased the truck in 1994 from Motor Transport Museum in Campo, California. Everything on the truck is original, including the fuel tanks. All of the serial numbers match.