1920 GMC K-71 3½ Ton
⇒Engine: GMC Four Cylinder, 4½ inch bore and 6-inch stroke ⇒Transmission: 4-speed with Hi-Lo range
⇒Horsepower: 51
When this truck was built in 1920 it was one of the most modern trucks being produced. Its unique engine design sported removable sleeves, a pressure oiling system, and a two-range transmission that provided 8 forward speeds. The valves were also located in the block, which allowed for easy engine repair and maintenance which was almost unheard of for the time period. The ignition was a magneto system and had an electric starter.
This truck has solid rubber tires with hollow spoke cast wheels. The truck was available in two wheelbases; 163″ or 187″, putting the weight of the truck between 7,900 pounds and 8,100 pounds depending on customization. The truck was a 7,000-load capacity. Standard equipment included electric head lamps, one tail light, generator, storage battery, horn, tool kit and a jack. This truck was purchased by our founder, Bill moon, in 1991 at the renowned Earl Marhanka auction. At this auction over 350 pre-1930 trucks and tractors were sold; the largest collection at that time.


1920 MACDONALD MODEL A 7.5 TON LOWBED STAKE
⇒ Engine: Buda YTU Model 382 CI 4 Cylinder
⇒ 4-Speed Brown-Lipe
In 1920 , William W. MacDonald founded the MacDonald Truck & Tractor Company in San Francisco. During this first year, He created this Model AB 7.5 Ton Low-bed. Due to its ability to transport heavy loads and equipment, it became an extremely popular truck. This truck weighs 16,000 pounds and was sold new for $8,000. To allow for higher payloads, this truck features a set-back front axle design. In order to accommodate the large amount of weight on the front wheels, MacDonald was one the first truck manufacturers to patent and use hydraulic powered steering and brakes. Hydraulic powered steering in vehicles did not become widespread until WWII. This model had one of the lowest beds at the time, at 16.5 inches above the ground. Primarily used to transport goods and equipment between docks and warehouses, the low bed, the low bed allowed cargo to be loaded and unloaded with ease. Due to this low clearance, the Model AB could not run a drive train or brake connection to the back wheels. On the driver's side o the cab is a compact capstan winch. Powered by the truck engine, this winch could help haul extremely heavy equipment into the bed. This heavy-duty truck and its components helped move cargo more efficiently, saving workers time and energy. MacDonald Truck & Tractor Company was later renamed Union Construction Co. And MacDonald Truck and Manufacturing Co. before being bought by Peterbilt in the late 1940s. The last MacDonald truck was produced in 1952.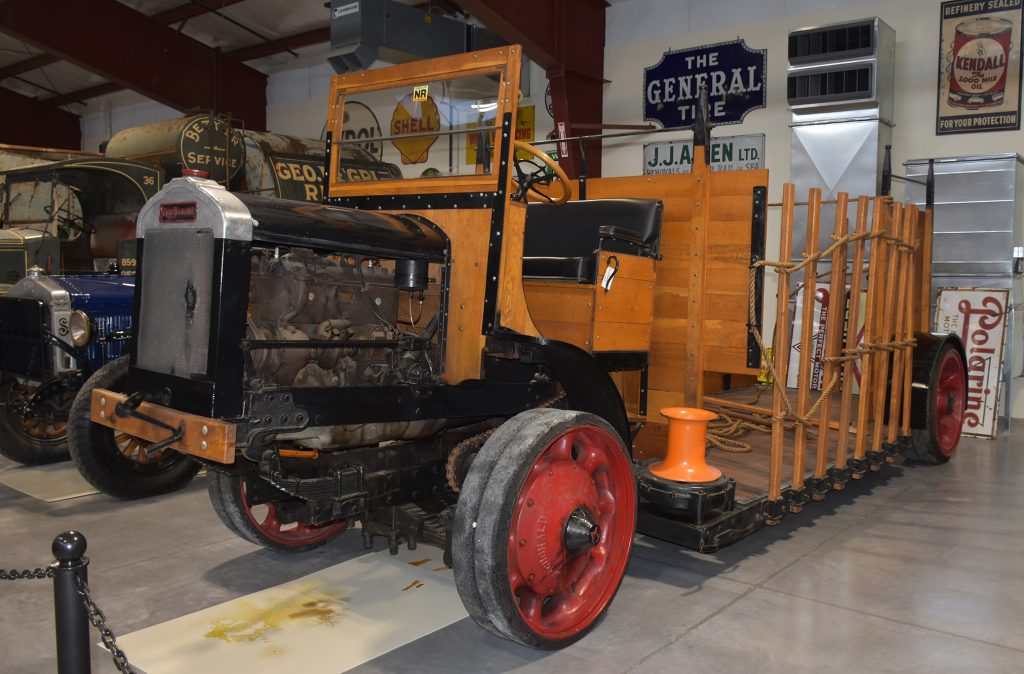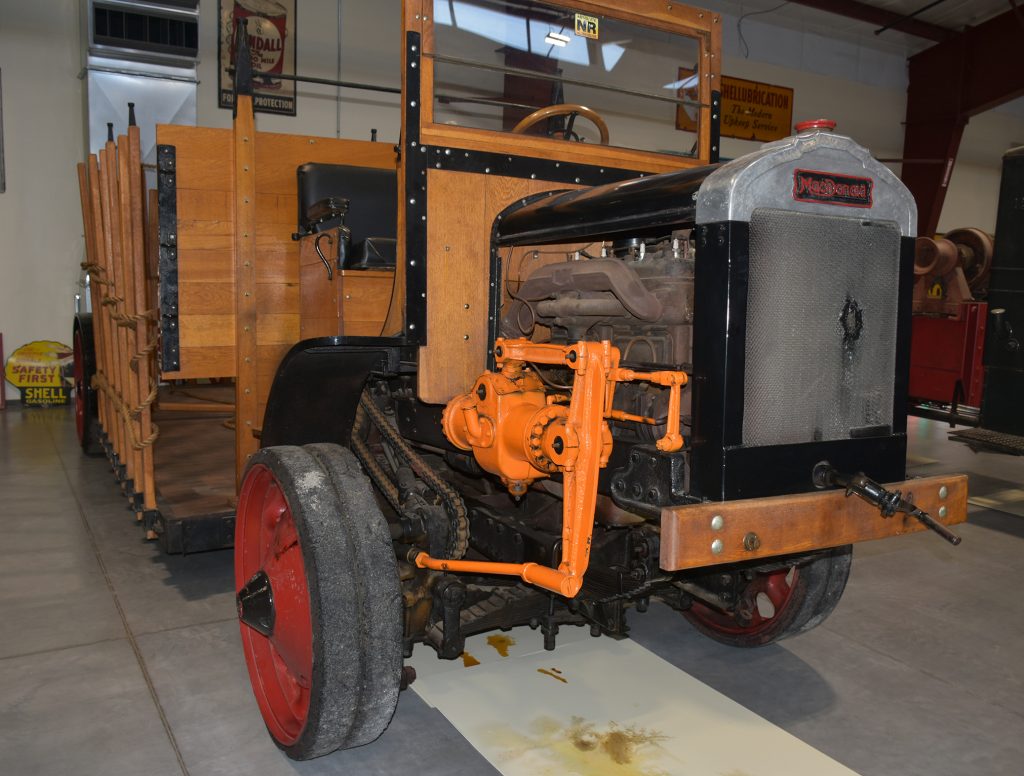 1921 INTERNATIONAL HARVESTER 101
⇒Engine: International Harvester 4 Cylinder
⇒Transmission: Brown-Lipe 4 Speed
⇒Top Speed: 14 MPH
Based in Chicago, Illinois, the International Harvester company was a result of the merging of McCormick Harvesting Machine Company and Deering Harvester Company in 1902. Originally targeted to farmers, International Harvester started off only manufacturing tractors. In 1909, they started manufacturing trucks. International Harvester 101 models were manufactured for only three years, 1921-1923. Out of the limited amount manufactured, this truck is believed to be the only one left in existence. It is Serial Number 704 R. In 1921, this truck would have cost $4,500. Weighing 6,000 pounds, the truck's maximum payload is 10,000 pounds. The frame measures eight inches in height and has seven cross members, making it the largest in International Harvester's line of trucks. The previous owner of the truck was Curt Fisher of Mankato, MN. He purchased it at an estate auction in New Ross, IN. The truck had been restored 25 year prior, but Curt did some more restoration after purchasing. The Iowa 80 Trucking Museum purchased the truck in November of 2020

1922 PACKARD EX
⇒ Packard 4-cylinder flathead engine
⇒ 4-speed Packard sliding gear transmission
⇒ Top speed – 28 MPH
Made in Detroit, Michigan, this truck was sold new in Milwaukee, Wisconsin. Packard started making trucks in 1903. In 1911, a Packard made the trip from New York to San Francisco in 46 days. It was the first truck to haul freight cross-country. This particular model was made in July of 1922, just one year before Packard stopped producing trucks. Packard made all the parts for their trucks. This workhorse has a gravity-operated dump bed.


1922 WHITE 15 3/4 TON
⇒ White 4-cylinder Flathead 3.75 Bore 5.125 Stroke engine
⇒ White 4-speed transmission
⇒ Top speed – 20 MPH
White Motor Company, which got its start with steam-powered cars, became on of the leading truck manufacturers in America. The company did not start by producing automobiles, but instead sewing machines. White Sewing Machine was founded by Thomas White in Templeton, Massachusetts who moved operations to Cleveland, Ohio in 1876. The first White truck was built by White Motor Company in 1911 under the direction of White's sons.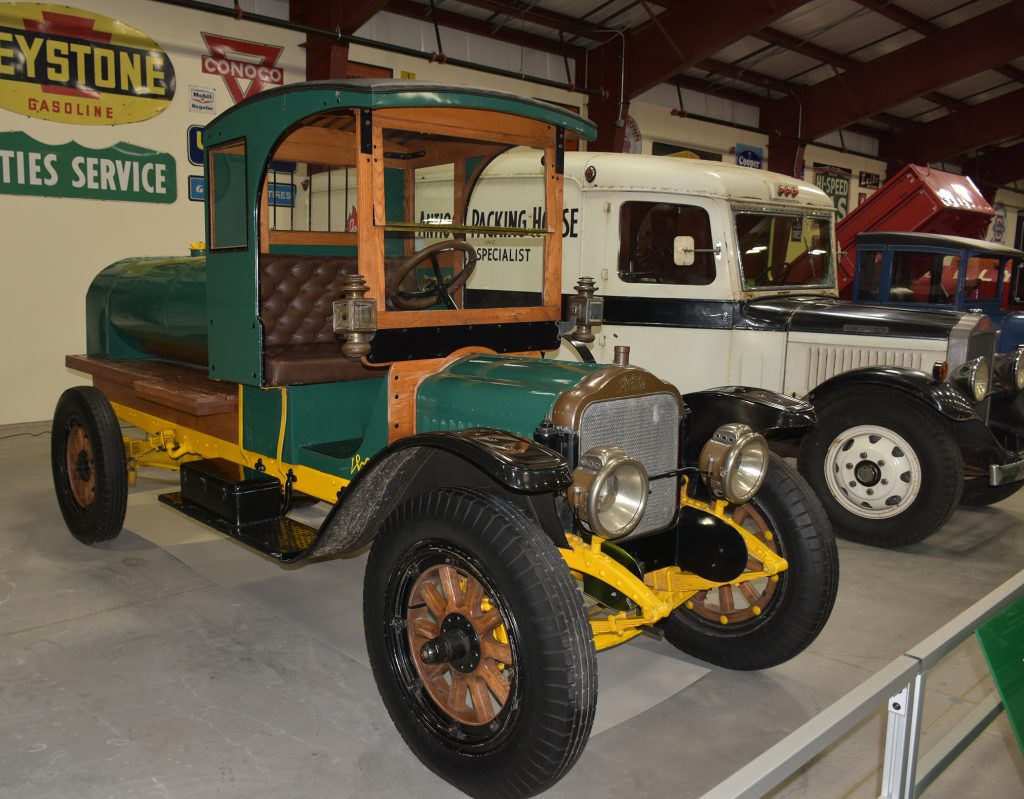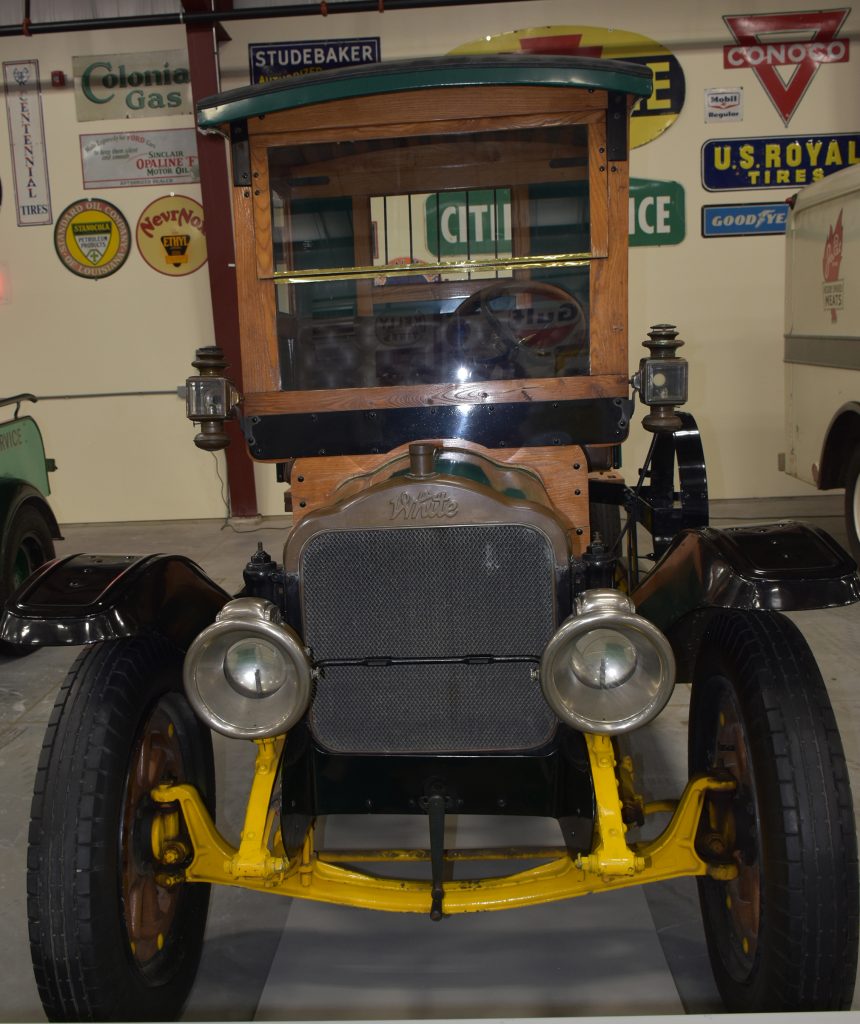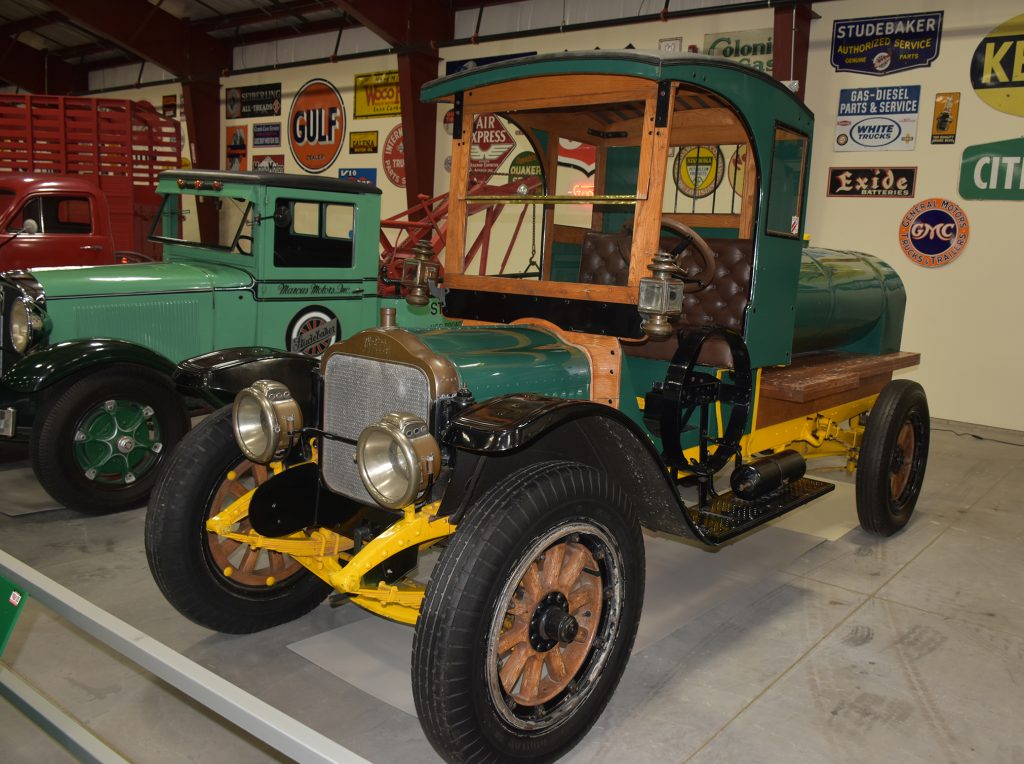 1923 INTERNATIONAL
⇒ Engine: 4 cylinder
⇒ Transmission: 3 speed
⇒ Top Speed: 35 MPH
This 1923 International is a Six-Speed Special model which was purchased new by the Ellerbrock family in Sac City, Iowa and was donated to us. On the steering column of this truck is a spark and a throttle control. Timing must be adjusted when the engine speeds up and back in the day it was adjusted by ear. The gas tank was located under the seat and was filled from inside the cab. There are gas primer cups on the engine to help start the it during winter. Gas could be added directly into the primer cups which would then directly go to the cylinders so the engine would fire easily.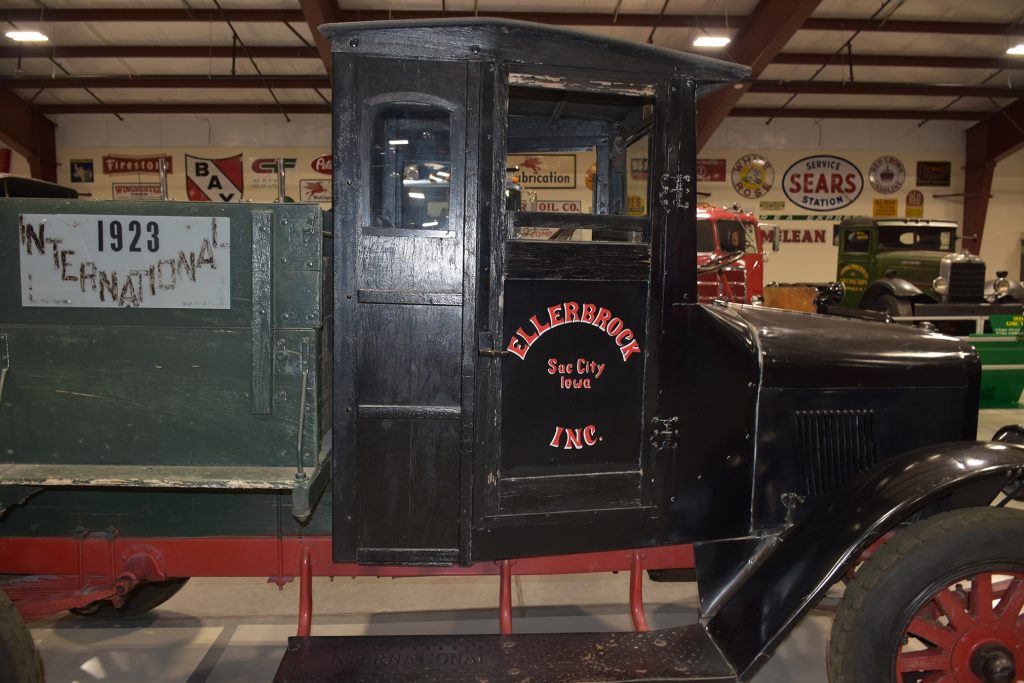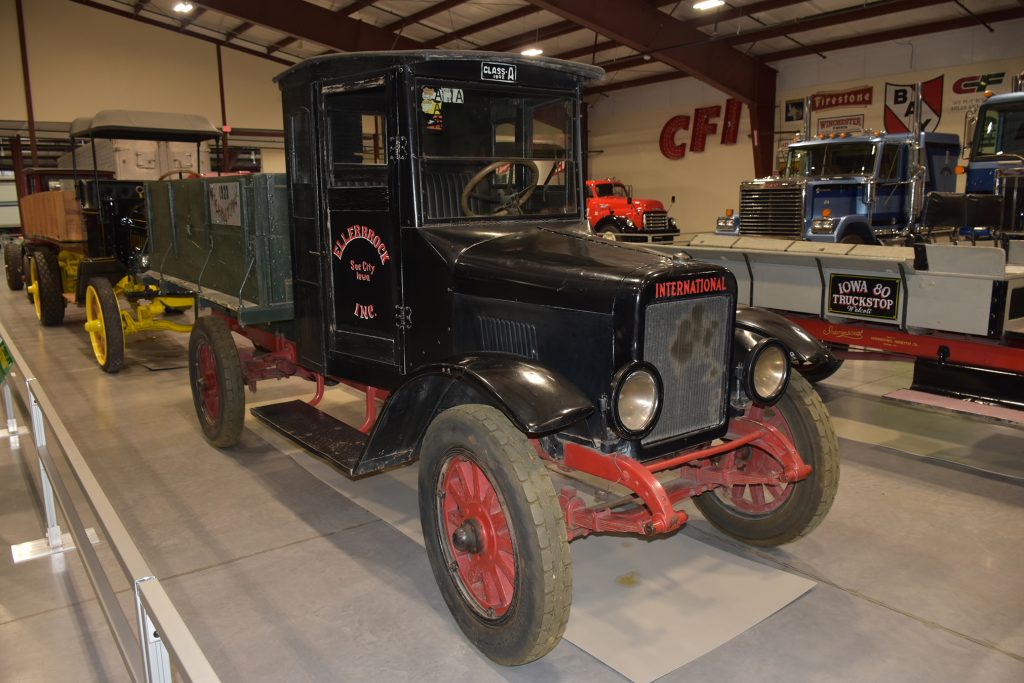 1923 Mack AB
⇒ 1923 Mack AB
⇒ Engine: 4-cylinder
⇒ Transmission: 3-speed
⇒ HP: 30
The Mack AB model was Mack's first standardized, high volume model series, introduced in 1914, replacing the Mack Jr. line. The first AB models had a chain drive or worm drive. In 1920, a dual reduction drive replaced worm drive as an option. This medium duty truck's simple, classic styling made it very popular. The Mack AB was produced through 1937. Over 55,000 units were manufactured.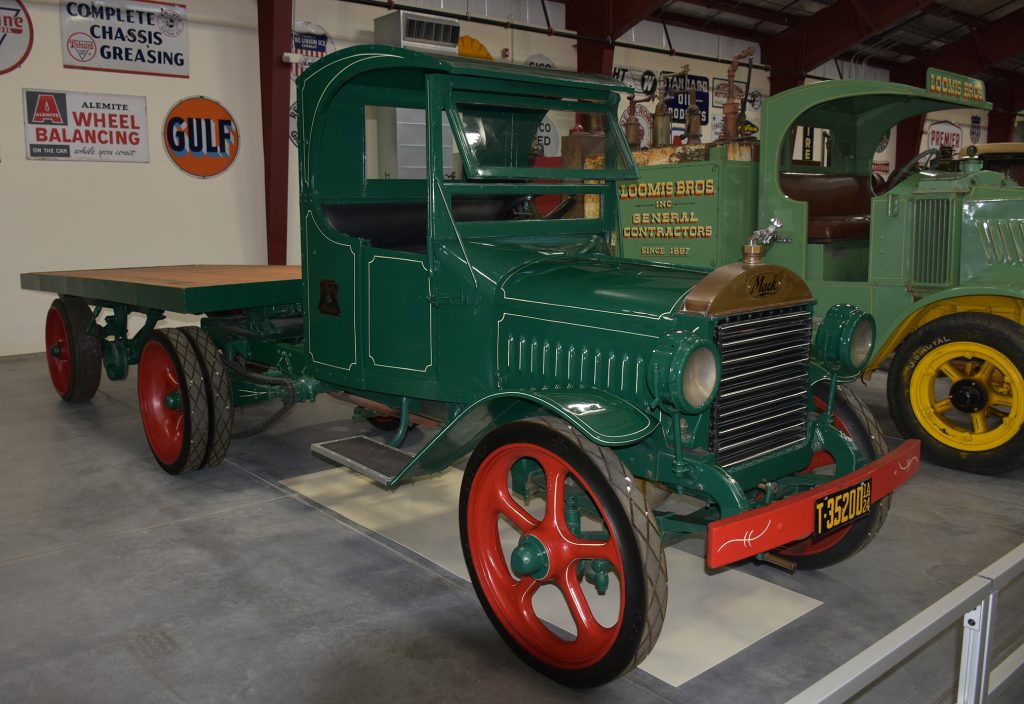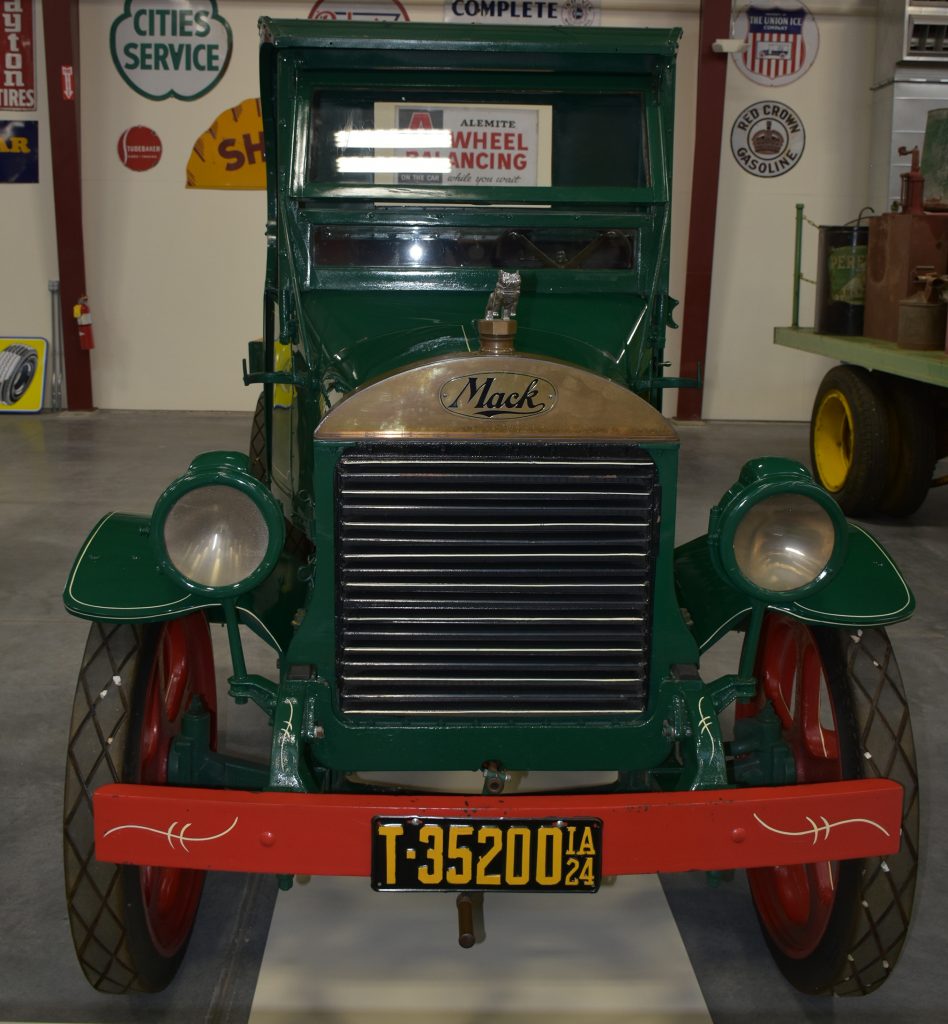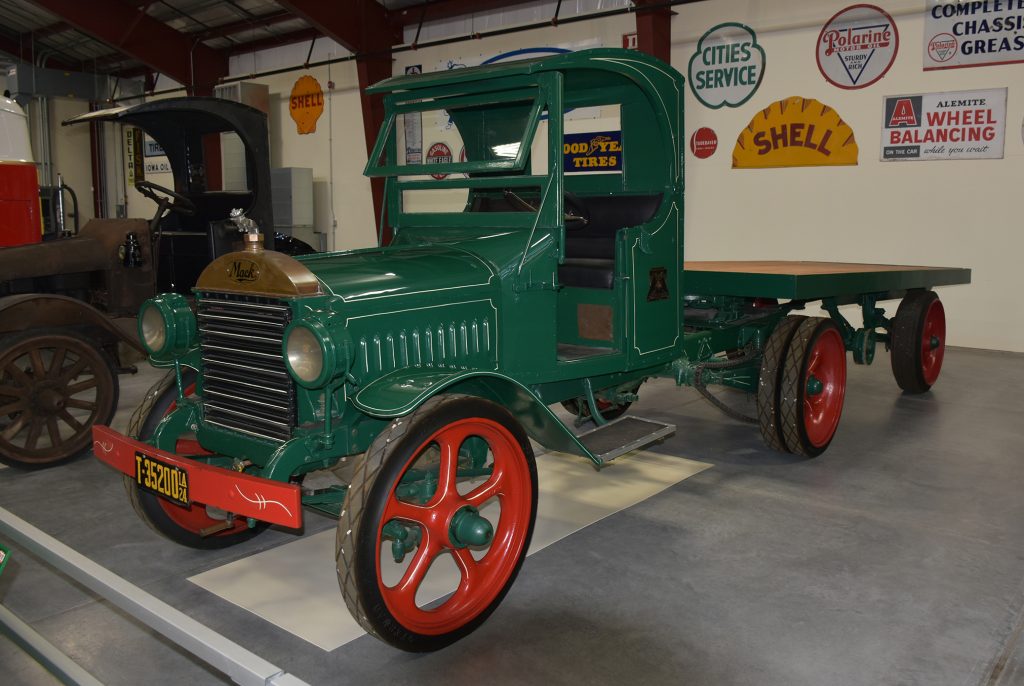 1923 STERLING 2 1/2 TON
⇒Engine Type: Waukesha 364 CI 4-Cylinder
⇒ Transmission Type: 4-Speed Brown-Lipe
⇒ Top Speed: 22 MPH
Originally a dump truck, this Sterling was later bought by Frank Oulicky in 1931. He and His wife used it to haul equipment and their belongings to California to mine for gold. With a top speed of 22 MPH, it took them 16 days to reach California. Based in Milwaukee, Wisconsin. Sternberg Motor Truck Company was founded by William Sternberg in 1907. During WWI, the name was changed to Sterling Motor Truck Company. One of Sterling's most well-known features were the solid oak boards laid into the frames to reduce road shock. This feature was patented in 1922. Showcasing how proud Sterling was of their brand, you will find "Sterling" stamped into the rear frame and cast into various parts on the truck. In 1951, Sterling was sold to White Motor Company. Then, in 1953 White Motor Company bought Autocar, and the Sterling brand was discontinued.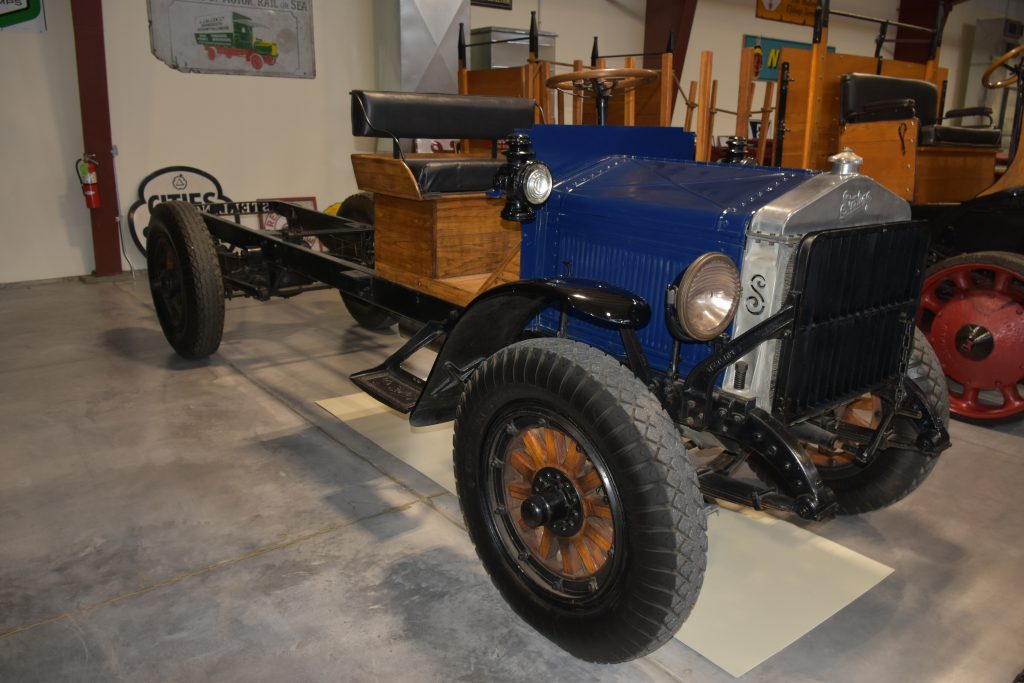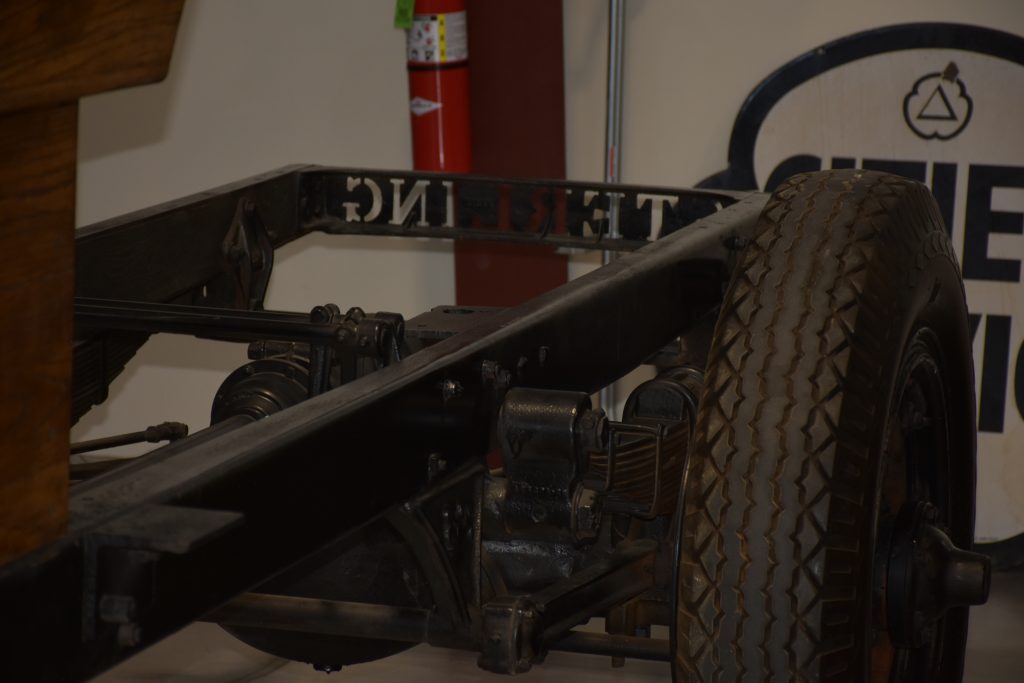 1924 BROCKWAY 2.5 Ton
⇒Wisconsin TAV 25 hp engine
⇒Brown-Lipe 3-speed transmission
⇒Top speed – 20 MPH
A brand new Brockway 2.5 Ton would have cost $3,000 in 1924, when this one was made. Once could get these in Cortland, New York from 1912 to 1977. In 1956, Brockway was purchased by Mack Trucks.

1924 WHITE WRECKER MODEL 40
⇒ White 4 cylinder 371 cu. in. engine
⇒ 4-speed transmission
⇒ Top speed – 15 MPH
White built 1,443 of these wreckers in 1924. This particular truck has a 11.6 gear ration and is probably the most famous making its film debut on the silver screen in the 1991 film Friend Green Tomatoes. This is the wrecker used in the scene where a car belonging to Idgie's friend Ruth's husband is pulled from the lake.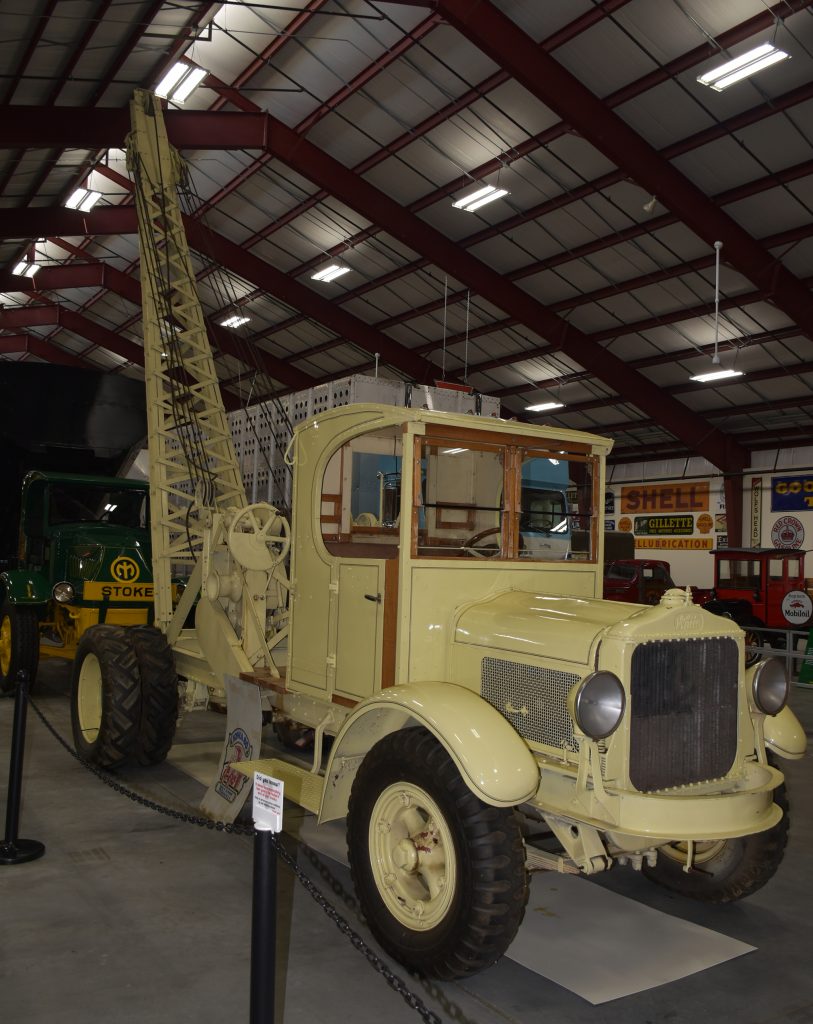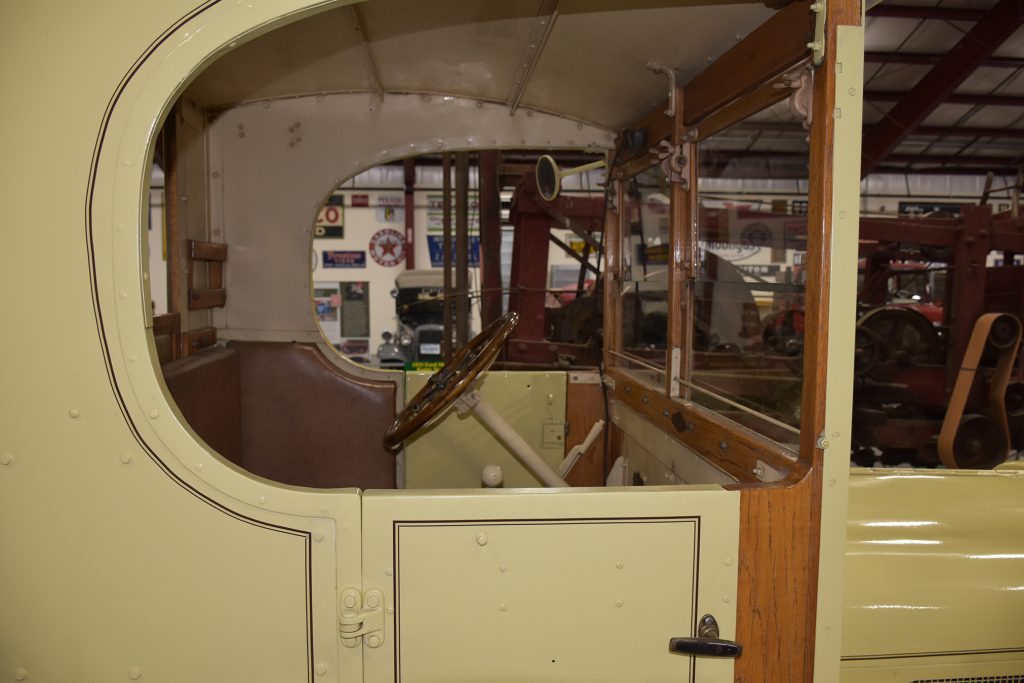 1925 DOUGLAS
⇒Engine: Buda 4 Cylinder Gasoline
⇒Transmission: Fuller & Son GU-14-speed
⇒Top Speed: 15 MPH
This Douglas is one of only 6 to still exist. Douglas Truck Manufacturing Company was founded in Omaha, Nebraska in 1917. The demand for 6-wheelers grew as a result of regional truck weight restrictions, and Douglas had them available before any of the other truck manufacturers. Douglas was only in business until 1935, and produced a relatively low number of trucks, making them extremely rare. The rig on the back is a Cyclone Cable Tool Drilling Machine. A cable tool drill, also known as a percussion drill, is used to bore holes into materials such as rock, soil and concrete. The cable tool drill as we know it today was invented in 1825. It was widely utilized for drilling water wells, and later became useful in oil drilling, operating on the first modern oil wells in North America. This specific truck and rig made its home in Cedar Bluffs, Nebraska, drilling mostly water wells until 1950. The Iowa 80 Trucking Museum acquired this truck in September of 2010.

1925 INTERNATIONAL MODEL 63 STREET WASHING TRUCK
⇒ 4 cylinder 283 cubic inch engine
⇒ 4-1/4 bore with 5″ stroke
⇒ 750 gallon water tank
Of the 15,500 trucks that International made in 1925, 2,972 of them were this model. Th Lycoming design engine uses ball bearings on the crankshaft, which is very unusual. The City of Menominee, Wisconsin used this truck for treet cleaning until 1957.

1925 KENWORTH
KS 3 TON
⇒Buda 4 cylinder engine
⇒Cotta 4-speed transmission
⇒Top speed – 25 MPH
This 1925 KW was discovered two blocks from Microsoft's headquarters in Richmond, Washington where it was used by a construction company to haul dynamite. According to the former owner, this Kenworth KS serial number 2012, is the earliest one known to still exist. The truck is outfitted with a Timken worm drive rear end, and has hard rubber tires on the rear, and pneumatics on the front.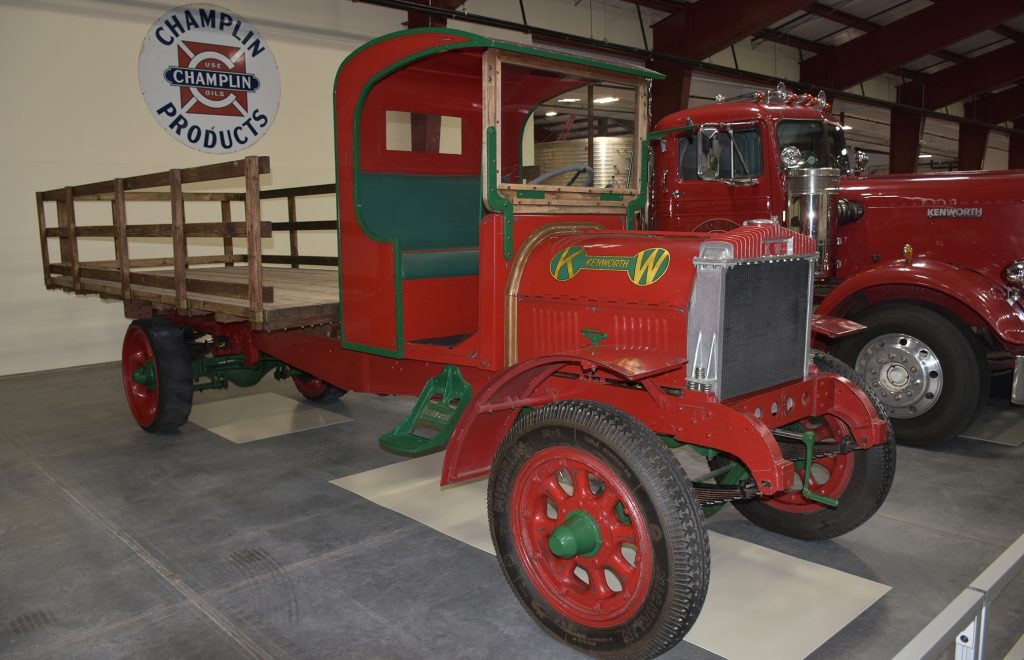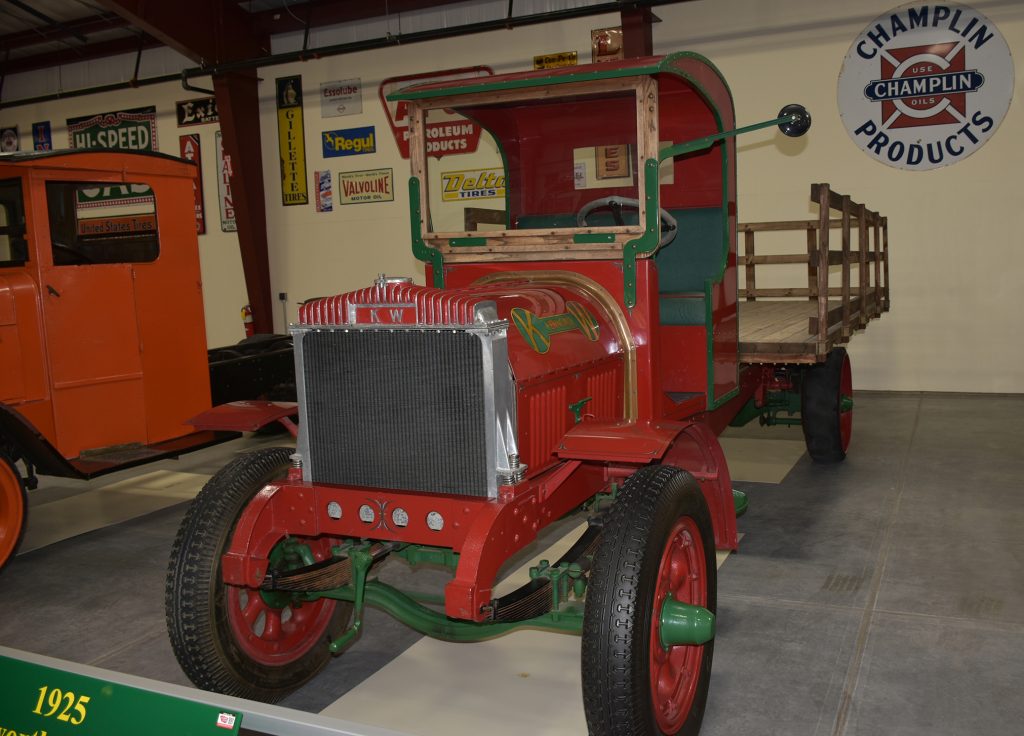 1926 AUTOCAR
⇒Engine: 4-cylinder

⇒Transmission: 4 speed
⇒Top Speed: 30 MPH
Autocar trucks were made from 1897 to 1997 and now there is a new Autocar company that builds vocational trucks. This 1926 Autocar is a cabover dump truck with lift arms that are gear driven out of the transmission. Out of all the trucks ever built this is one of the hardest to get in and out of. Something unique about this truck is the gas pedal being placed between the clutch and the brake which was and still is very inconvenient. The dump box is quite large for the truck size and would not have been good for maneuvering in small spaces and on narrow streets. Autocar made high quality cars and super heavy-duty truck in Exton, Pennsylvania.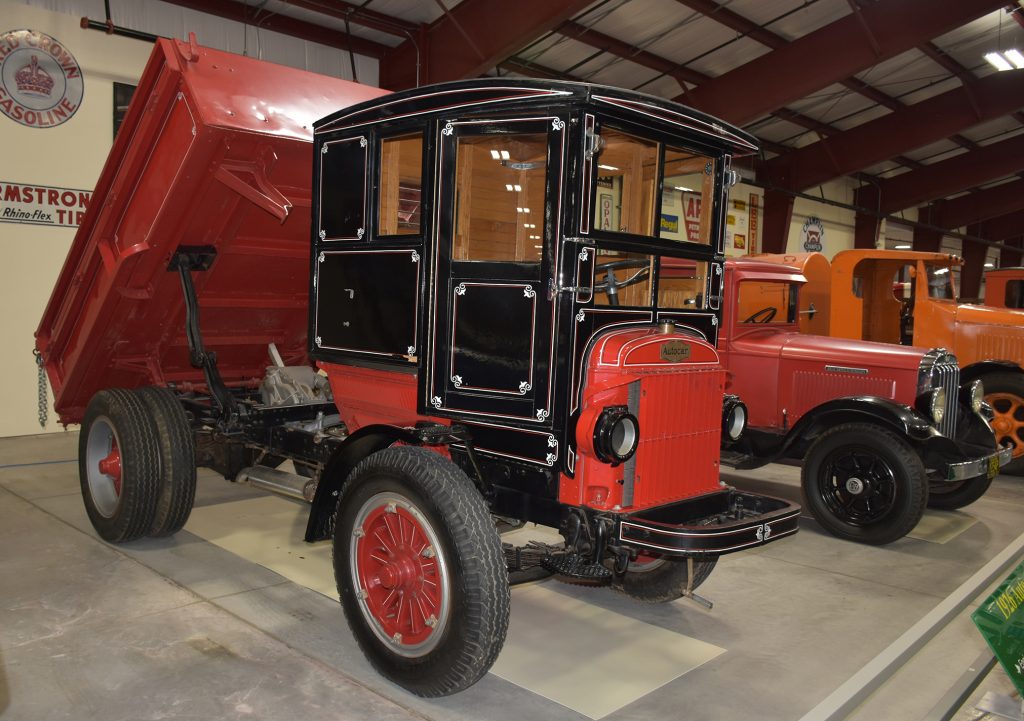 1926 FWD
⇒Model: BT
⇒Engine: 4 – cylinder
⇒Transmission: 5 – speed
During the 1920s many states purchased trucks like this FWD to drill holes for electrical poles. The earth boring drill at the rear of this truck can drill a hole up to eight feet deep. This model of FWD was popular because if its simple design; it was easy to operate and easy to repair. The FWD could dig anywhere between 25 – 35 holes per day. This was a significant improvement over digging the holes by hand; 8 – 10 man would only average eight holes per day. This is a heavy-duty work truck, weighing in at 13,400 pounds.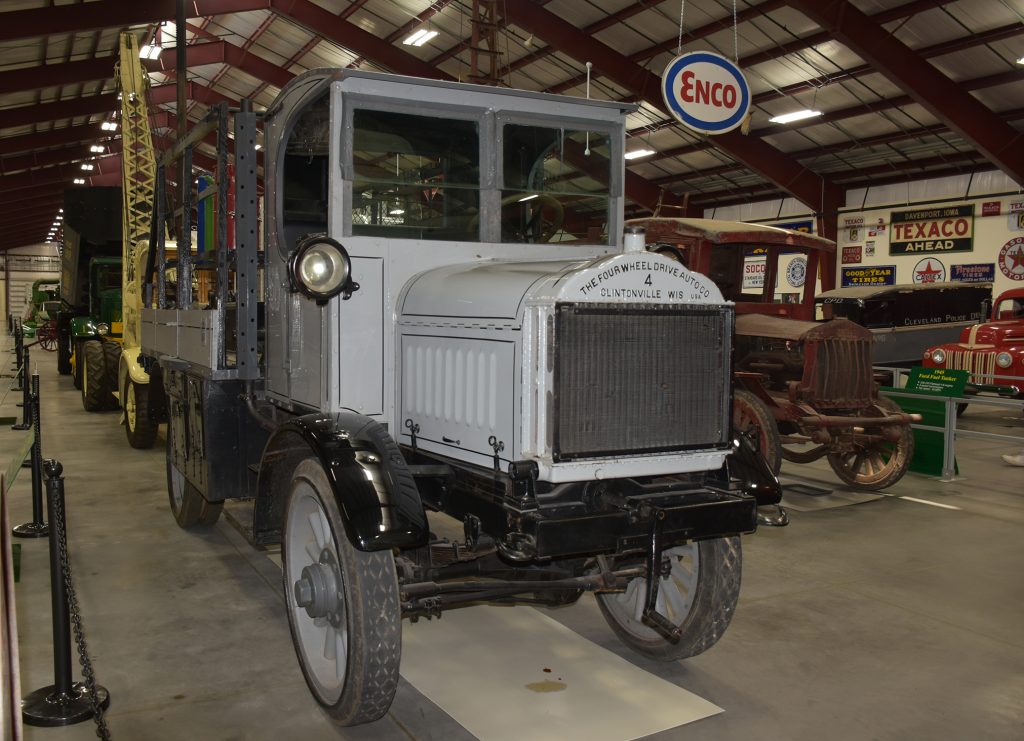 1926 MACK AC & 1926 ROGERS TRAILER
⇒Engine: 4-cylinder engine, 50 horsepower
⇒Transmission: 4 forward and one reverse speeds
⇒Top Speed: 15 – 20 MPH
This Mack AC is identical to the model they made in 1916 and consists of a C cab and a windshield that opens forward. This is a chain drive with solid rubber tires which could not gone flat but could certainly wear out. This has a Renault style radiator behind the engine. The use of case-hardened ground timing gears is an exclusive feature of Mack engines. The headlights on both the trucks and the trailer are kerosene powered. Mack continued to make the same model through 1937. There was not much that could go wrong with a truck like this and there was not much that most owners couldn't fix. This truck with the heavy trailer probably did not travel very far.
1926 ROGERS TRAILER
The 20-ton connected to this truck was made by Rogers Brothers Corporation in 1926. The Pennsylvania-based company got its start in 1905; it is the oldest family-owned business in the heavy-duty low-bed trailer industry. Rogers has also made tractors, snowplows, road planes, and vans over the years. Still in business today, the company has established a reputation of quality and excellence. Rogers was even contracted by the United States government to create trailers and troop carriers in WWI, WWII, the Korean War, and the Vietnam War.
This trailer would have cost $2,800 brand new. With a 10-foot width it would be oversized today, but wide trailers were common in the early 20th century because there were no restrictions on trailer width at the time. There is a wheel at the front of the trailer that controls its brakes. The truck brakes were not strong enough to hold the trailer back. So, if one was going down the a hill, some brave soul had to stand on the trailer and apply the trailer brakes when the driver asked for them. The arch connecting the trailer to the truck was a feature developed by Rogers in 1923. Because of its resemblance to a goose's neck it became known as a "gooseneck" — a term that is still used today.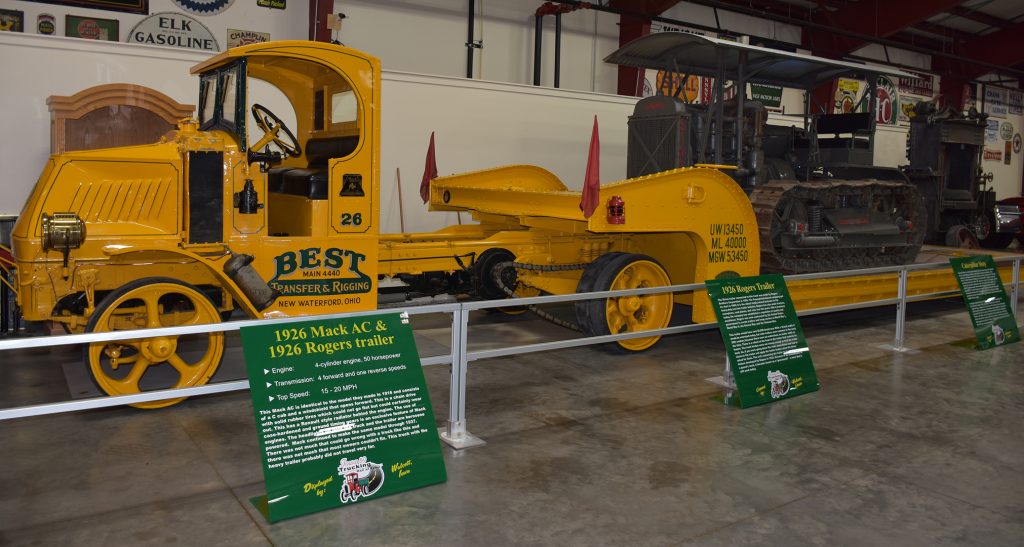 Caterpillar Sixty
On the trailer is a caterpillar Model Sixty crawler tractor. It's famous for its overhanging radiator, individually mounted cylinders, lever controls, and open clutch. The model was first introduced in 1919 by the C. L. Best Tractor Company as the Best 60 Tracklayer and was produced in Peoria, IL (the 'PA' series) as well as San Leandro, CA ('A' series); it was the company's most successful tractor. When C.L. Best Tractor merged with the Holt Manufacturing to form the Caterpillar Tractor Company in April 1925, the name of this model changed from Best 60 to Caterpillar Sixty. The company stopped production of the tractor in 1931; by that point, they had made nearly 19,000 of this model.
It weighs approximately 21,000 pounds and has 4-cylinder, 60 horsepower engine. The Caterpillar Sixty was a marvel of engineering, a legend in its own time. It is known as an innovation where power, suspension, and design come together in a machine that performs far in excess of those envisioned by the designers. There is no blade on the Caterpillar Sixty; though you could buy a bade attachment to push dirt, they weren't as commonly used for that purpose as they are today. Judging from the wear on the hitch, this one was used extensively.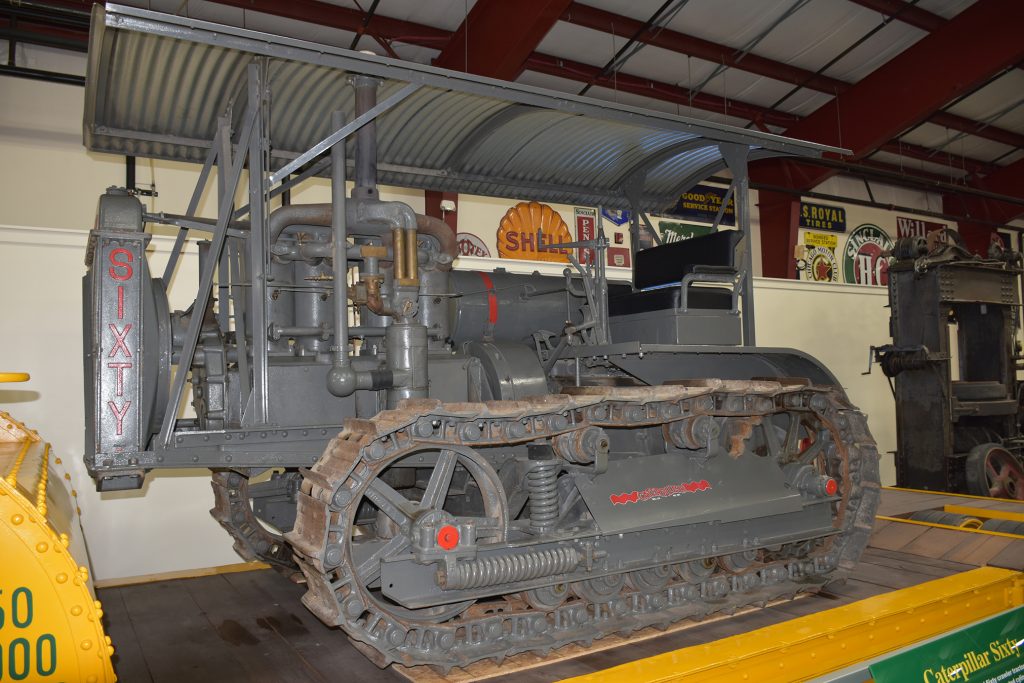 1927 DIAMOND T GX
⇒Engine: Buda 4 cylinder engine
⇒Transmission: Brown Line 4 Speed (Hi & Lo)
⇒Top Speed: 15 MPH
This 1927 Diamond T GX was a big truck for its year; very heavy duty. The gross weight capacity of this truck is 22,500 pounds. It has mechanical brakes, as well as Timken front and rear axles. This truck has two transmissions, a main and an auxiliary for more speeds forward which was unusual during that time. It has a 10-pin worm drive rear axle made by Brown-Lipe which was also called Brownie by truckers. This has suicide doors which makes getting in and out easier. There are wood boards on the floor and the cab is made of metal with a wood roof. When we purchased this truck, it was cab and frame only. We added the appropriate fifth wheel for the period.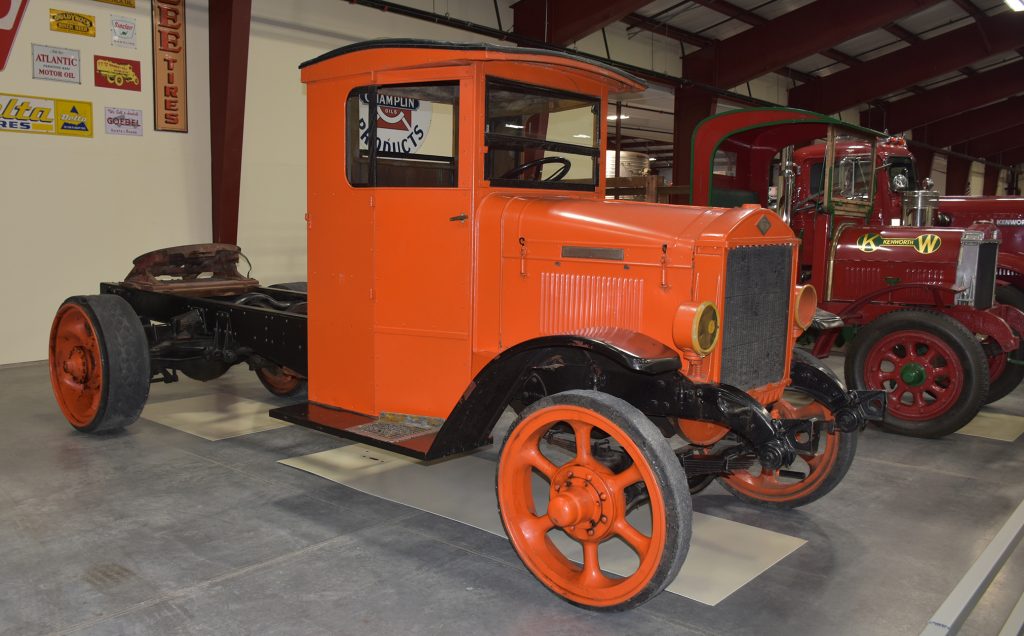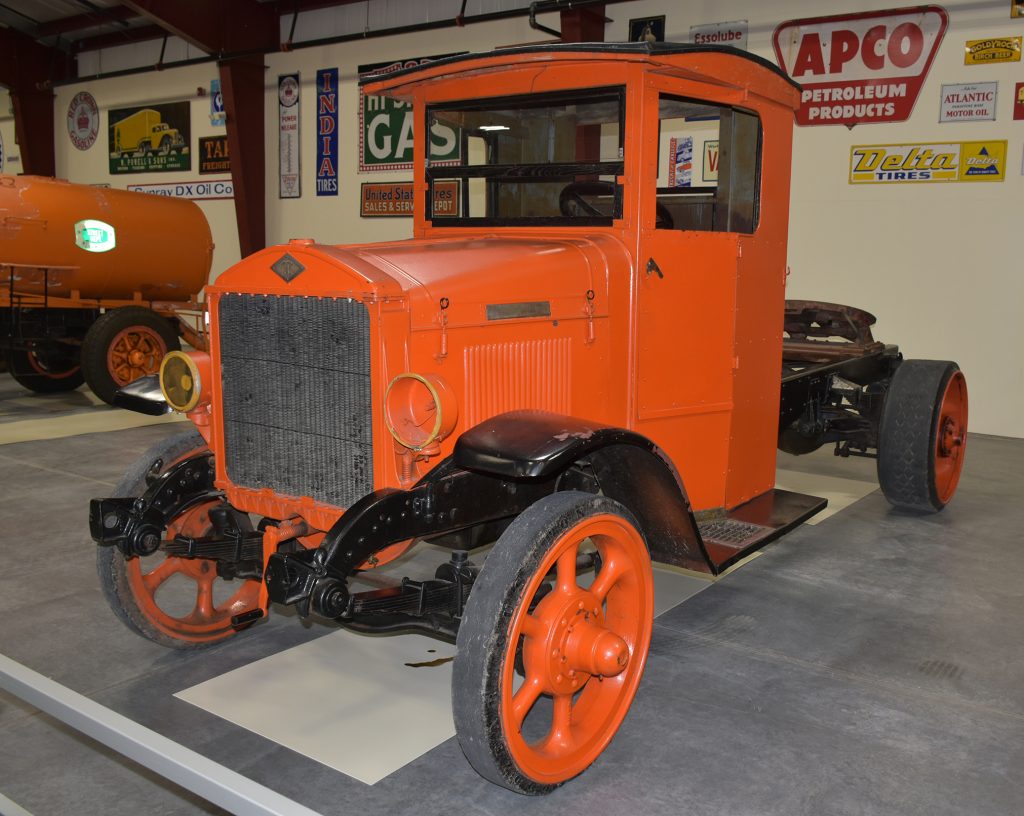 1927 FISHER JR EXPRESS
⇒Engine: Continental 31 L 6-cylinder
⇒44.5 HP @2,800 RPM
⇒Transmission: 3 forward speed, 1 reverse
⇒Top Speed: 25 MPH
Fisher Motor Trucks were manufactured from 1912 to 1933 by the Standard motor Truck Company in Detroit, Michigan. Albert Fisher was President. They built 1-ton to 3½ ton models. Their slogan was Powerful, Speedy Motor Trucks of Latest Design with inbuilt Quality. According to a permit badge that was discovered on the truck, this truck was still in use in 1948 and owned by John T. Schaub & Son, Inc., Newark, New Jersey. The 6-cylinder L-head engine has a 2 & 7/8 bore and a 4 & ¾ stroke for 185.04 cubic inches. The gross weight capacity of the truck is 5,275 pounds. This allows for a 750 pound body and a 2,525 pund chassis. Bill moon purchased this truck from an auction at Harrah's Casino in 1982. The truck was restored to its current condition in 2013. The wood body on the truck is completely new and built to original specifications.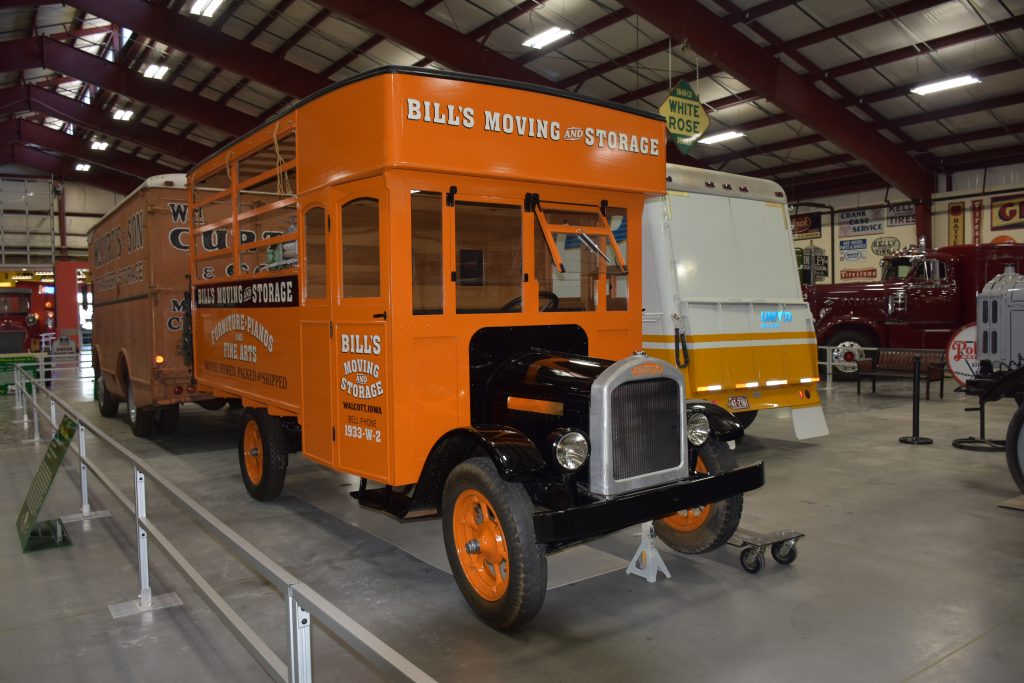 1927 GMC
BIG BRUTE 10-ton
⇒ Engine: GMC 53 HP
⇒ Transmission: GMC Two-Range
⇒ Top Speed: 15 MPH
This truck was built for strength and durability, not speed.
The Big Brute boasted a two-range transmission permitting a wider range of gear reductions for pulling power. The truck was also known for its sharp 17-foot turning radius, touting it could do a U-turn on a city street, even with the trailer attached! The A unique feature of the cab is the sliding glass which folds up into three sections behind the driver and the passenger. The door also slides back into the cab, like a pocket door in older homes. This truck was originally used at a grain elevator in Minnesota. The truck was used so much that the hard rubber tires were worn off. The wheel spokes were then cut and rims were welded to the spokes to accommodate pneumatic tires.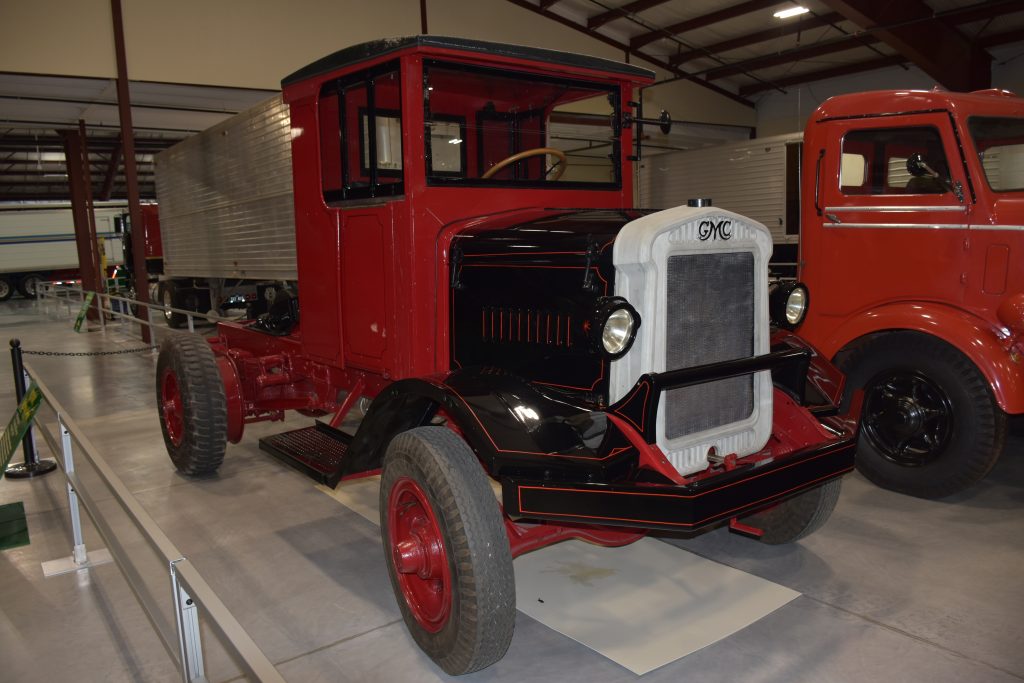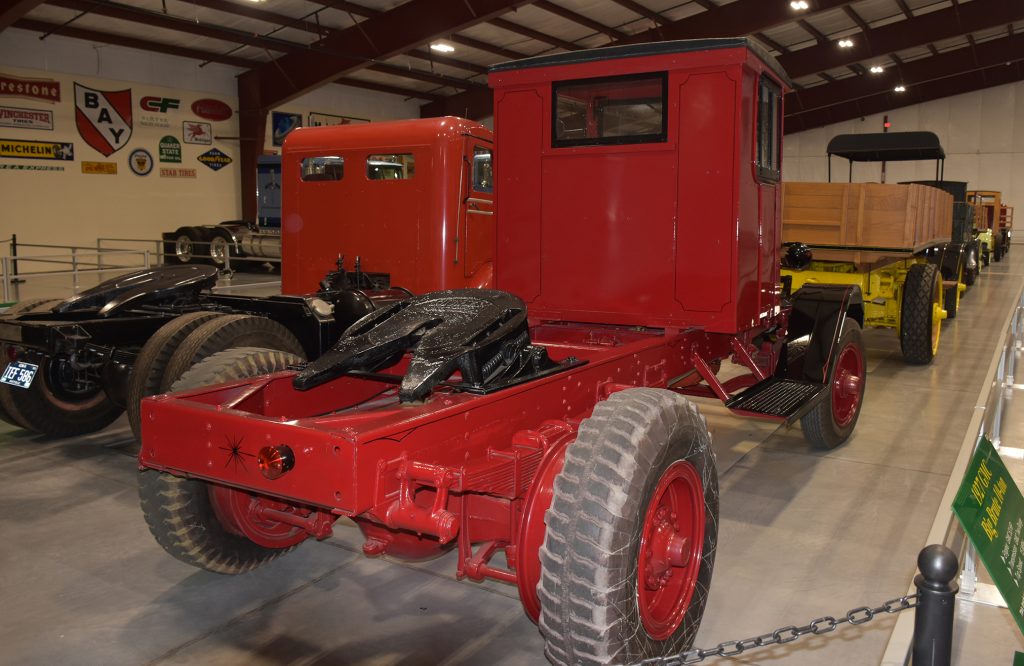 1927 GRAHAM BB 1 TON
⇒ Dodge 4-cylinder engine
⇒ Dodge transmission
⇒ Top speed – 40 MPH
Graham was in business from 1917 to 1929 in Evansville, Indiana. In 1921, after the death of both Dodge brothers started selling 1.5 ton pickups through Dodge dealers; they had Graham bodies and Dodge parts. Dodge Brothers bought a controlling interest in Graham Brothers in 1925, picking up the rest in 1926. The Graham BB 1 Ton used a 12-volt electrical system when most were being made as 6-volt. Brand new, this retailed for for $1,175. An average of 60,000 trucks were manufactured per year.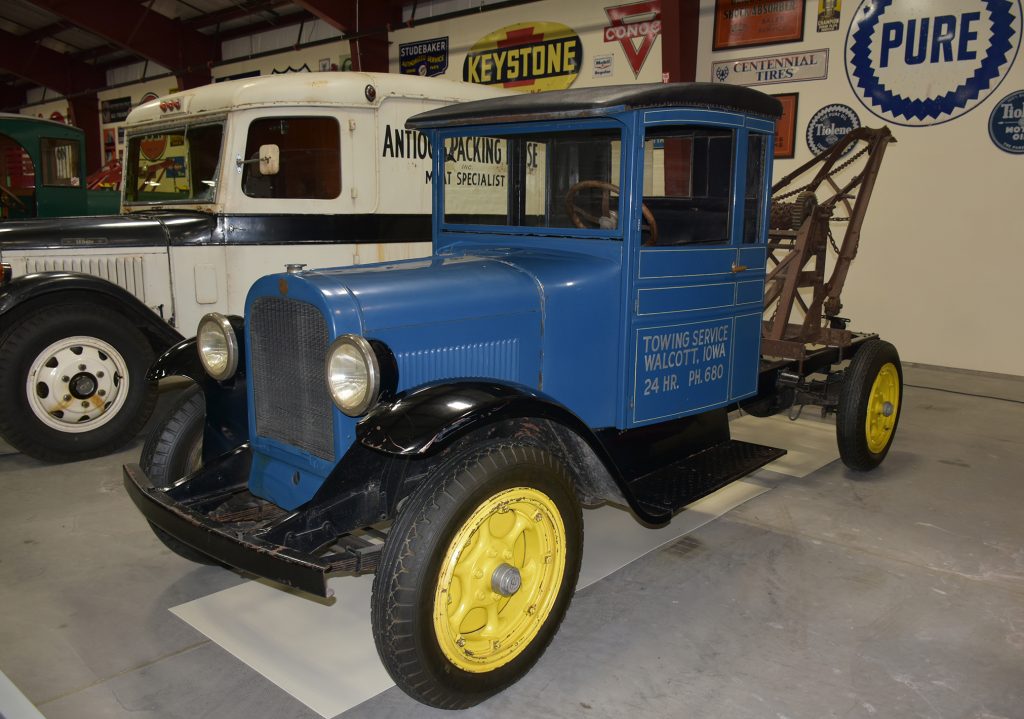 1928 FAGEOL 130 "FLYER" 4
⇒ 4-cylinder engine
⇒ 4-speed Brown-Lipe transmission
⇒ Top speed – 35 MPH
This model was built with mechanical brakes and a Timken rear axle. Fageol brand trucks were manufactured from 1916 to 1939 in Oakland, California. The Waukesha Motor Co. and the Central Bank of Oakland operated Fageol from 1932 until 1939. That year, they sold the factory to T.A. Peterman, a logger and plywood manufacturer from Tacoma, Washington, the founder of Perterbilt Motor Company.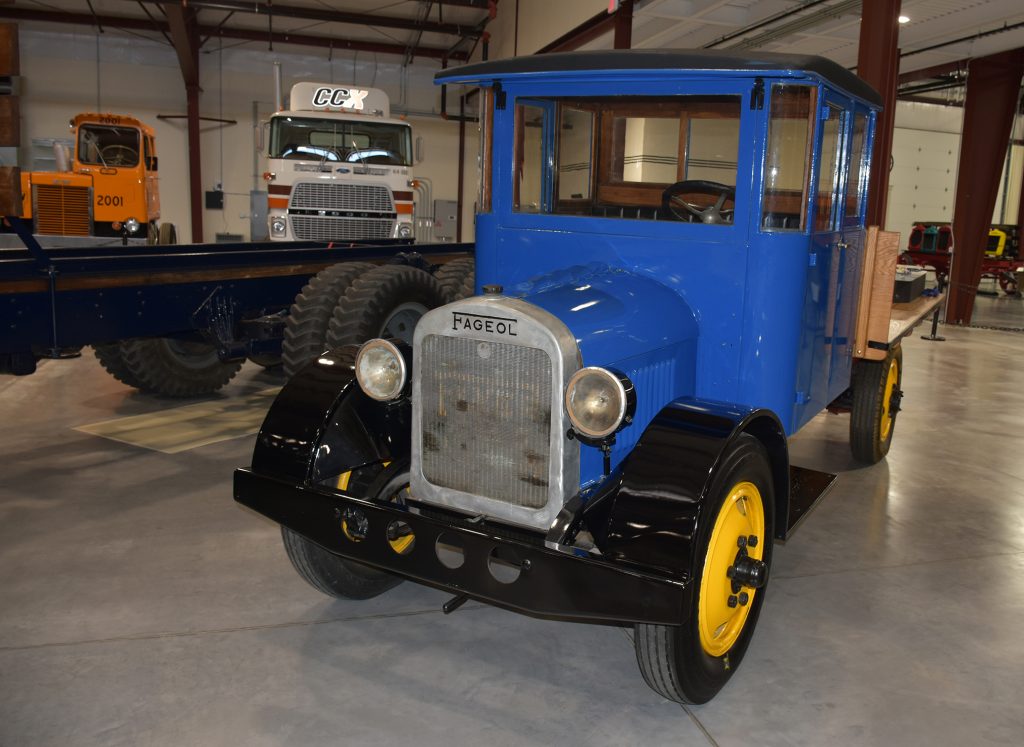 1929 MACK AC
⇒Engine: 4-cylinder, 5″ bore, 6″ stroke, 50 hp
⇒Transmission: 4 forward, 2 reverse speeds
⇒15 – 20 MP
The first Mack AC was built in 1915 and this 1929 Mack AC looks the same. it has the same four-cylinder engine, radiator in the back, flip hood, crank start, water pump and is a chain drive. Simplicity and accessibility are the outstanding characteristics of both the Mack model AB and model AC engines. This is the quintessential model; it is what many people thought of when they heard the words Mack truck. The hard tired, chain driven brute became a legend in its own time and 40,299 were manufactured continuously through 1939 – a remarkable 24 years.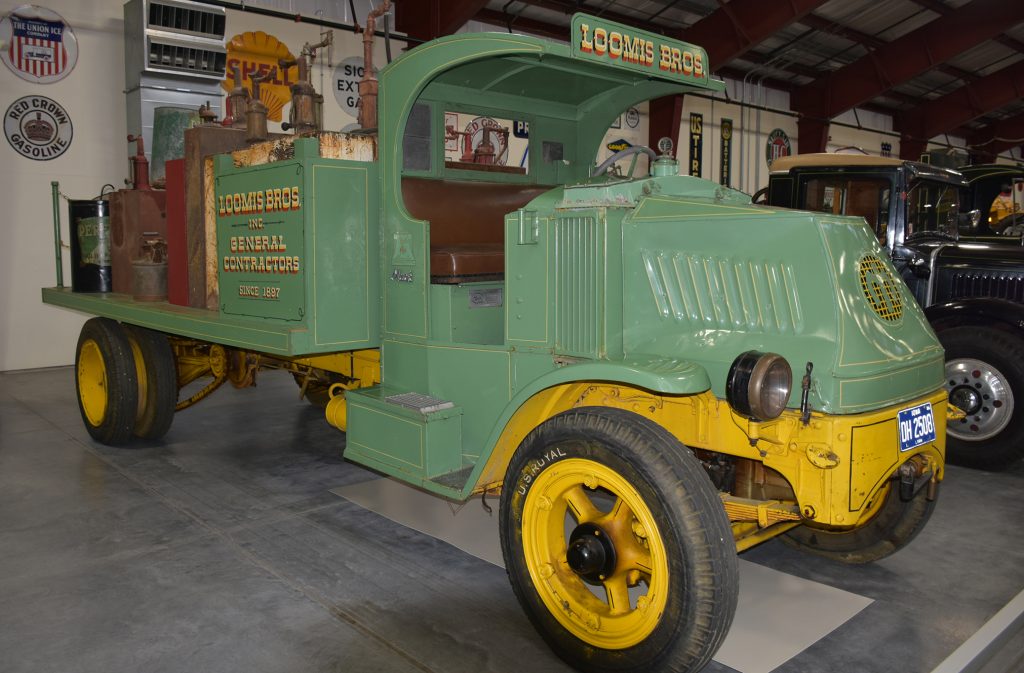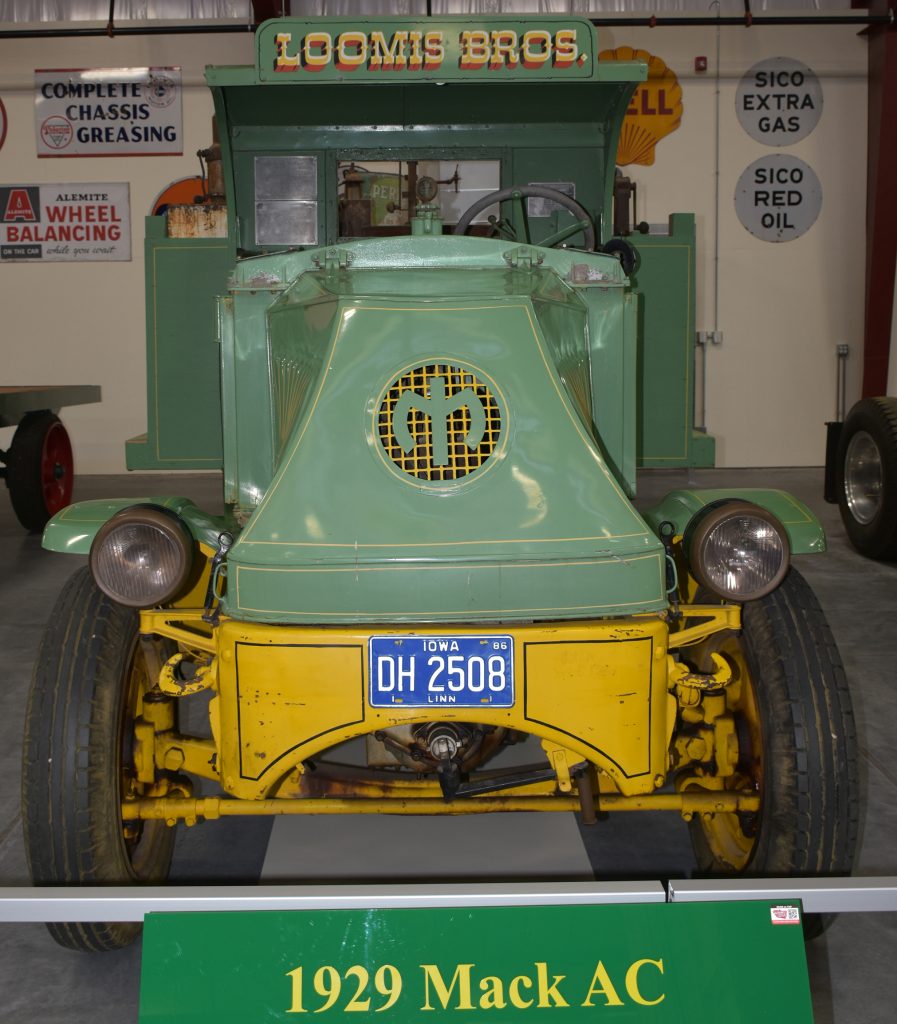 1929 RELAY
⇒ Engine: 6-cylinder
⇒ Transmission: 4 speed
⇒ Top Speed: 30 MPH
This 1920 Relay became famous for its patented relay drive system on the rear axle. Relay claimed superior traction and this truck was able to go where others wouldn't. This is a shaft driven truck and the weight is carried by a separate tube and axle. there were many reasons to why truck brands failed; Relay was more expensive than the average truck and the owner would have to find a dealer, since parts were not available anywhere else. There were no financing options available during that time, which caused many truck companies to fail. There is no indication that truck buyers really worried about appearance of a truck back then, it was all about performance and getting the work done.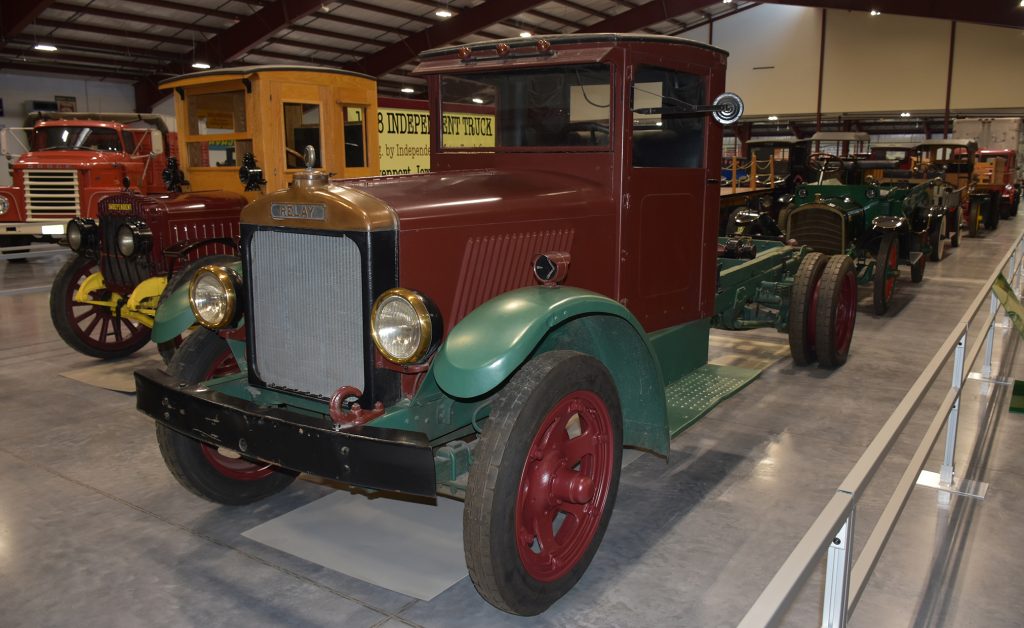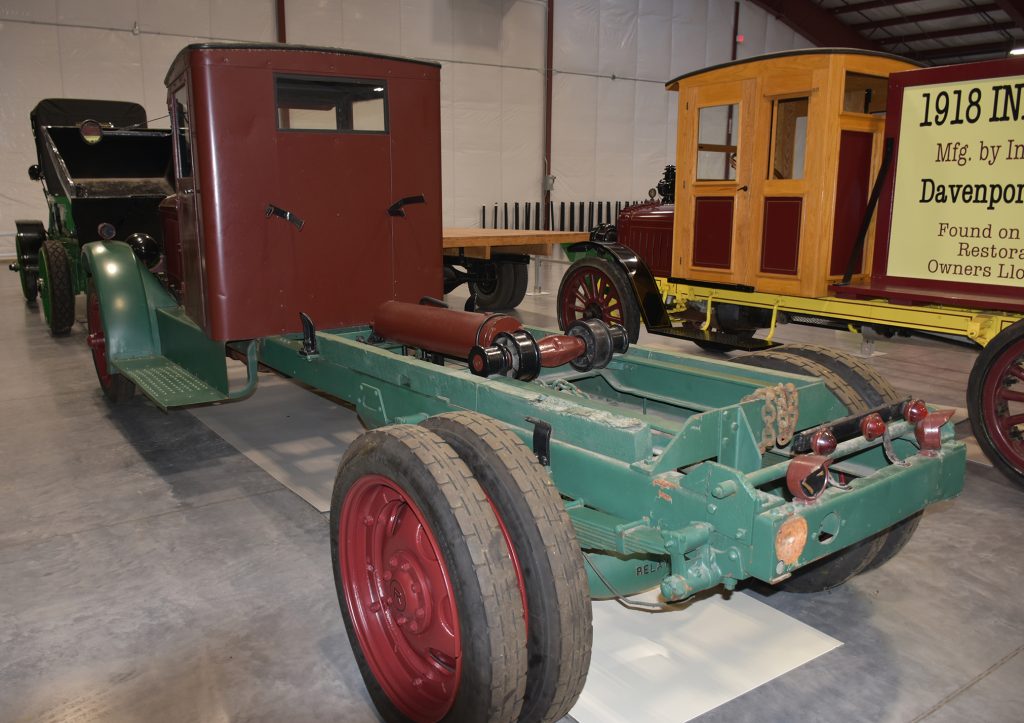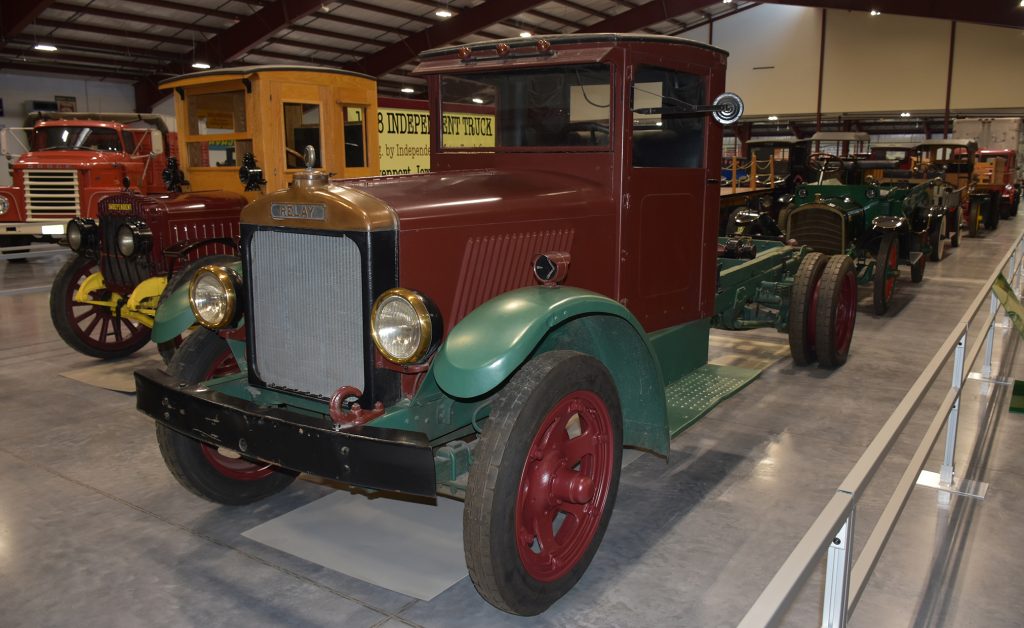 1929 REO
SPEEDWAGON EX
⇒ REO 6-cylinder Flathead Gold Comet
⇒ 4-speed transmission
⇒ Top speed – 35 MPH
Ransom Eli Olds founded the REO Motor company in 1904 after leaving the Olds Motor Works Company (Oldsmobile) which he had also founded. When he left Oldsmobile, He precluded from using His name (Olds) for another auto company so He chose to use His initials (REO). By the fall of 1904, the new company began producing its first trucks. REO trucks were made from 1904 to 1967. Now you know where the brand name came from.