TEXACO SERVICE STATION
⇒Circa 1920 s – 1930 s
When you think of a modern gas station, there's a good chance it looks quite a bit different than what's in front of you right now. Gas and service stations have evolved a considerable amount over time, and and this station, built by H. Leslie Leas, echoes what a Texaco Service Station would have looked like around the 1920:s and 1930's. This station was built in Waukon, Iowa and is a very rare example of a pre-fab gas station building. When you pulled up to the pump at one of these stations, an attendant would come out to fill up your tank, wash your windows, and check your oil.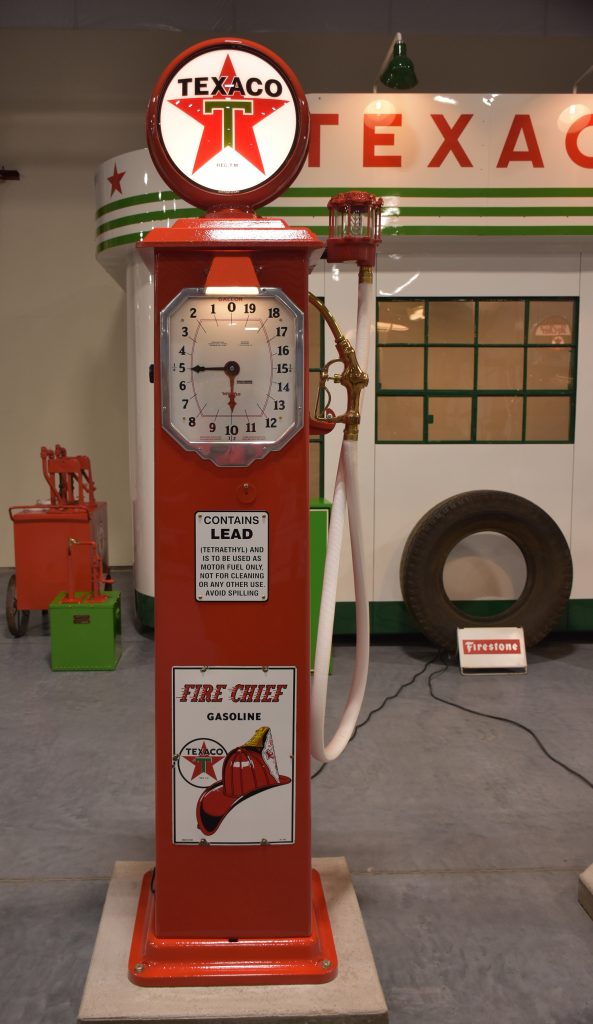 1930 Ford "A"
Snow-mobile
⇒Ford 200.5 Cubic Inch 4-Cylinder, 40 Horsepower at 2300 RPM
⇒3-Speed Ford Sliding Gear
This 1930 Ford A snowmobile paved the way with its innovative skis. Back then, customers could buy snowmobile conversion kits from several different manufacturers to use on their cars during the winter. When summer came, they would put the regular wheels and tires back on. The Postal Service converted model T's and Model A's into snowmobiles using these kits so that they could deliver mail in areas that experienced rough winters. None of the vehicles at this time were overpowered. With low octane gas and low compression, the engine in this truck didn't generate a lot of power. All the parts of the conversion kit were metal; it was a lot of weight to push.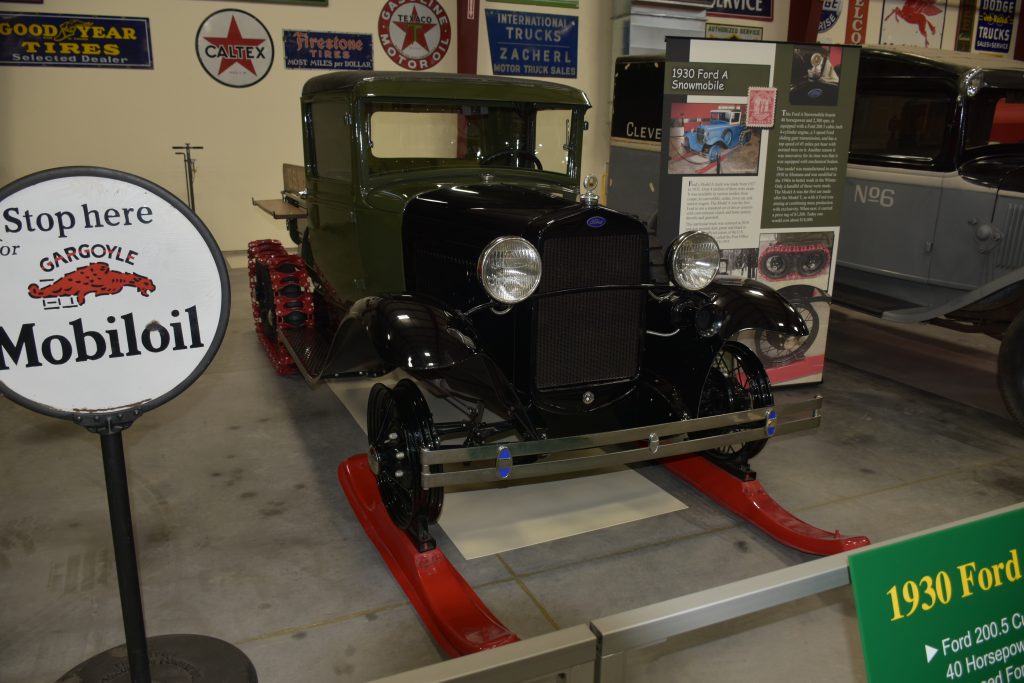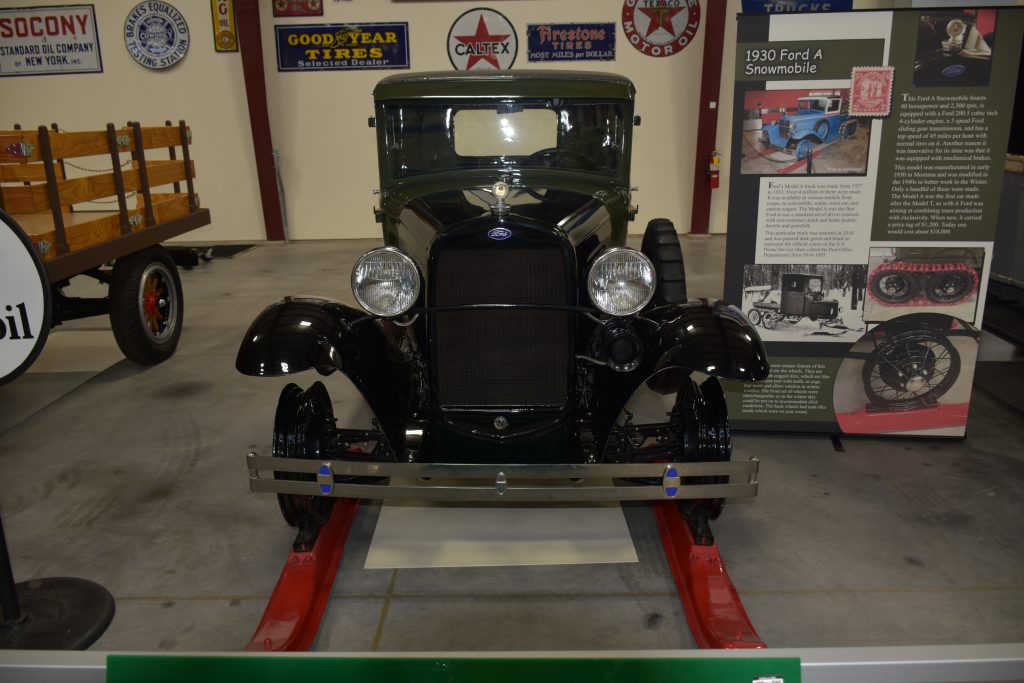 1930 Mack AK
⇒ Engine: 6-cylinder
⇒Transmission: 4 speed
⇒Top Speed: 40 MPH
The 1930 Mack AK was used by a house mover in Rhode Island. It has a window sticker showing it was licensed in 1969; it was still being used 39 years after it was built. The AK model looks like the AC Mack, but it has a six-cylinder engine and is a lot heavier. This truck has an electric start as an option from the factory, however a provision for a crank is includd. This truck wight 24,000 pounds and has a large winch on the back that was used for moving houses. Mack AK made from 1927 to 1936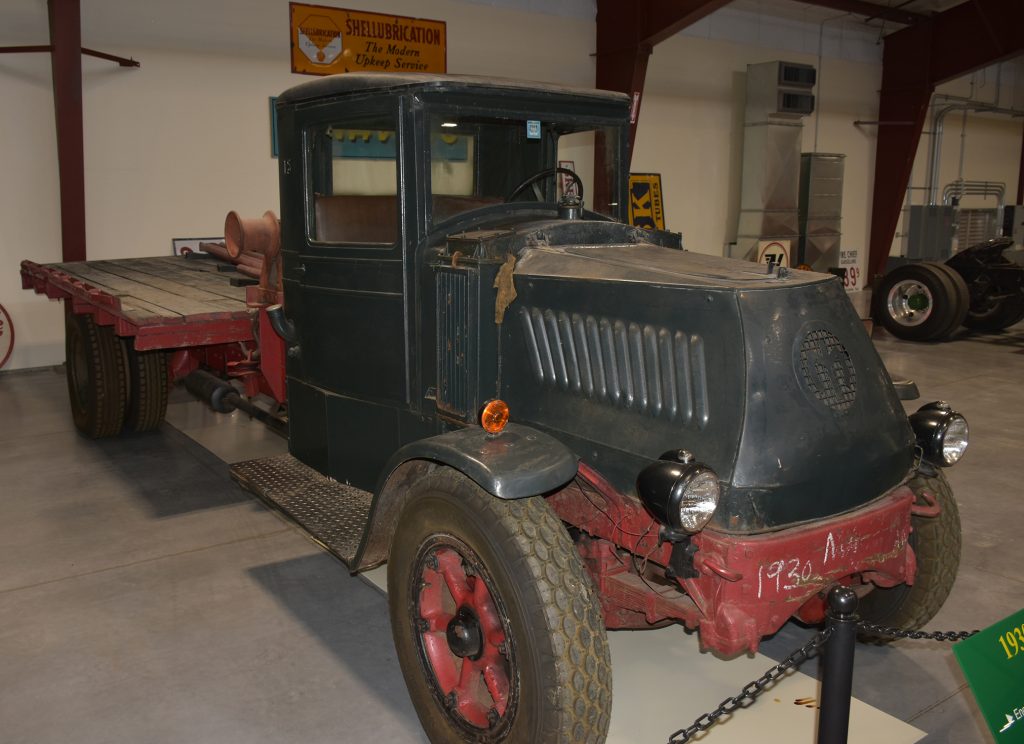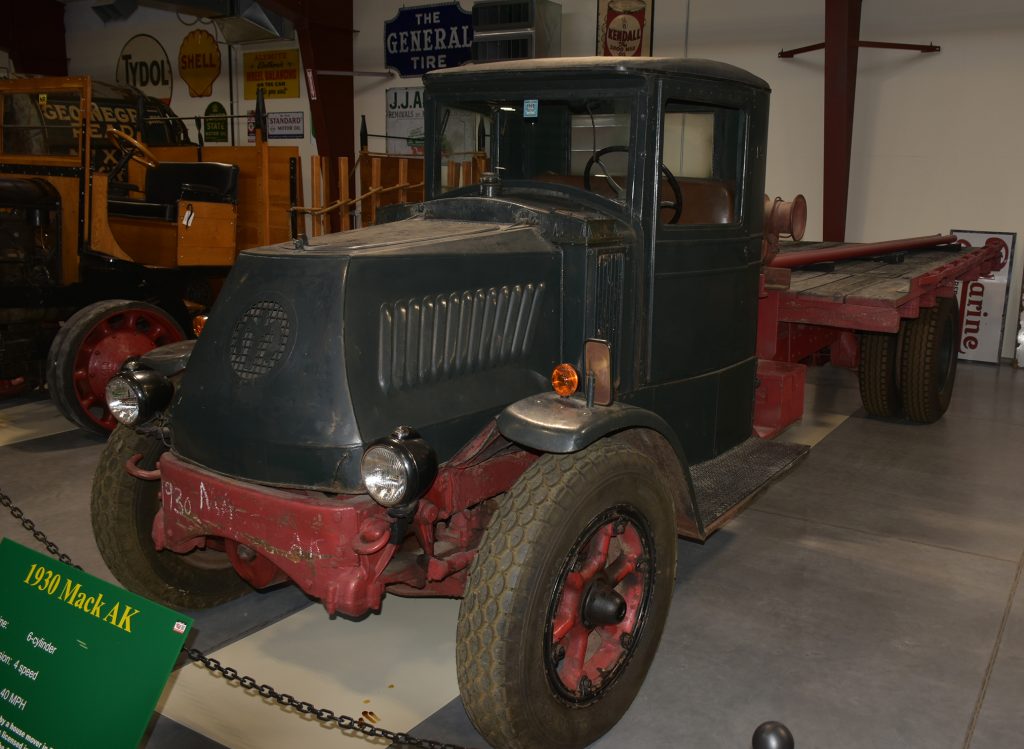 1930 STUDEBAKER
⇒Model: S Series
⇒Engine: 6 cylinder
⇒Transmission: 4 – speed
This model of Studebaker came off the assembly line in South Bend, Indiana, and was purchased by Marcus Motors Inc., of Denver, Colorado. Almost fifty years later, it was found in a farm town neglected and misused to the point of hardly being recognizable. Two men from Colorado Springs, Colorado, found the truck and put several thousand dollars and countless hours of work into bringing it back to original condition. With the help of many Studebaker lovers and a family member with a photo of the truck in its earlier years, the external restoration was completed. You'll notice this truck has the gas tank mounted at the rear of the truck to give added weight to the rear wheels to increase traction. This truck was generously donated by Lloyd & Margaret Van Horn, of Mason City, IA.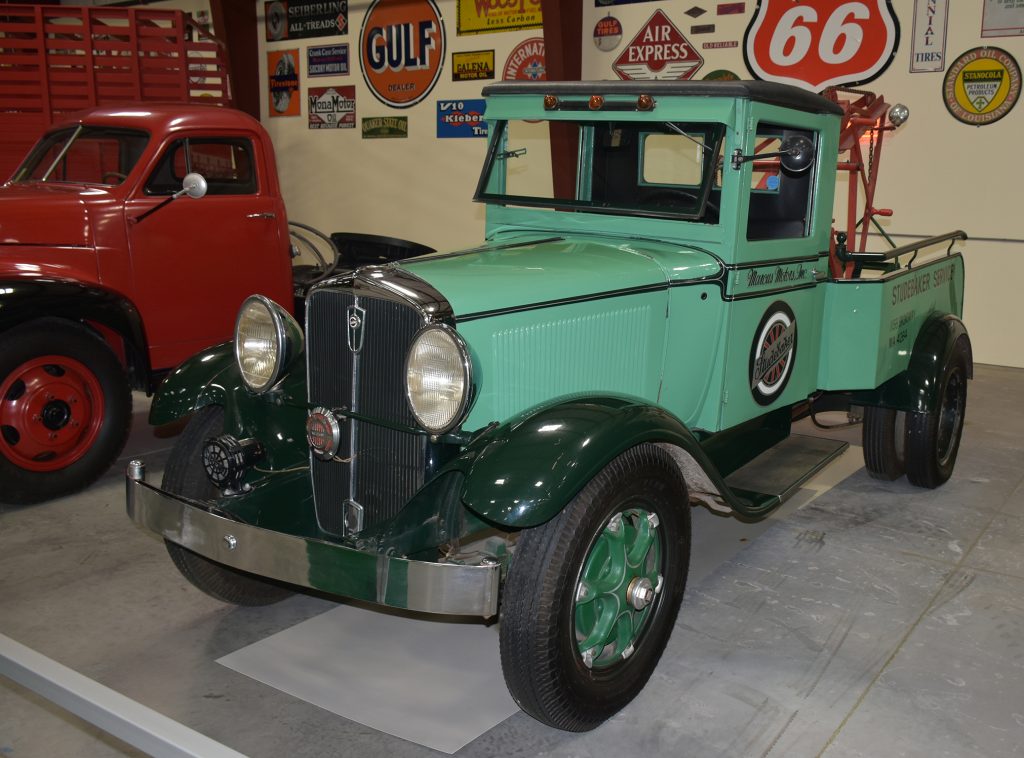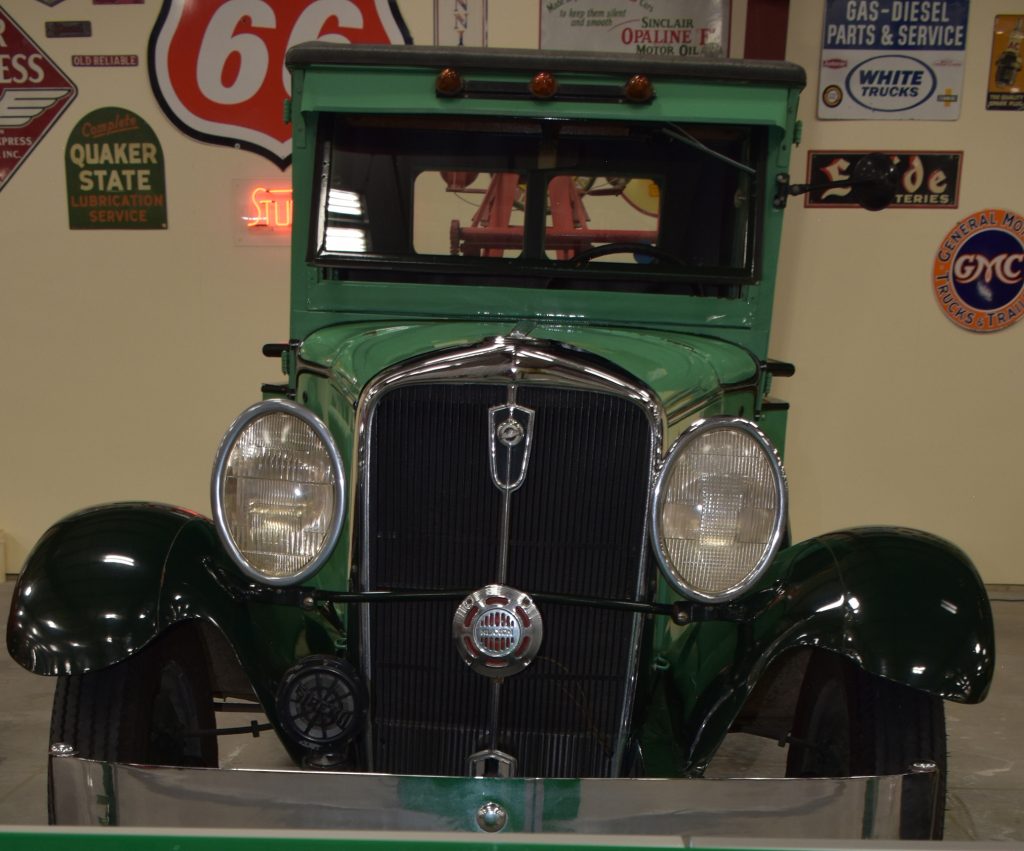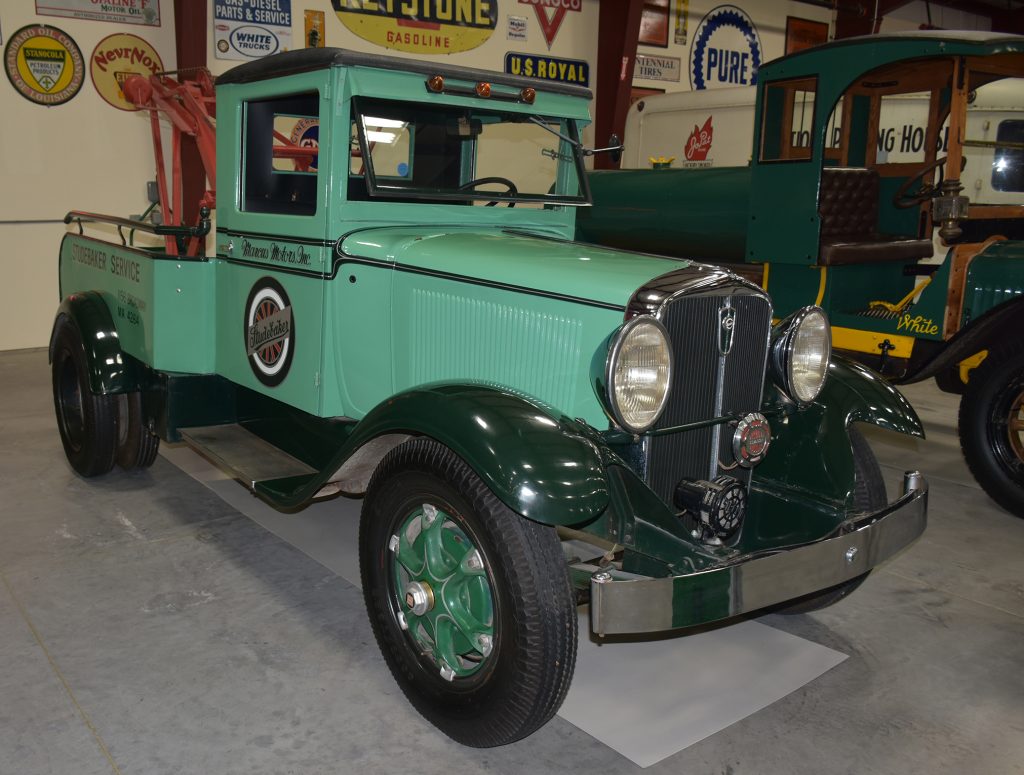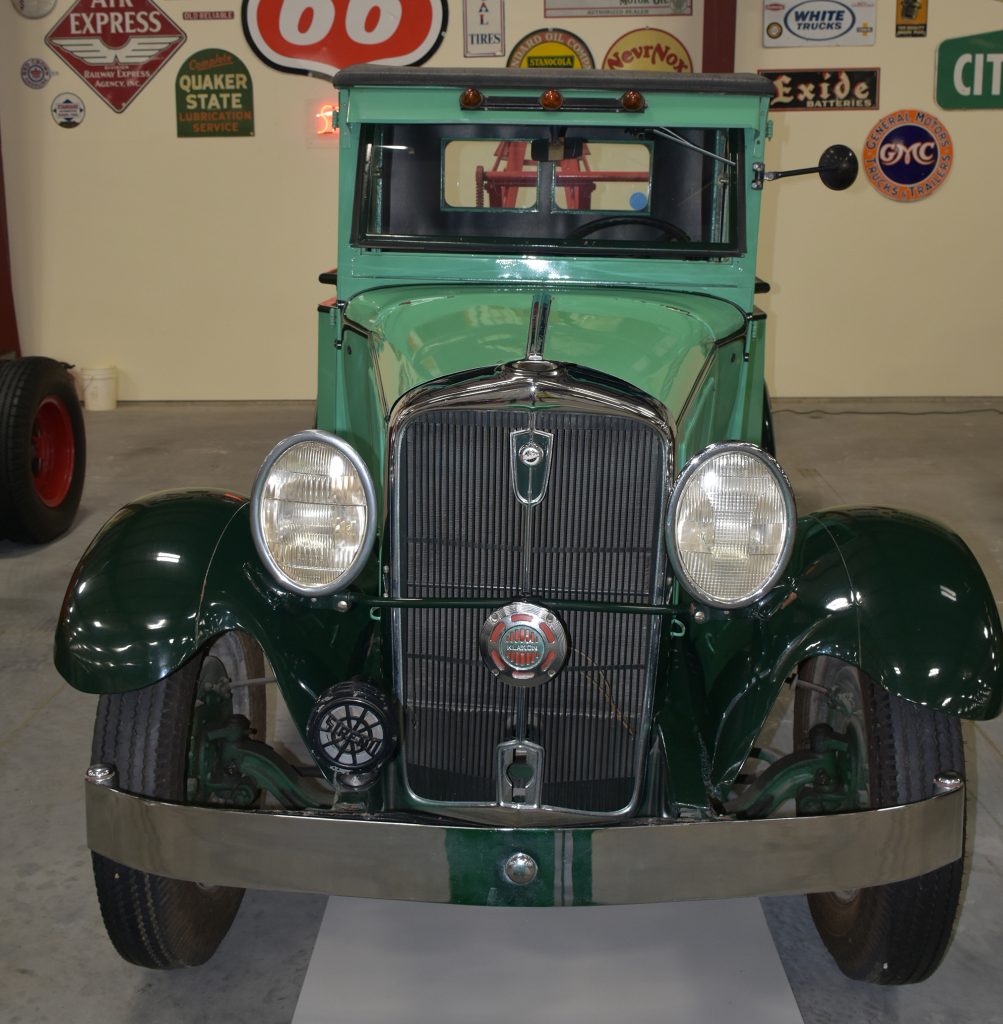 1931 GMC T-110
⇒ Engine: 616 cu in. 6-cylinder gas 2 carburetors
⇒ Transmission: 4-speed with 3-speed auxillary
⇒ HP: 149
This GMC truck, verified as Serial number 001, was originally owned by the Thomas Proctor Company of long Branch, NJ. Proctor built most of the jetties, seawalls and piers along the NJ shoreline. Proctor owned this truck until 2000 when the company was sold. Designed for off-road construction service, this truck was equipped with very large 12:00-24 tires, a three-man cab and weighed 38,000 pounds. This truck also has full air brakes, which is very rare for a truck built in 1931. The transmission offered its operator 12 forward speeds and 3 reverse speeds. Due to the U.S. being in a depressed economic state, very few of these trucks were made and this is the ony one of this model known to still exist.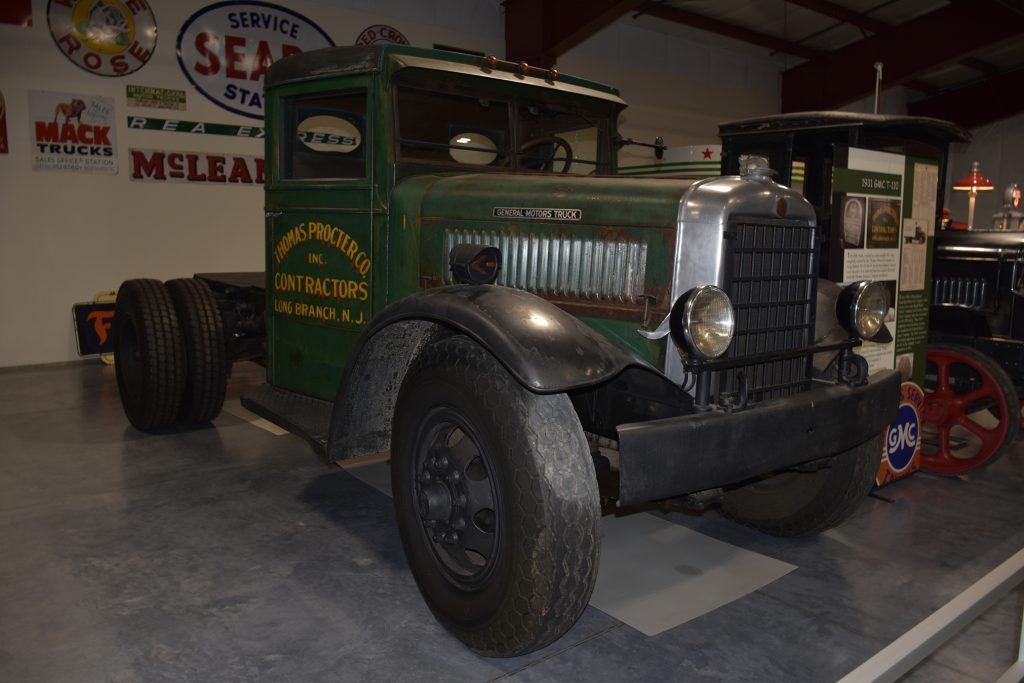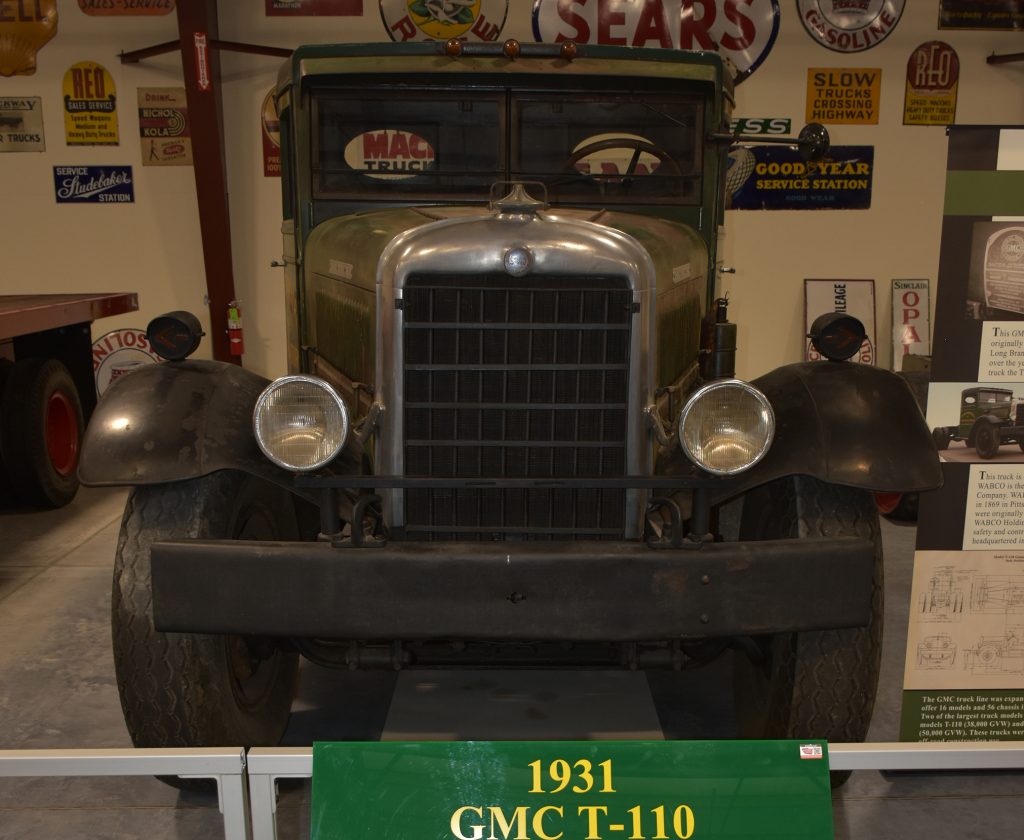 1931 INTERNATIONAL
⇒ Engine: 6-cylinder
⇒ Transmission: 5 speed
⇒ Top Speed: 55 MPH
This 1931 International was a popular truck in the 30s. The inside of the truck does not have much space, and was not recommended to use on long trip since it was not very comfortable or powerful. The seat is a simple bench seat wit no adjustments, which was a disadvantage. This truck has a six-volt battery and electric starter which did not have much power and turned the engine over slow. There is an opening in the front to use a crank to start the truck if the battery was low. To be a dtruck driver in the 1930s you needed to be tough and resourceful.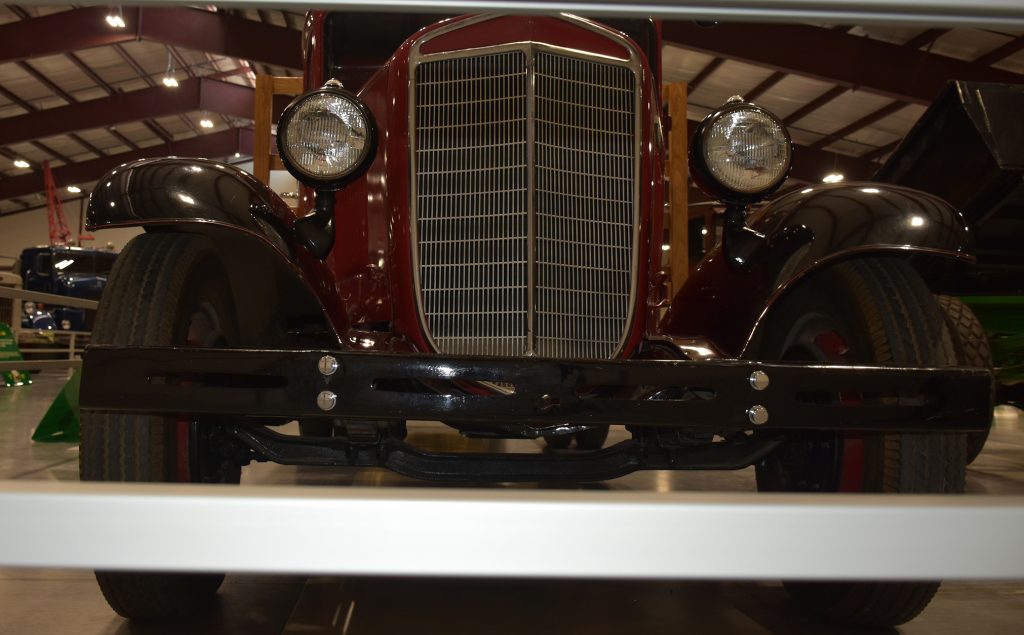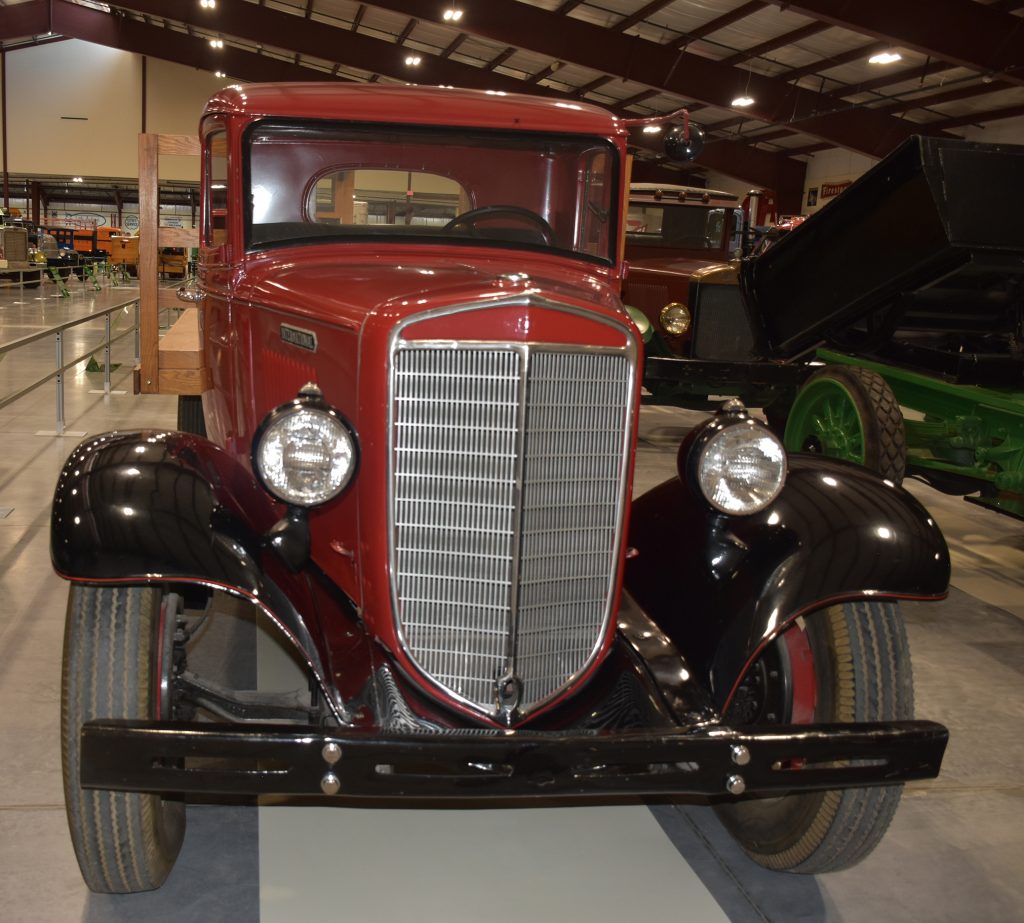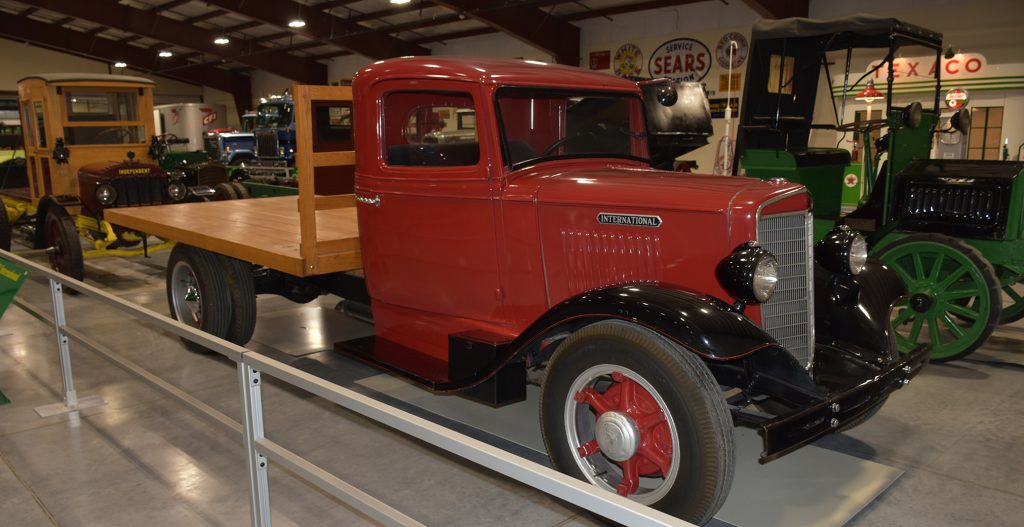 1932 CHERVROLET MASTER WRECKER
⇒ Chevrolet 207 cu. in. engine
⇒ Chevrolet 4 speed transmission
⇒ Top speed – 35 MPH
This 1 1/2 ton capacity truck had the same basic engine style from 1929 – 1984. Known as the "stovebolt six". Engine options ranged from 194 to 292 cubic inches. The Chevrolet brand was on all major components including the rear axle.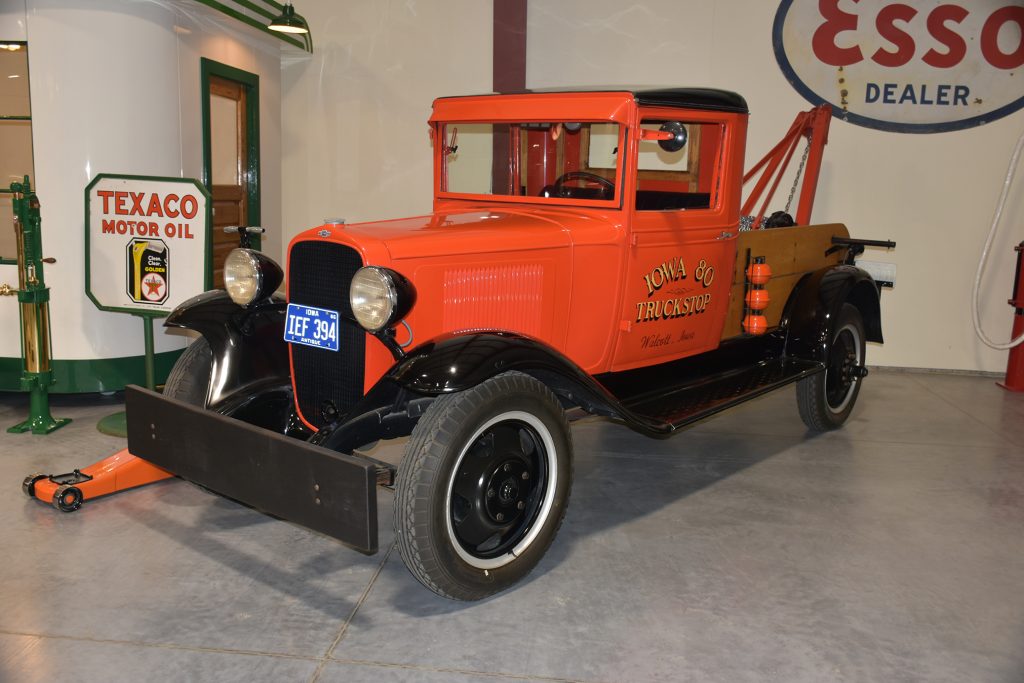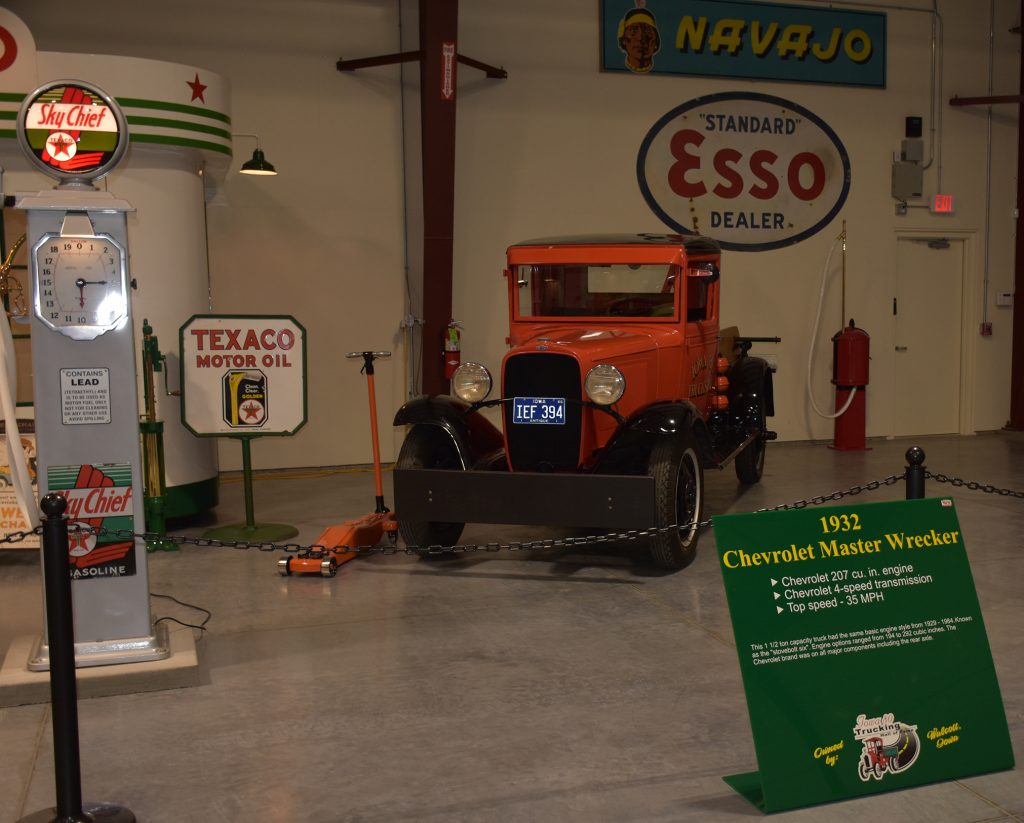 1932 PIERCE ARROW
⇒Engine: HA Cummins 6 cylinder
⇒Transmission: 4 – speed, 3 – speed auxiliary
⇒Top Speed: 45 MPH
The 1932 Pierce Arrow truck ranges from 12,000 to 34,000 pounds. It has a Cummins six-cylinder engine of 125 HP. Chrome nickel steel frames were heat treated for extra strength and Westinghouse air brakes were used. There is extra strength in every chassis part giving it extra life and low net haulage cost. This was a working truck. This truck was used by a petroleum tank link company for over 40 years in the Fresno, California area. As the truck got older i was semi-retired and used until 1991to haul oil barrels. The restoration process began in 1992, taking years to complete. This truck is currently on loan fro Jim Dobbas.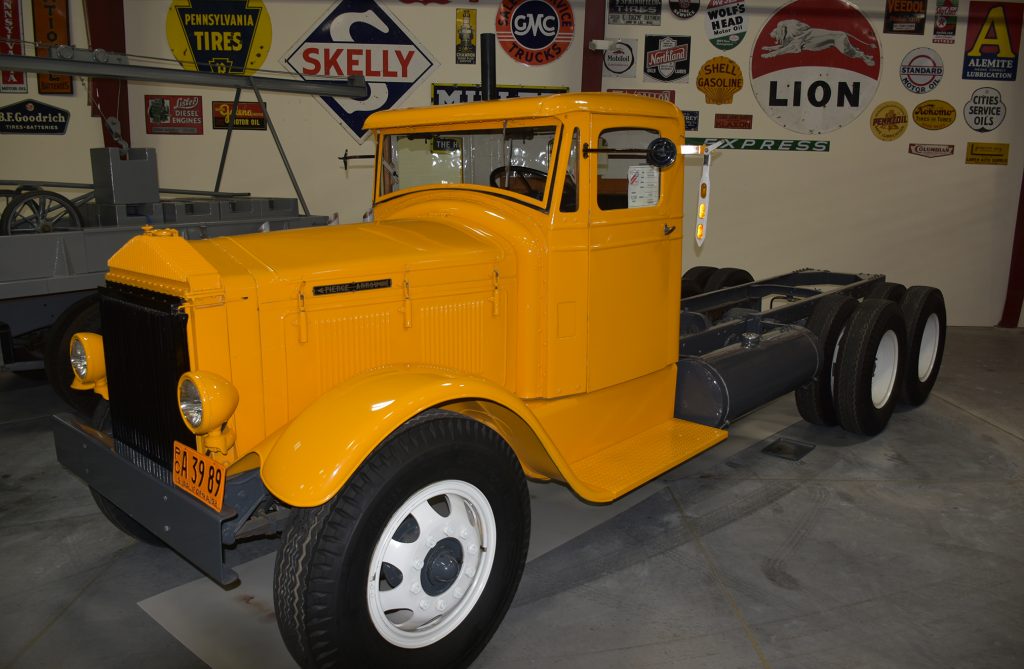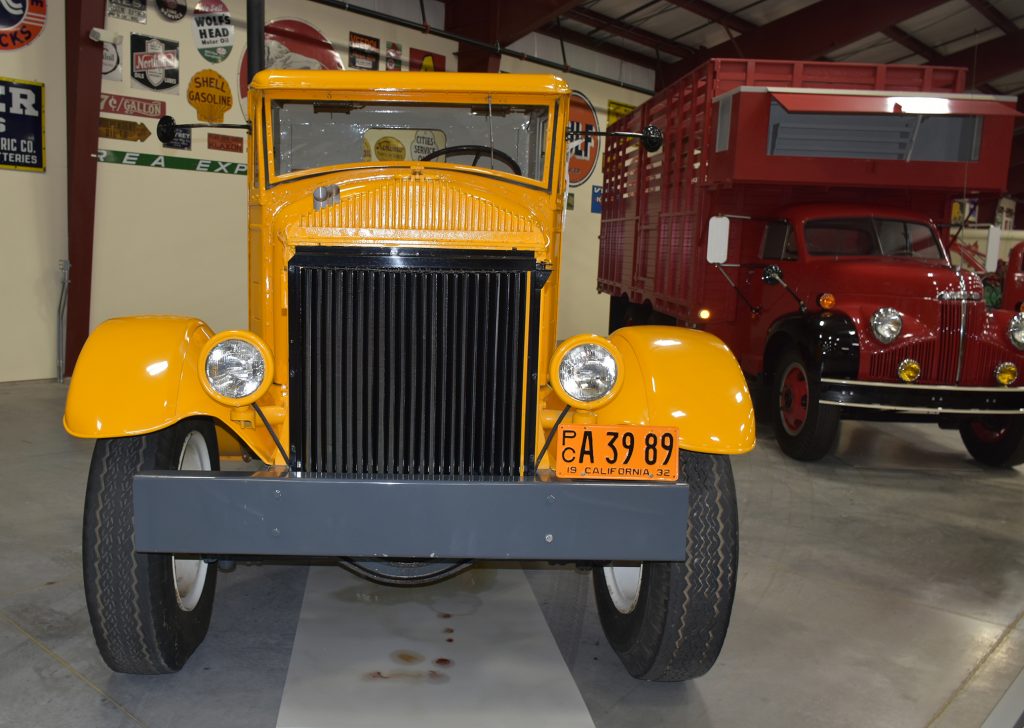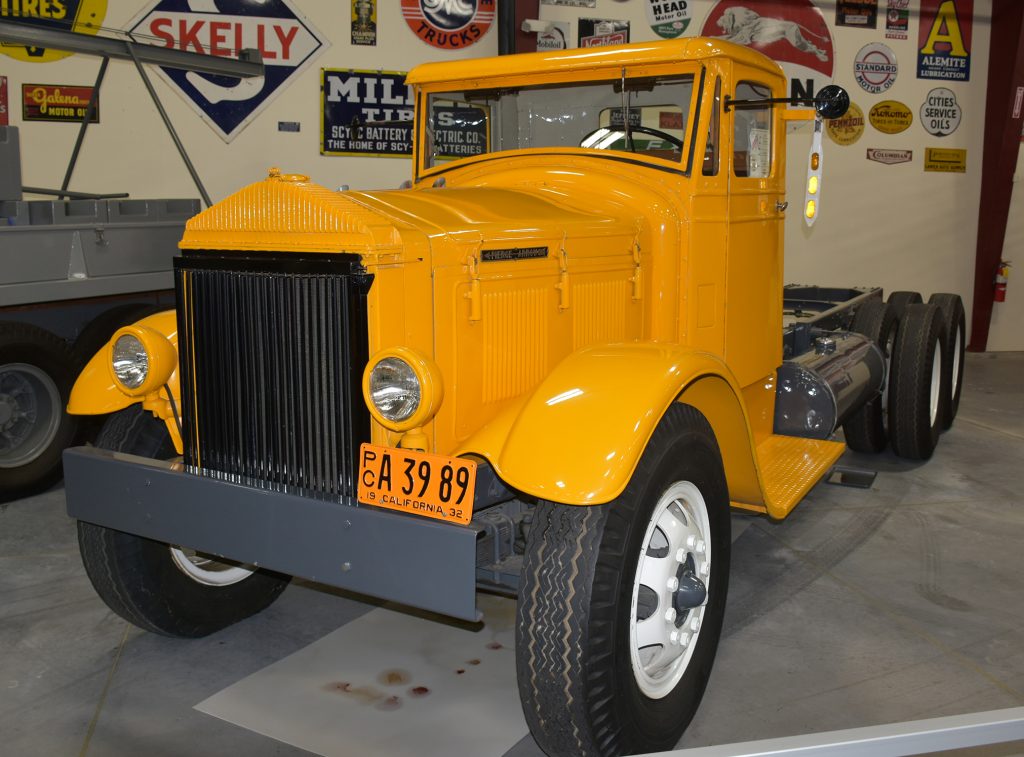 1933 Ford Model "A"
Paddy Wagon
⇒Engine: Ford V8 Gasoline
⇒Transmission: 4 Speed
⇒Top Speed: 65 MPH
Paddy Wagon is a term dating back to the 1930's referring to a policed Van. This truck has a unique history as it was originally a 1933 Ford Model A. In the 1970's, Cleveland Police Truck for the 1978 film F.I.S.T. While the body was remade using plywood, the chassis of the truck remains authentic to its original 1933 Ford model. F.I.S.T. was filmed in Dubuque, Iowa and starred Sylvester Stallone; whose character gets arrested and thrown into the back of this Paddy Wagon! During the time of the film, Ford Model A's were commonly used as Paddy Wagons, and now the Ford Motor Company has an entire fleet dedicated to Police vehicles.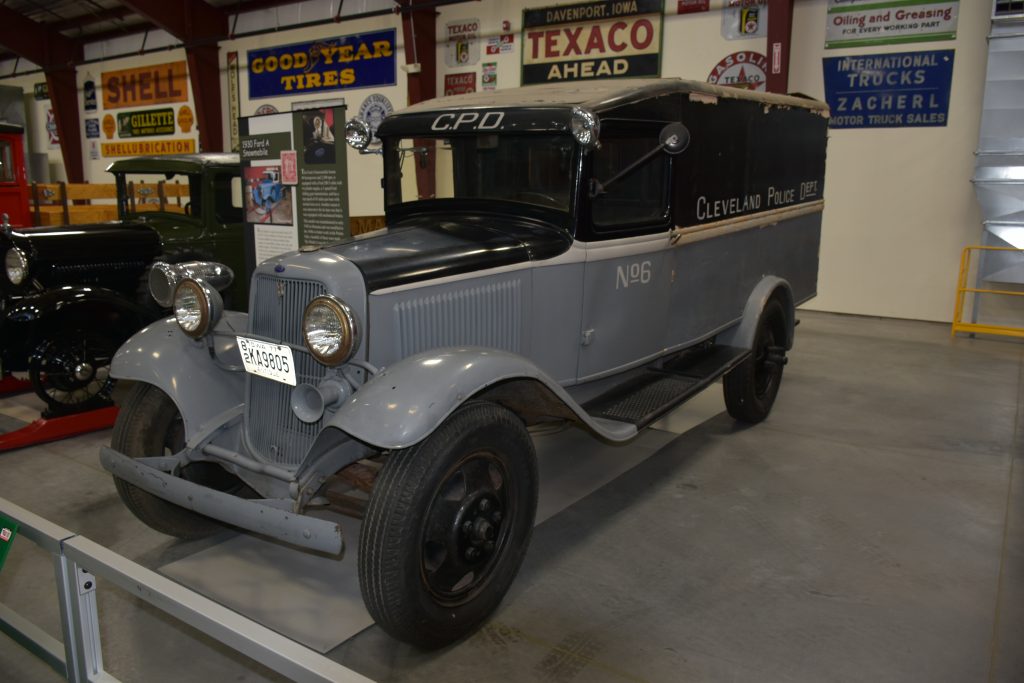 1933 WHITE MODEL 612
⇒ Engine: White Model 4A 6-cylinder
⇒ Transmission: 4 Speed
⇒ Top Speed: 35 MPH
This 1933 White insulated delivery truck was of six originally built for the Mars Candy Company. On April 4th., 1934 it was sold by mars Candy to Joe Patrovsky of Antioch, Illinois who owned the Antioch Packing House. The packing house used this truck for deliveries until 1968 when it was replaced with a ford Econoline Van. White Motor Company manufactured this model of truck from 1931 to 1934 with a total of 825 trucks built. Due to lack of drive train availability, White built the engine, transmission and rear axle. The engine is 299 cubic inches with a bore of 3.75 inches and stroke of 4.5 inches giving it 33.73 horsepower. Maximum gross weight rating is 13,000 pounds.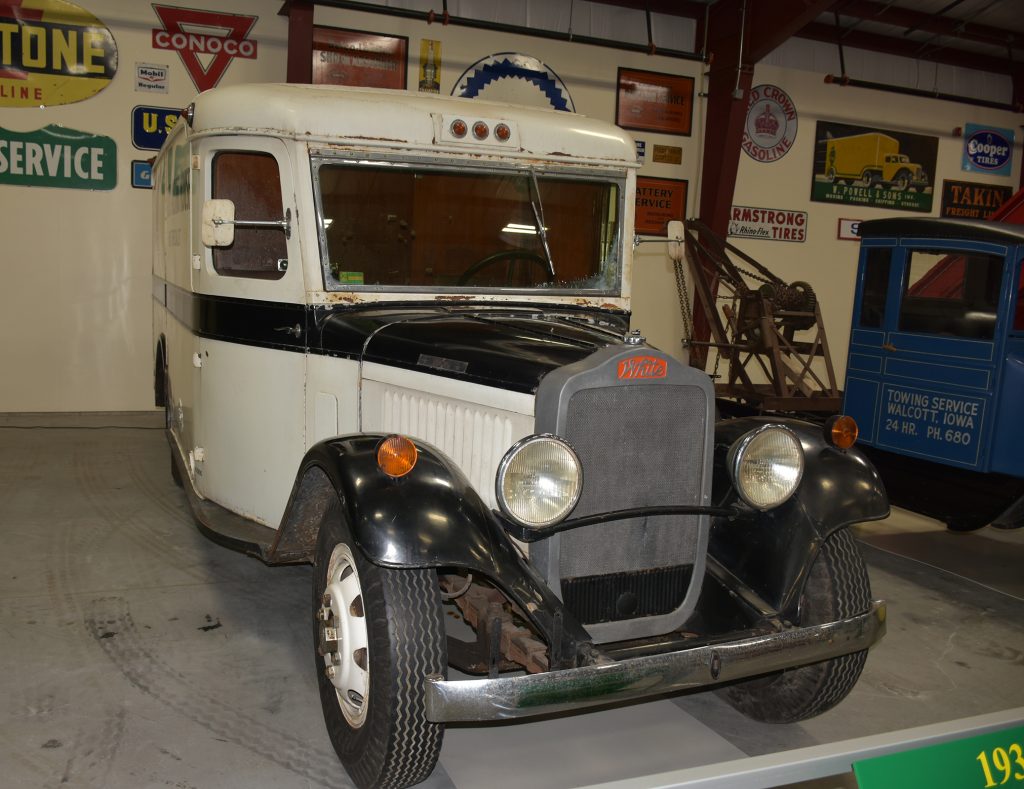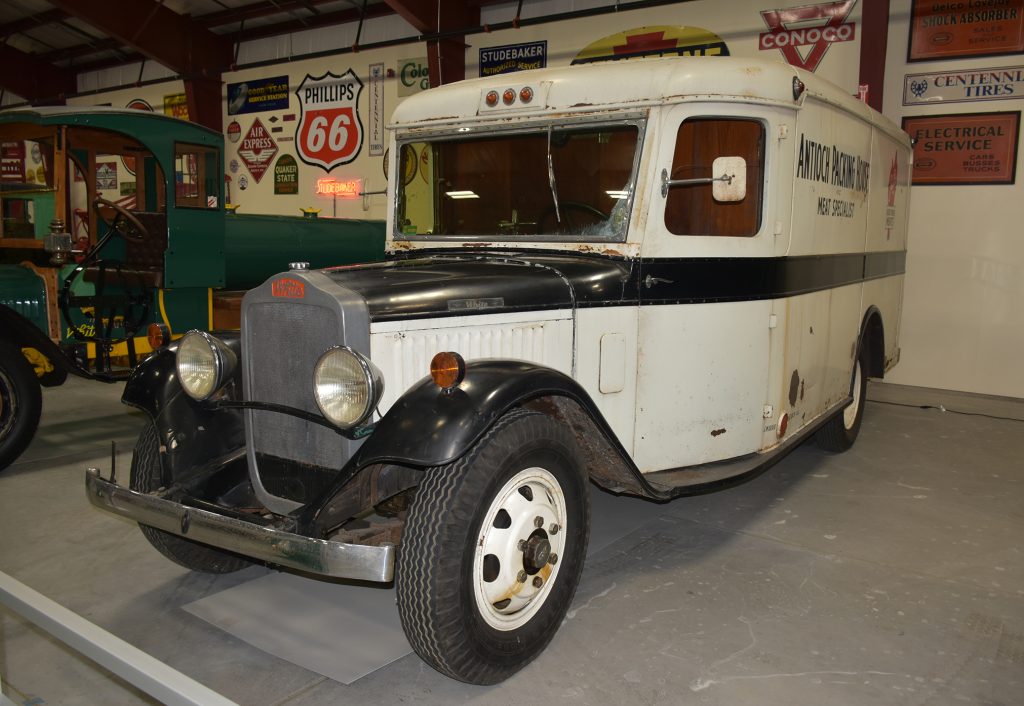 1934 GMC T-23 B
⇒ 221 CID Overhead Valve GMC engine
⇒ GMC 4-speed transmission
⇒ Top speed – 35 MPH
The trailer (equipped with vacuum brakes) and 5th wheel were also made by GMC The T-23 B has a 3-ton rating and mechanical brakes. Brand new, the cost was $2,300. This model was owned by Jake Iles from Mt. Pleasant, Iowa. He used it to haul livestock all over Iowa. Iles's grandson still attends our annual Truckers Jamboree.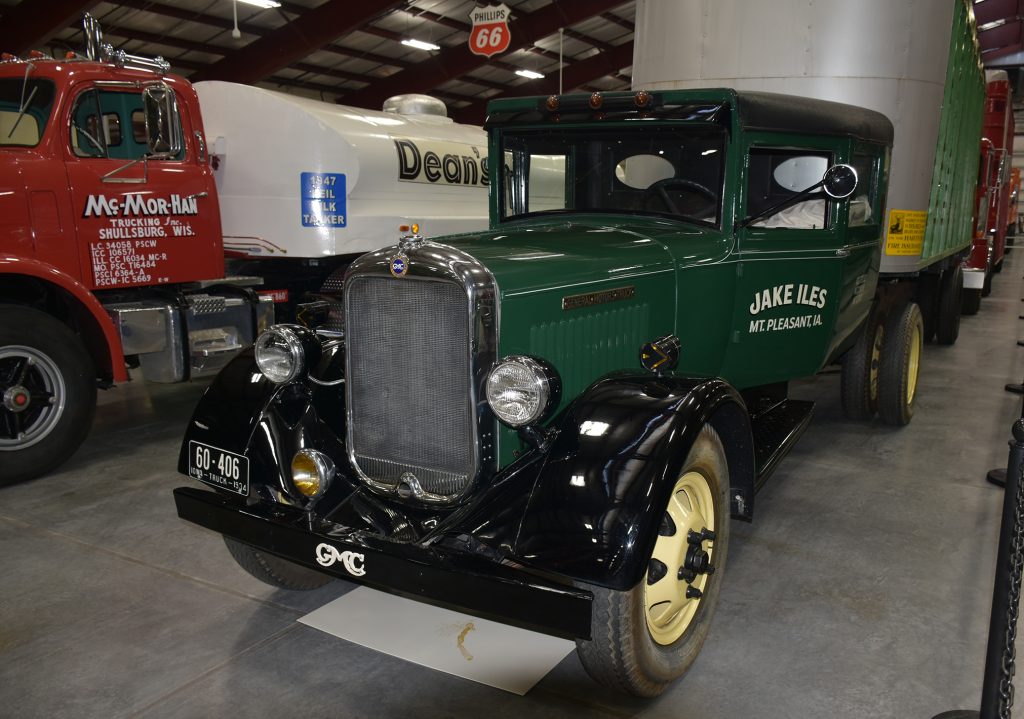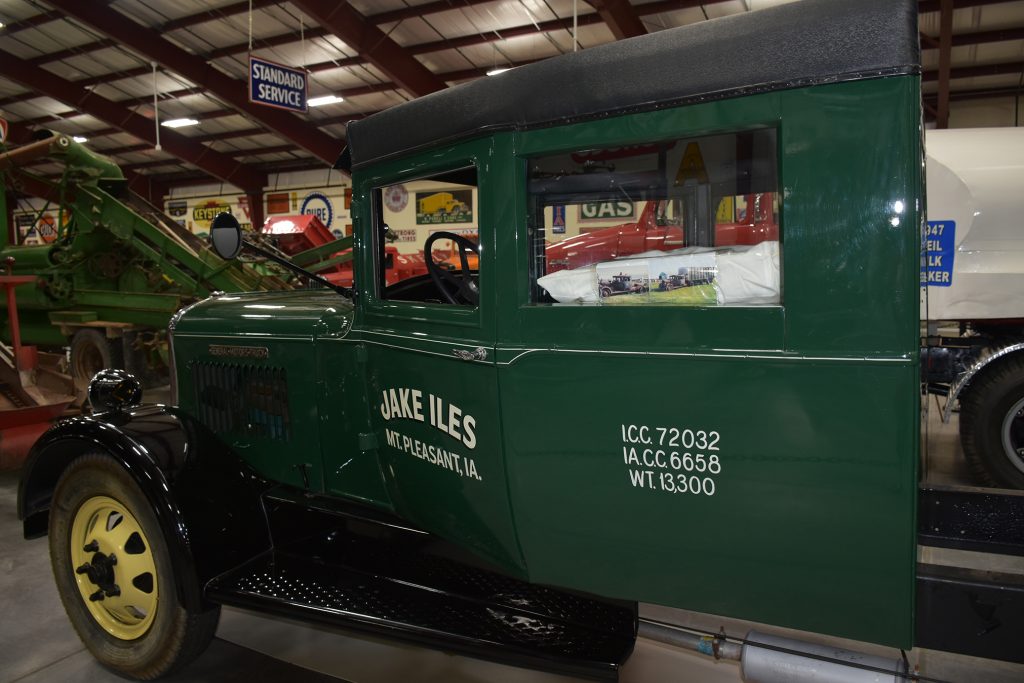 1936 INTERNATIONAL
⇒Model: A7F
⇒Engine: 6-cylinder
⇒Transmission: 5-speed
This 1936 International was built to travel around the United States and test public scales. Before 1935, truck scales were not correctly monitored and the federal government wanted to start a program to check the accuracy of public truck scales. There were 18 trucks built for this task. Trucks were built from 1935 to 1937. This particular truck is one of four built in 1936. The operator would use the truck's crane to place 15 – 1,000 pound weights on the scale and record whether or not the scale was accurate. When the final reports were tallied at the end of the program in May 1941, it was determined that an astounding 71.2% of the scales were inaccurate and it became obvious that national standards and monitoring was needed. This truck was in service from November 5, 1936 to May 17, 1941.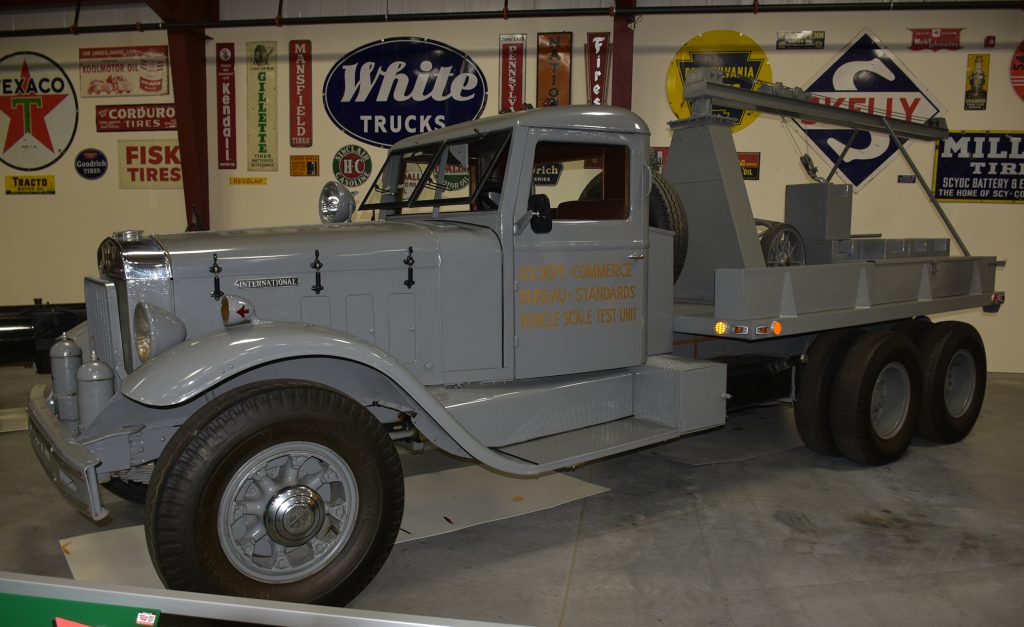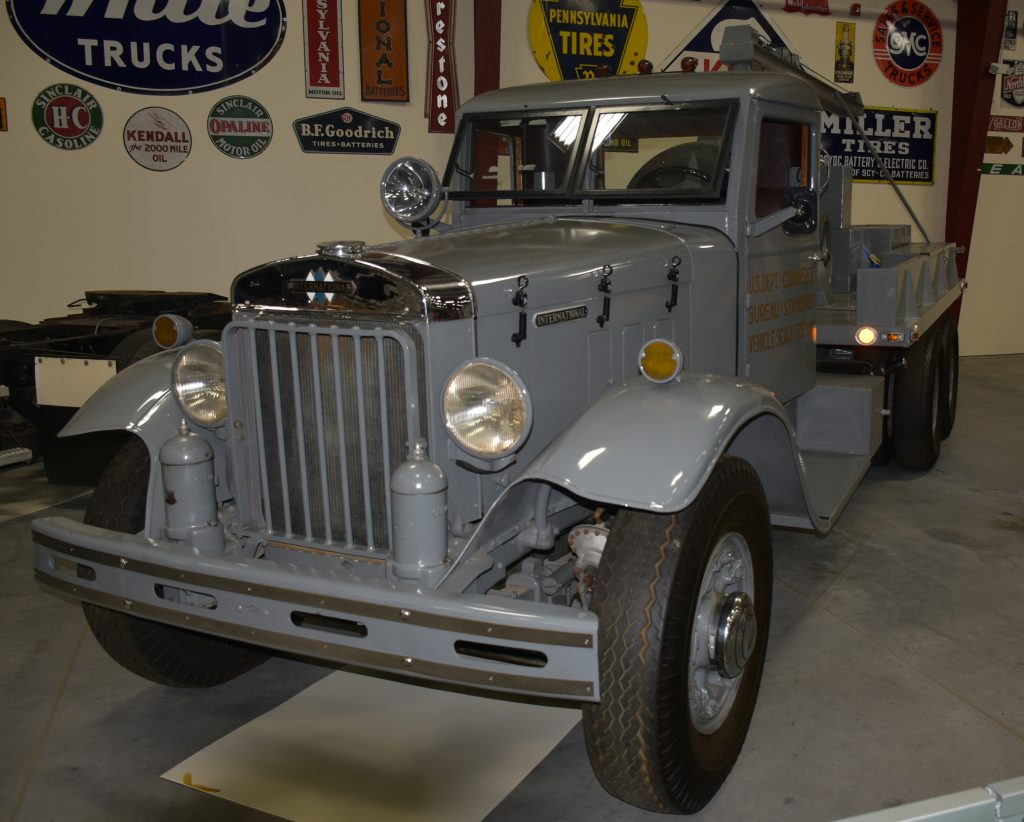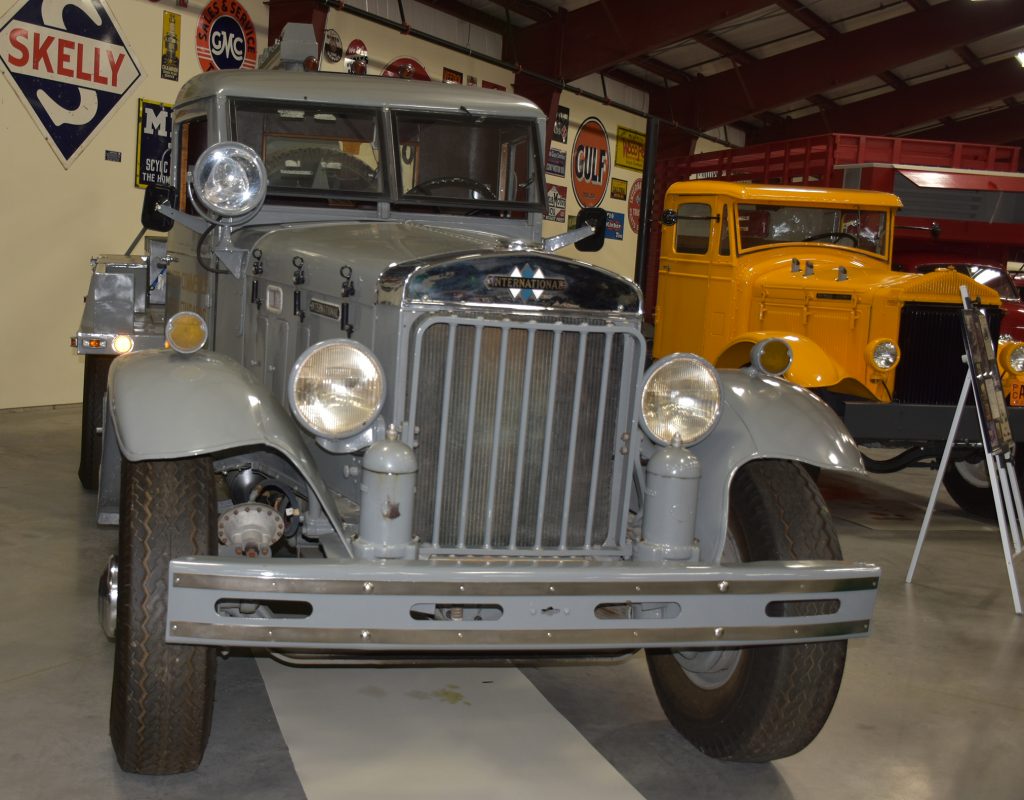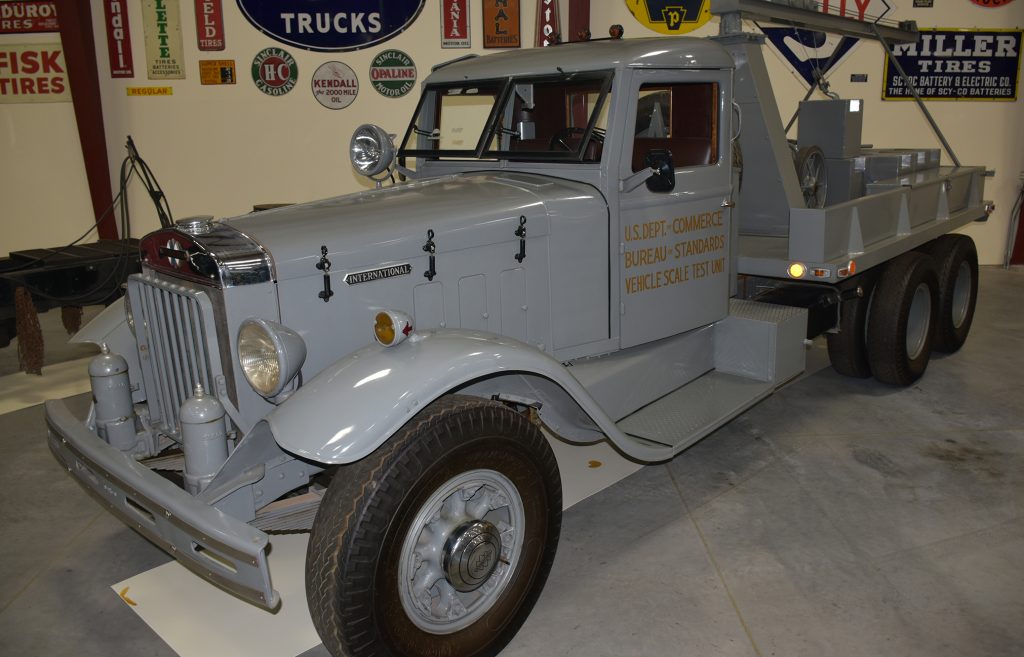 1936 MACK BM
⇒Mack CE 415 cu. in. 108 hp engine
⇒Mack 5-speed transmission
⇒Top speed – 45 MPH
Mack manufactured a total of 3,030 Mack BMs between the years 1932 and 1941. This model of Mack was made in 3-ton and 5-ton capacities. Manufactured from 1932 to 1941, a total of 3,030 trucks were produced. This particular one has a wood framed cab with steel covering. It also features a double reduction rear axle. With a top speed of 45 miles per hour, you wouldn't have been going anywhere quickly in this truck. Since it still had mechanical brakes though, it was probably a good thing it didn't go much faster. It has early aluminum wheels with tubed tires and a three-piece rim. Even though the wheels is aluminum, the locking ring is steel. long-term that doesn't work out well. That's because the combination of steel and aluminum can cause dissimilar metal corrosion over time. On the left side there is a very early version of the turn signal called semaphore. It is hand-operated by a lever above the door and actually lights up. Semaphores were first used by the railroads.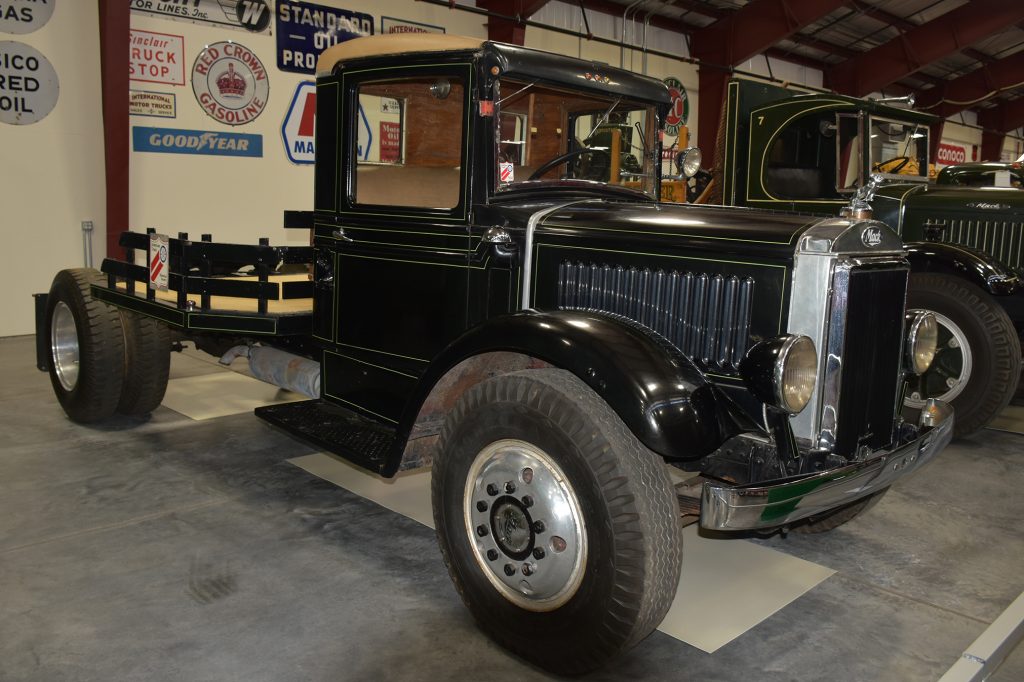 1937 MACK AC HIGH LIFT COAL TRUCK
⇒Engine: 471.2 cubic inch, 4-cylinder, 71 HP
⇒Transmission: 4-speed with chain drive
⇒Top Speed: 20 MPH
Mack first introduced the AC model in 1915. Over 6,000 of them were delivered to both the U.S. and Britain's military forces during WWI. A legend surfaced, that British soldiers would call for "Mack Bulldogs" to be sent when facing adversity, and so the nickname was born. The Mack Bulldog hood ornament was designed by Mack's chief engineer and began to adorn trucks in 1932. There were 40,299 Mack AC's manufactured throughout its' 23 year production. This AC is equipped with a high lift dump box on the back. Originally it had a Heil Box. Heil started in 1901 as Heil Welding Co. welding street car rails at first, then tanks and truck bodies. This truck now features a reproduction of that original box. This AC has been part of the Iowa 80 collection since 1980, but was newly restored in 2011.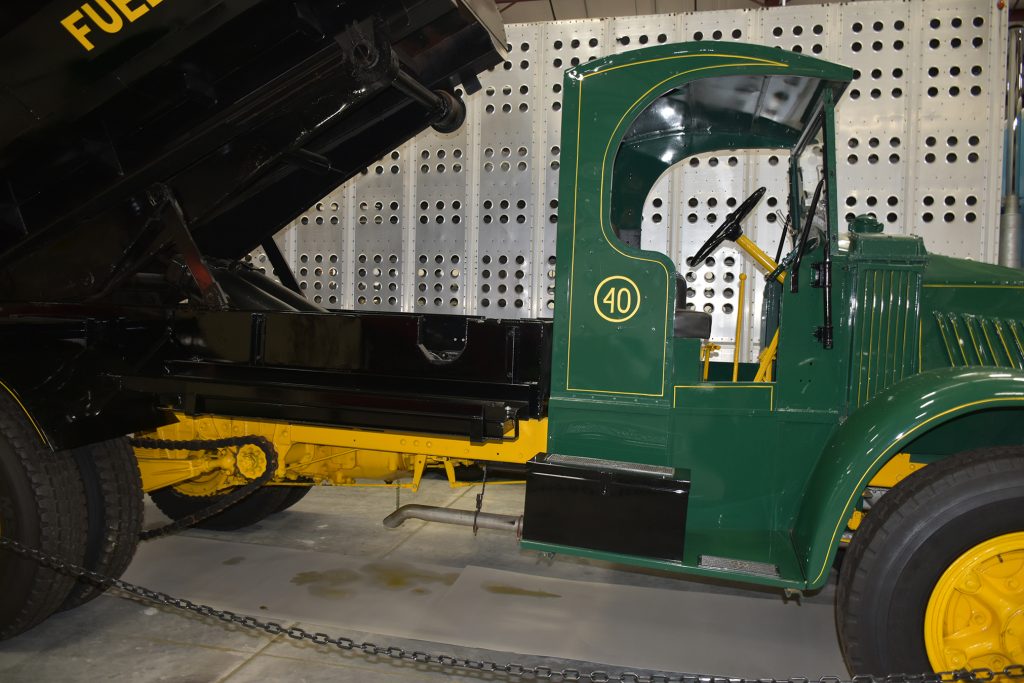 1938 FAGEOL
MODEL 10-66
⇒ Cummins Model H 6 Cylinder Engine,
4 7/8 Bore with 6 inch Stroke, 672 Cubic Inches,
⇒ 150 Horsepower at 1800 RPM
⇒ 12 Speed Forward — 4-Speed Transmission with

⇒ 3-speed Auxiliary
This 1938 Fageol was built to be an off-road logging truck for Robinson Logging in norther California. It is too wide to travel on normal-size roads, and certainly would not be legal on today's modern roads. The frame is reinforced with railroad track steel. This truck is not just big and powerful for its time; it is also pretty extravagant for a truck. The grill is cast aluminum and it has shark gill hood vents as well as an ornate hood ornament; those are the kind of details that Fageol offered. This truck was made in Oakland, California during Fageol's final year of production. T.A. Peterman, a California logger and founder of Peterbilt, fought the factory and it contents. In the Fageol tradition, Peterbilts were built with high quality and high standards: a tradition that has carried through to today.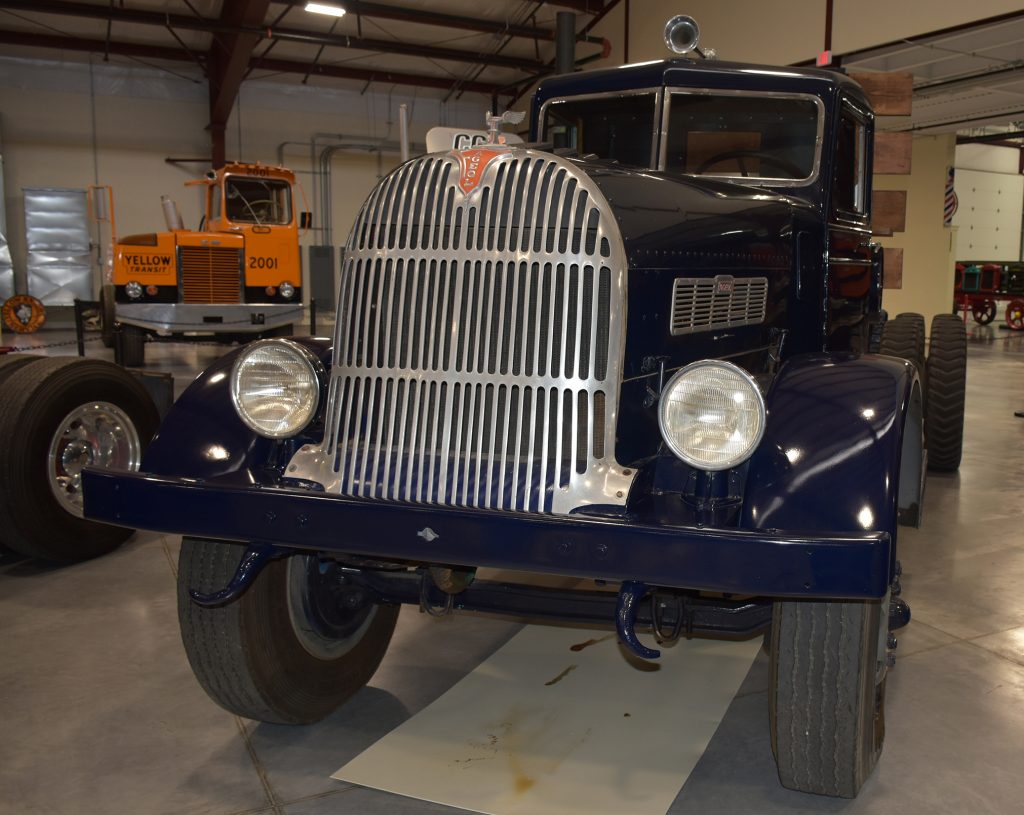 1939 International D-15 Armored Truck
⇒Engine: 6-Cylinder 213.24 cubic inch
⇒Transmission: 3-speed
⇒Top Speed: 45 MPH
This 1939 International was purchased new by the Minneapolis Police Department in Minneapolis, Minnesota. It features a 1/4 inch thick armored steel body that boasts 2 inch thick bullet proof glass windows with gun ports. The steel plates mounted on the front bumper are bullet deflectors for the front tires. All doors are made of armor plate. The engine is a-cylinder 213.24 cubic inch with a 3 & 5/16 bore and a 4 & 1/8 inch stroke. This produces 93 horsepower at 3400 RPM. The D Series was introduced in 1937 and was discontinued in 1941. This was the only truck of its kind produced.
1939 MACK BX
⇒ Engine: 519 Cubic Inch Gasoline with Overhead Valve
⇒ Transmission: Straight 5 speed
⇒ Top Speed: Original 35 MPH / Current 52 MPH
This Mack BX was originally purchased by the George Atwell Foundation Company in New York City, in 1939. It is believed to have been purchased to help haul steel beams and other equipment for the completion of construction of a part of Radio City Music Hall.
In 1985, Tom Spencer purchased the Mack and completely restored it. The body, the engine and the chassis are all original from 1939; which coincidentally was the first year Mack used this engine model. While this specific engine uses gasoline, the same block was used in the soon to follow, 519 Lanova which was Mack's first ever diesel engine. The winch on the back of the truck is typical of what would have been found on a truck in that era. The Iowa 80 Trucking Museum purchased this truck from Tom Spencer in 2011.