1951 FEDERAL
⇒ Engine Type: HRBB Cummins 6-Cylinder
⇒ Transmission: 5-Speed Transmission, Timken 2-3 Speed Rear Axle
⇒ Top Speed: 50 MPH
Detroit-based Federal Motor Truck Company was in business from 1910 to 1959. This 1951, like all Federal trucks, was a no-nonsense, straightforward and basic truck. Like many other truck makers at the time. Federals were assembled truck, made mostly with parts purchased from familiar suppliers like Waukesha, Timken, Brown-Lipe and Continental. Unlike most of the other assembled trucks, Federal built their own truck bodies, not as stylish as their competitions, but always well-built and dependable. In WWI, and starting again in the 1930s. Federal was a major supplier of military trucks. Like all truck makers, sales dwindled during the Depression but Federal managed to survive. Following WWII, Federal enjoyed some success in the U.S. and around trhe world. The export markets declined by the '50s. The original founders of Federal Motor Truck Company remained in control until 1952 when sales declined sharply and the company was merged, first with clutch maker Fawick, and again two years later with axle maker Napco industries. Production in Detroit was discontinued and moved to Minneapolis in 1954 and the last Federal truck was manufactured in 1959.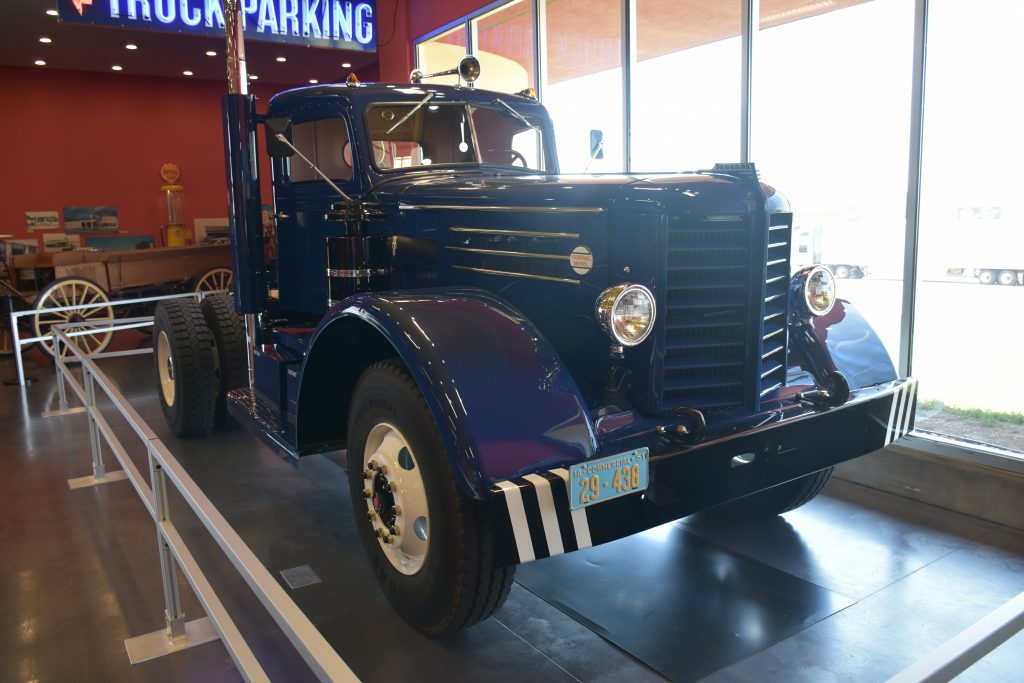 1951 STERLING WHITE HD 2254
⇒ 150 hp Cummins 6 cylinder engine
⇒ 4 + 3-speed transmission
⇒ Top speed – 50 HPH
This particular Sterling was originally a California truck and equipped with a bed and pulled a two-axle trailer that featured a steerable front axle. Sterling trucks were high quality trucks and and one of the first to offer Cummins diesel engines as factory option. In 1951, Sterling was sold to White Motor Company and all Sterling trucks were branded Sterling-White. In 1953, White purchased Autocar and discontinued the Sterling brand.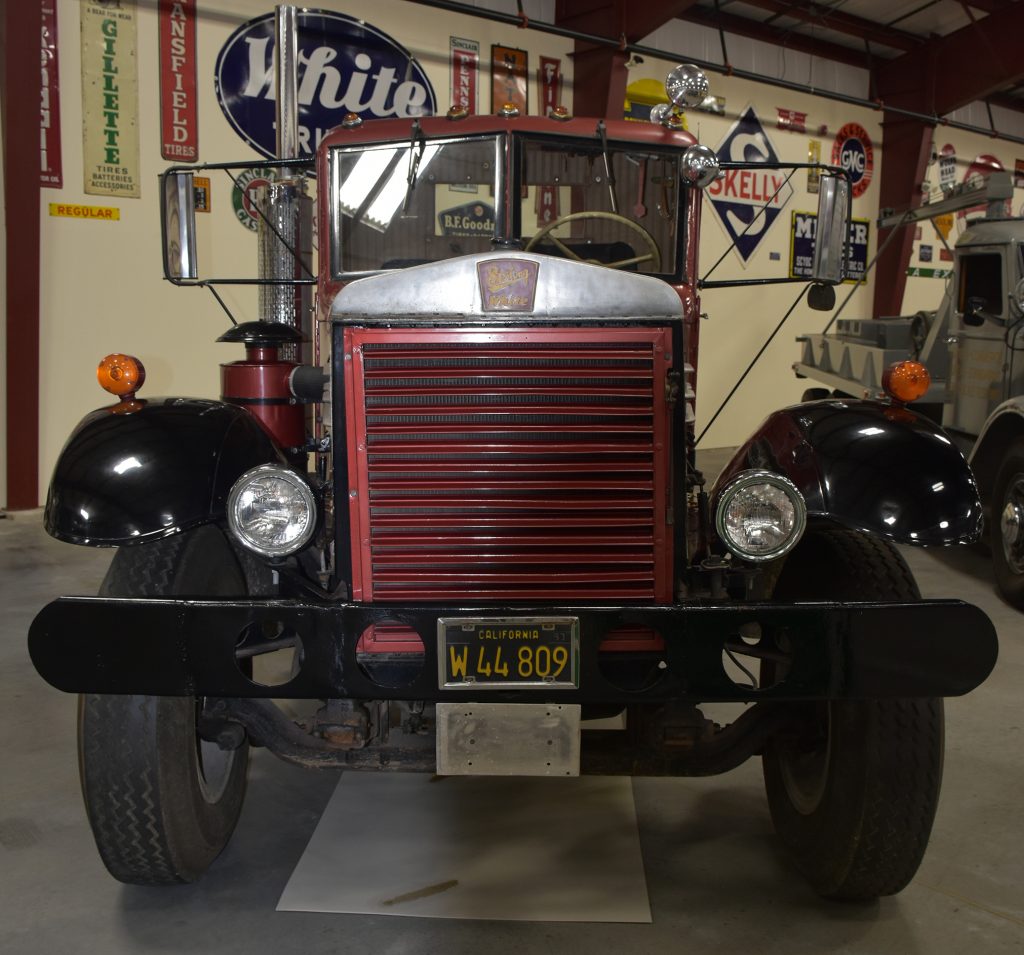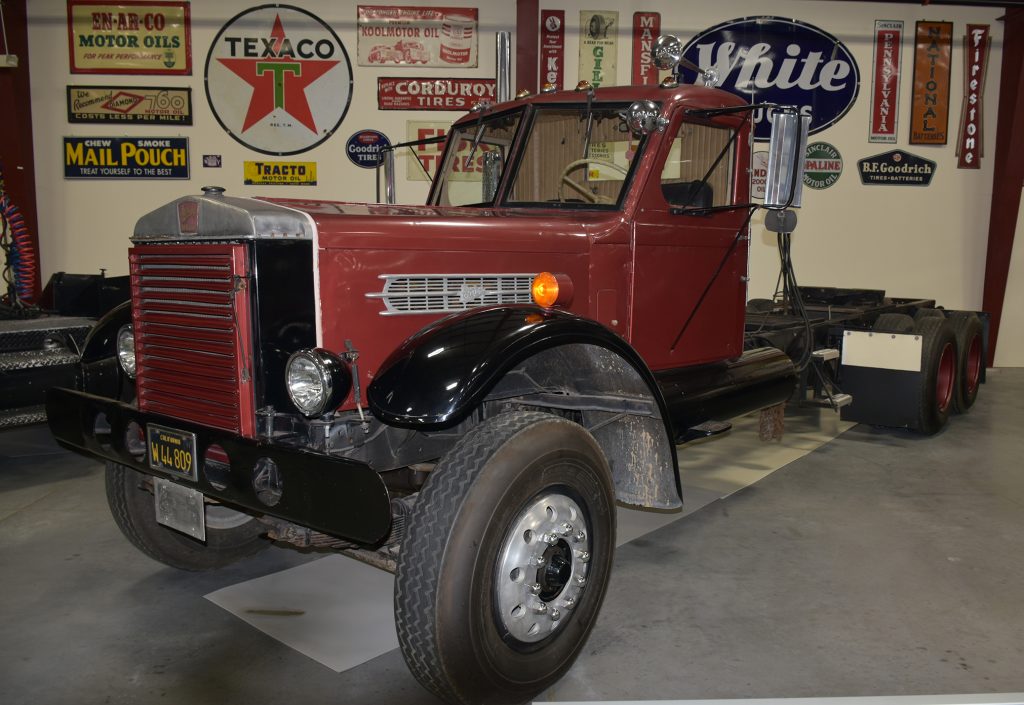 1952 KENWORTH
KCK 825 C
⇒ Engine: 335 NH Cummins 6 cylinder
⇒ Transmission: 5-speed, 3-speed auxiliary
⇒ Top Speed: 50 MPH
This 1952 "Bullnose" Kenworth was a real work horse. This truck was used in the 1950s and 1960s to haul cattle. Custom cattle racks were installed in the truck any are trailer, they are still on the truck today. The truck continued to haul livestock for the next 30 years until it was purchased by Jim Dobbas in 1991. Dobbas used the truck to haul cattle to his farm in Sierra Valley until the truck was retired in 1999. This truck's chassis weights 16,100 pounds and has an impressive gross weight of 42,000 pounds.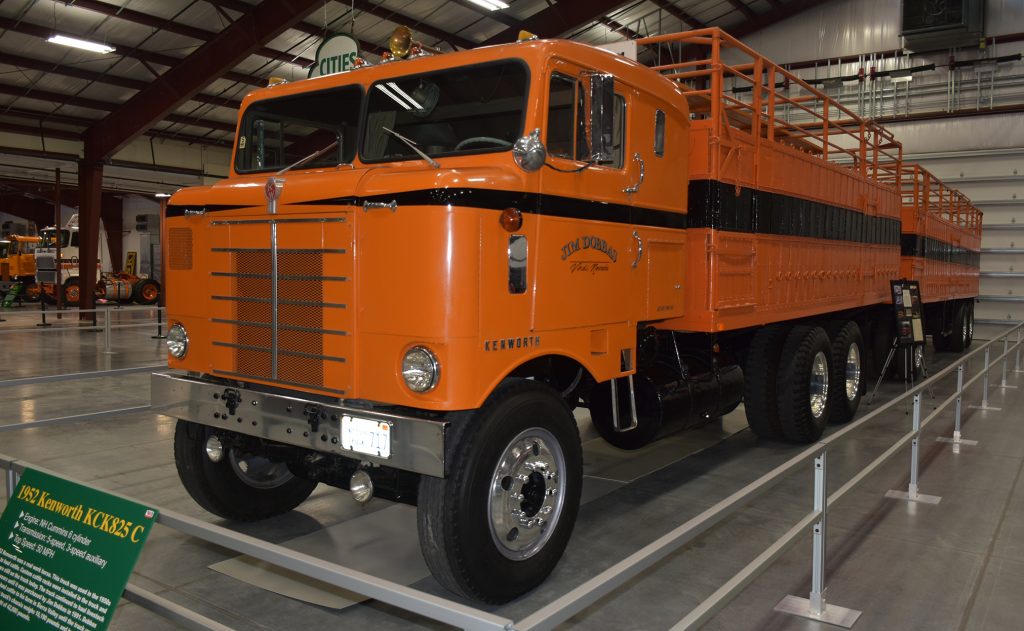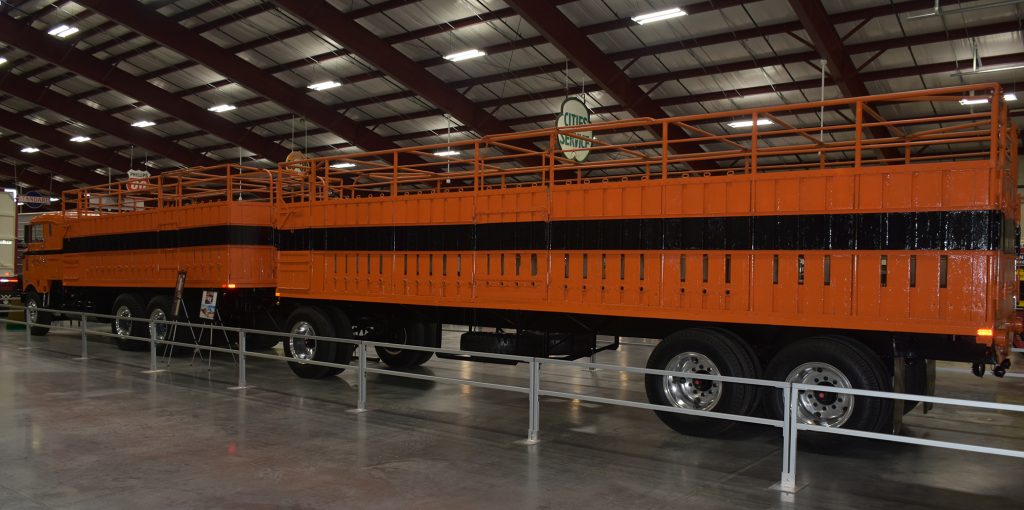 1959 DIAMOND T CABOVER
⇒ Engine: Cummins NH 195
⇒ Transmission: Fuller 5-Speed, Eaton Electric shift,
2-speed Rear Axle
⇒ Top speed: 46 MPH
Diamond T's were extremely popular in the '50s, and Diamond T921 Cabover was one of the company's best selling model. UPS had a large number of them in their fleet at one time. The popularity of cobovers was largely due to restrictive length limit laws in places at the time. Interstates were few and far between, highways still went through towns, and drivers needed to make sharp turns. Thus there was a need for trucks to be shorter. Note the aerodynamic shape of the truck. It was very progressive for the time. This truck is still equipped with all of its original drivetrain. It doesn't have much power for a truck with a full load: an inperceptible grade or even a slight breeze would slow it down. The double-decker trailer on the back is a 1967 Wilson Cattle Trailer. Hauling livestock could be a dangerous task. If you didn't have a full load, the cattle shift around. If they all moved to one side, the slightest jerk of the wheel would cause the truck to roll over. Drivers had to take it slow and steady. Luckily, the truck's lack of power made that easier to do.