THESE EARLY TRUCKS ARE IN THE
IOWA 80 TRUCK-STOP MUSEUM 1903-1969
Circa 1890
TRIPLE WAGON
⇒Top Speed: Pulled by 4 Draft Horses at a max speed of 3 MPH
This kerosene wagon was built right around the beginning of the 20th. century. The metal tank is likely a Butler tank with three compartments. Each were filled with kerosene, gasoline, and heating oil. The three tanks held around 300 gallons of liquid making a total of 900 gallons that could be transported on each trip. This was the biggest fuel wagon available during this time period. Due to its size, four Draft horses, weighing close to 1,400 pounds each, were used to pull this wagon. The wagon would have been driven from a fuel fill up station at the town's trainyard and taken around to the various farmers outside of the town's limits. This was very similar to how milk used to be delivered to individual houses. Fuel would have been dispensed via three different nozzles at the rear of the tanker. The driver would take 5-gallon cans to dispense the fuel to the farmer's tank. The farmers would use the fuel in a variety of ways, including running vehicles, tractors, power plants, lighting, and heating demands. This wagon would have been heavily used until around the 1930s when fuel tanker trucks almost totally replaced the horse drawn fuel tankers.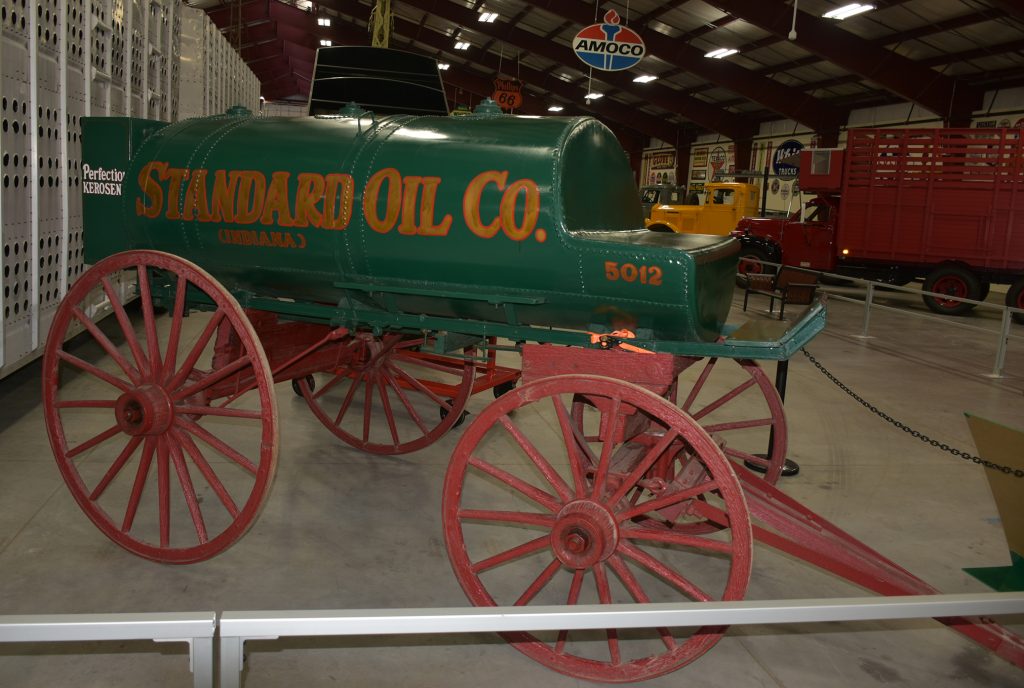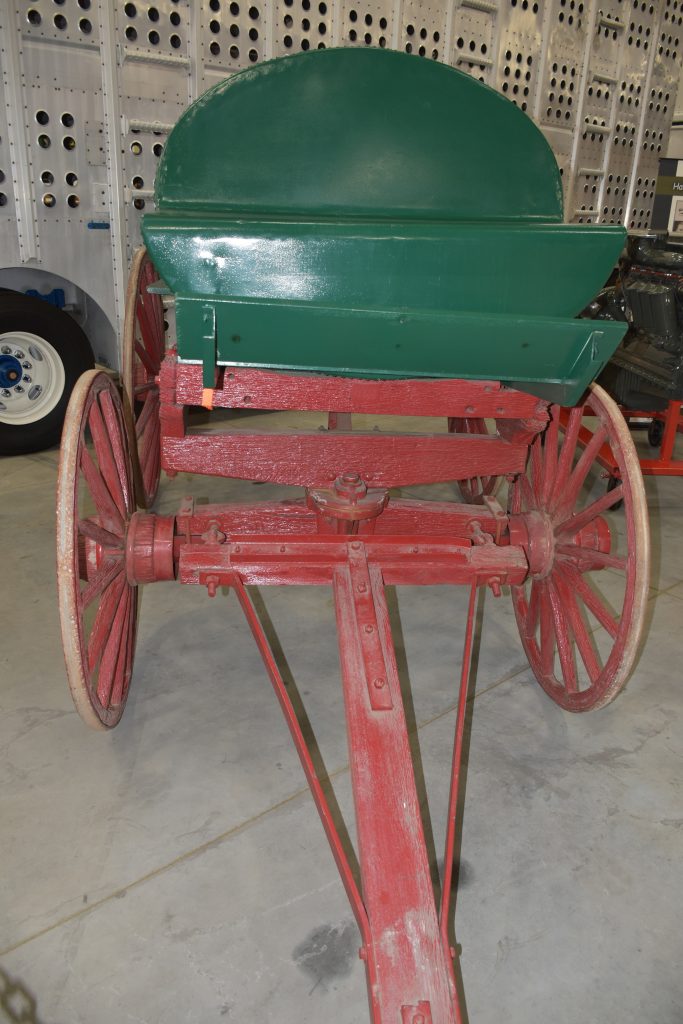 1903 ELDRIDGE
⇒Engine: 2 cylinder opposed piston gasoline engine
⇒Transmission: friction drive
⇒top speed: 10mph


This believed to be the first truck ever manufactured in the U.S.; and it was built in Des Moines, Iowa. Resembling an old farm wagon, this truck was built by George Eldridge, a machinist, near the start of the 20th century. Eldridge produced at least one car and three other trucks, years before the first Model-T was built by Ford in 1908. This truck was used to transport various items between Eldridge's various machine shops. It was retired to a field behind the blacksmith shop where it rested for years until Owen Crist purchased the vehicle some 30 years later. The truck's solid rubber tires had rotted away. Crist spent years restoring the vehicle. Along the way he noticed many unique features of the old Eldridge. One of these features was the friction drive transmission. The transmission has one wheel, driven by the engine, that rubs against another perpendicular wheel. This transfers power to a shaft that dries a sprocket which uses a chain to turn the wheels. This is the oldest American made truck known to exist.
1910 AVERY TRACTOR / GASOLINE FARM WAGON
⇒Rutenberger 4-cylinder engine
⇒3-speed Avery transmission
⇒Top speed – 15 MPH
With a 45 hp engine, this truck cost $2500 new. It was advertised to do the work of six to eight horses. This truck is so versatile, it could haul up to 100 bushels of wheat, pull a 3-bottom plow, or even run a threshing machine through an additional belt pulley. The solid rubber tires were a $500 option at the time of purchase. The whole truck weight on 5,875 pounds. It is one of only six Avery trucks know to still exist.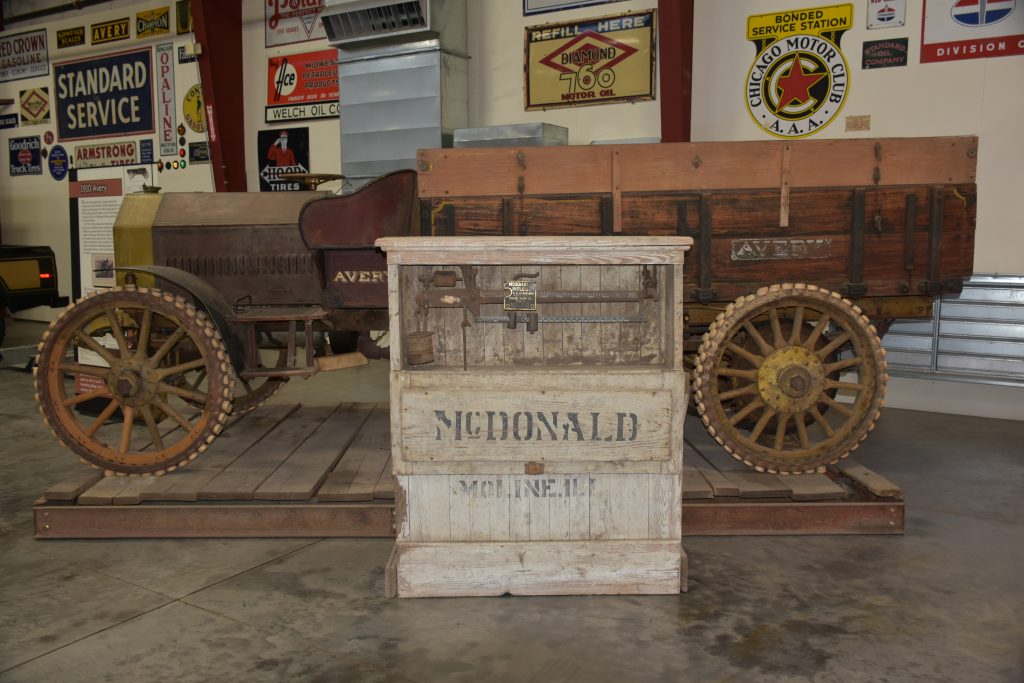 McDONALD SCALE MOLINE PLOW COMPANY
⇒Circa: Early 1900's
⇒Maximum Load Capacity: 8,000 pounds
Manufactured nearby in Moline, IL, this type of scale was advertised as a "Pitless Scale", but also known at the time as a "Wagon Scale". Both farmers and small business owners would commonly use this type of scale to measure bushels of corn (and other products) carried on the back of a wagon, truck, or steer. The scale helped farmers and business owners alike determine the cash value of their product. In the early 1900's Railroads charged shipping fees by weight. McDonald Scales were used to estimate how much a farmer or business owner could expect the shipping cost to be, and it helped prevent them from being overcharged for their shipments.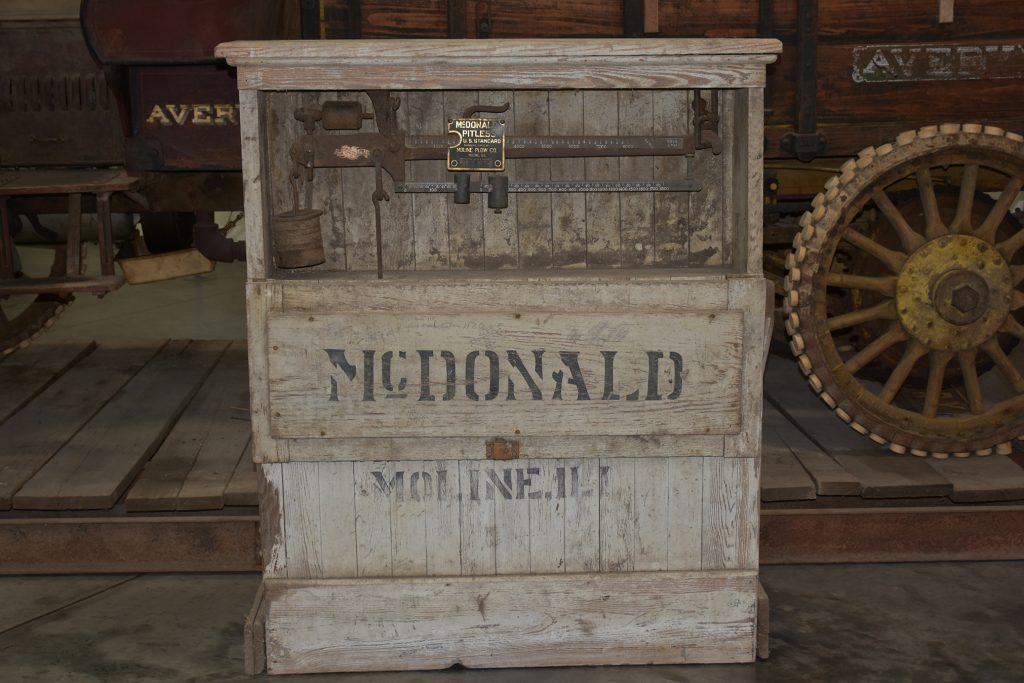 1911 WALKER ELECTRIC MODEL 43
⇒3.5 hp 84-volt DC electric motor
⇒Load capacity of 6,000 pounds
⇒Top speed – 15 MPH
Everyone thinks that electric powered vehicles re a new deal! This electric truck was a milk delivery truck in downtown Chicago for Bowman Dairy Company, which delivered milk to hospitals and restaurants. A single charge would allow this truck to travel up to 50 miles. The walker brand was native to Chicago and in production from 1906 to 1942, longer than any other electric truck in the U.S.
1912 SAURER
⇒ 4-cylinder 4 cycle engine
⇒T head cylinder
⇒ Dual cam
⇒ 4-speed Saurer transmission
⇒ Top speed: 16 MPH.
Only American made Saurer known to exist. Saurers were first imported in 1908 from Switzerland. U.S. assembly started in 1909 by the Quincy, Manchester & Sergent Company, Plainfield, NJ.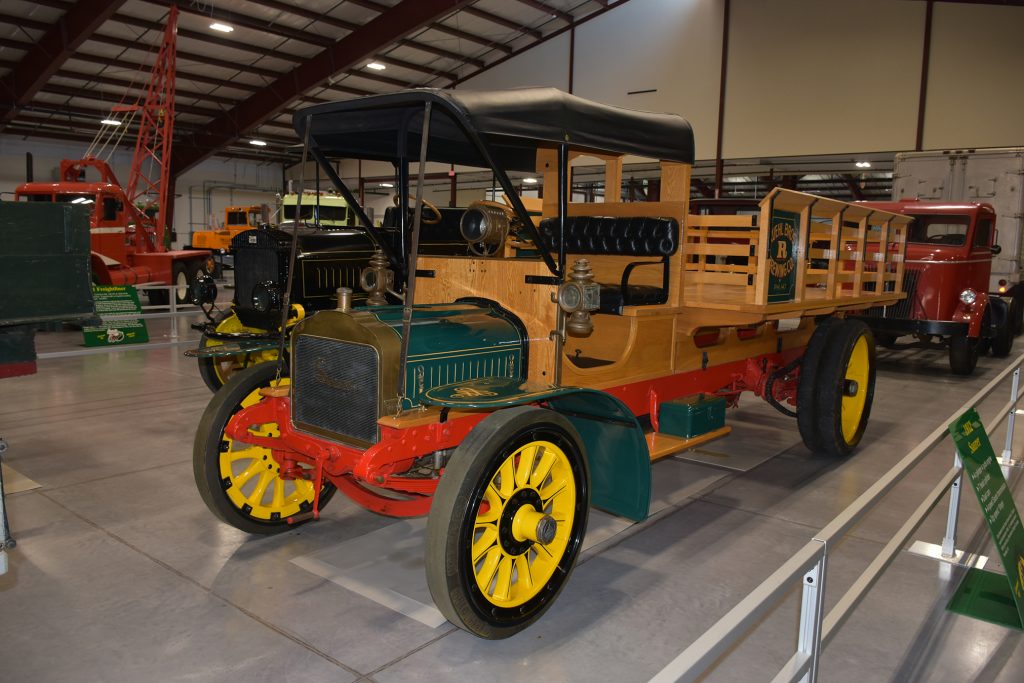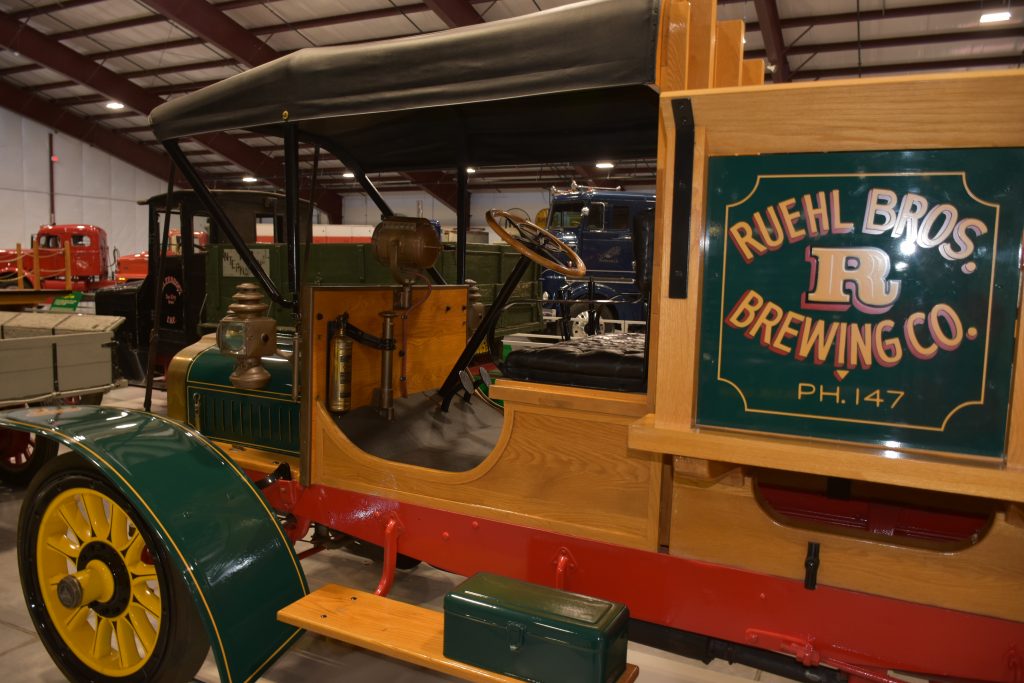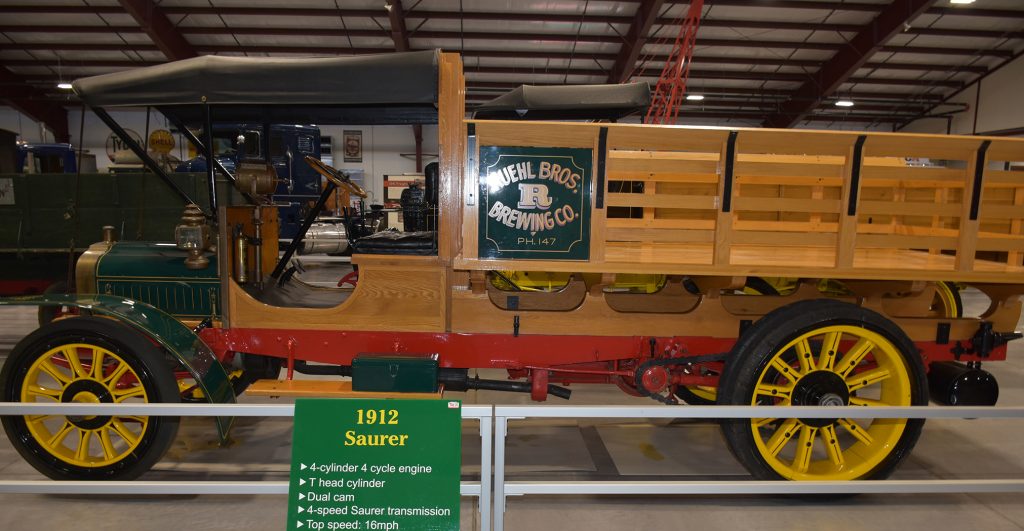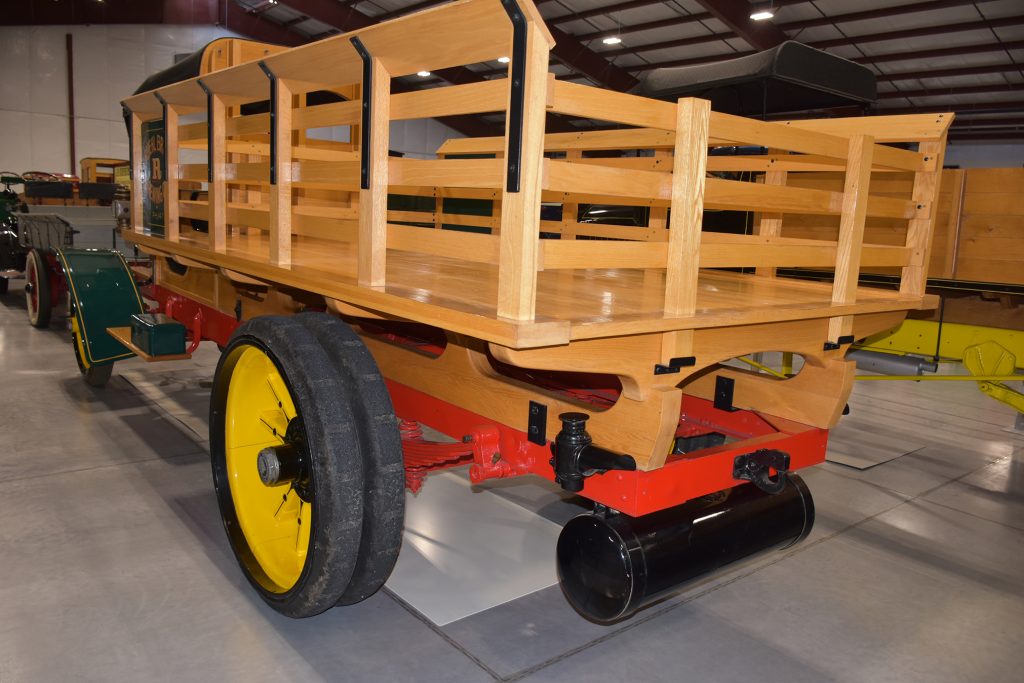 1913 VIM Half Ton
Delivery Truck
⇒ Engine: 22 HP 1917 VIM truck motor 3 inch bore
4½ inch stroke, 4-cylinder water cooled
⇒Transmission: 3 speed & reverse selective sliding gears
⇒ Top Speed: 25 MPH
This truck was made in the first year that the model was in existence, and it was a cross over from the Touraine Company that made cars before the VIM trucks. The Touraine Company was based in Philadelphia, PA and the chassis was manufactured by The Budd Company, also of Philadelphia. This VIM Delivery Truck has a wheelbase that measures 89 inches with a 56 inch tread, and weighs about 800 pounds. It is equipped with a bevel and chain drive differential and a sliding gear transmission. This model has an open bed which was commonly used for hauling products like tool and packages.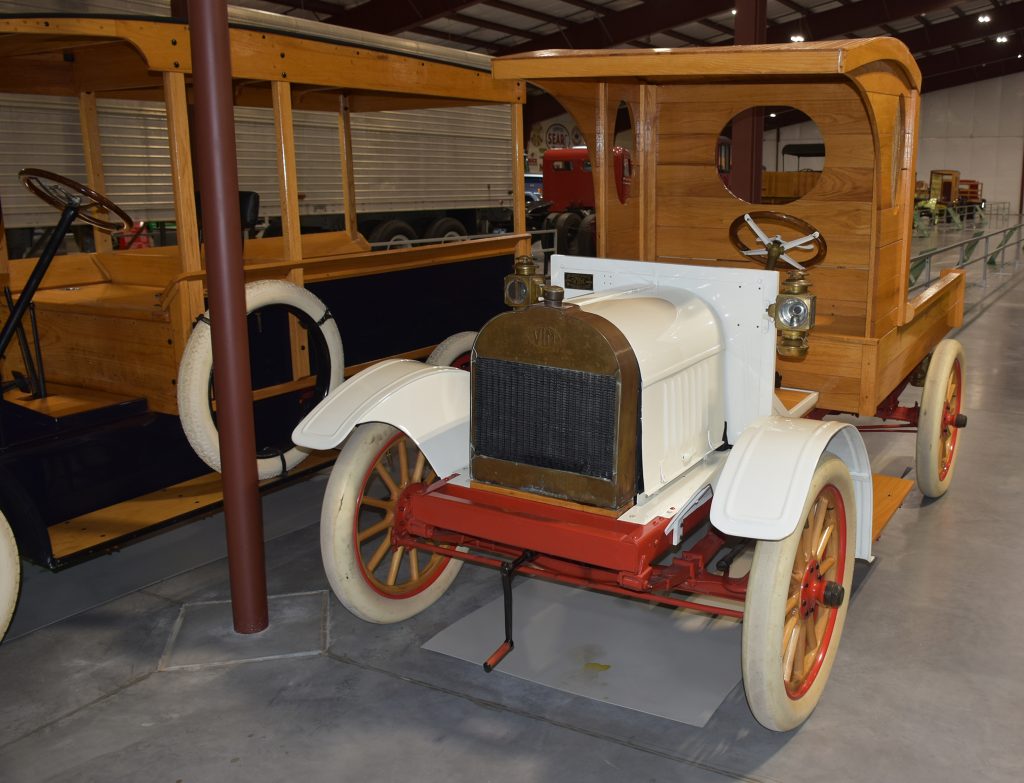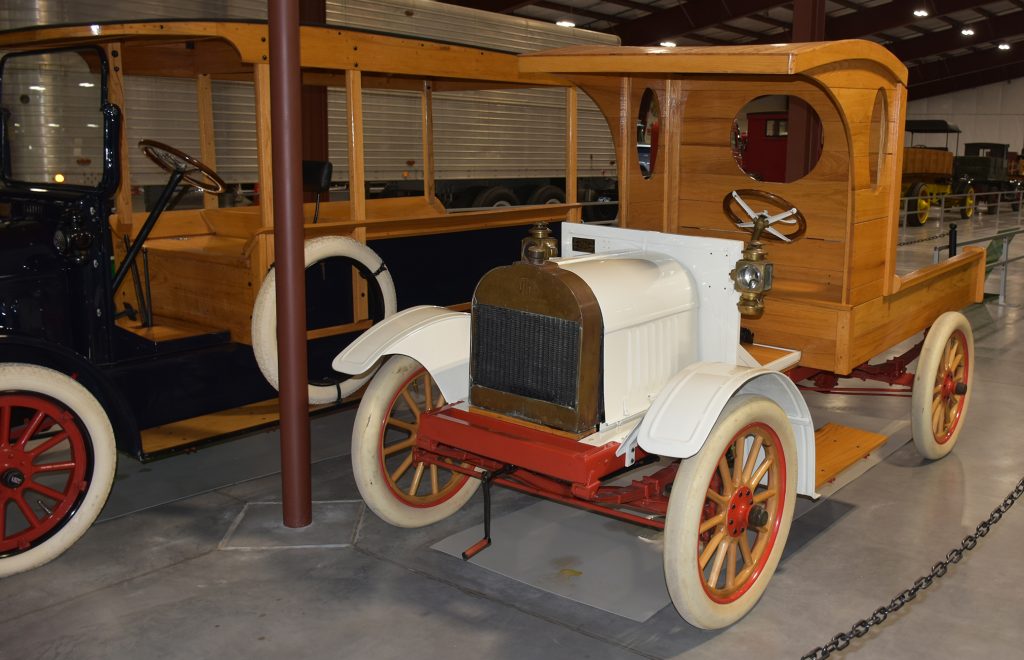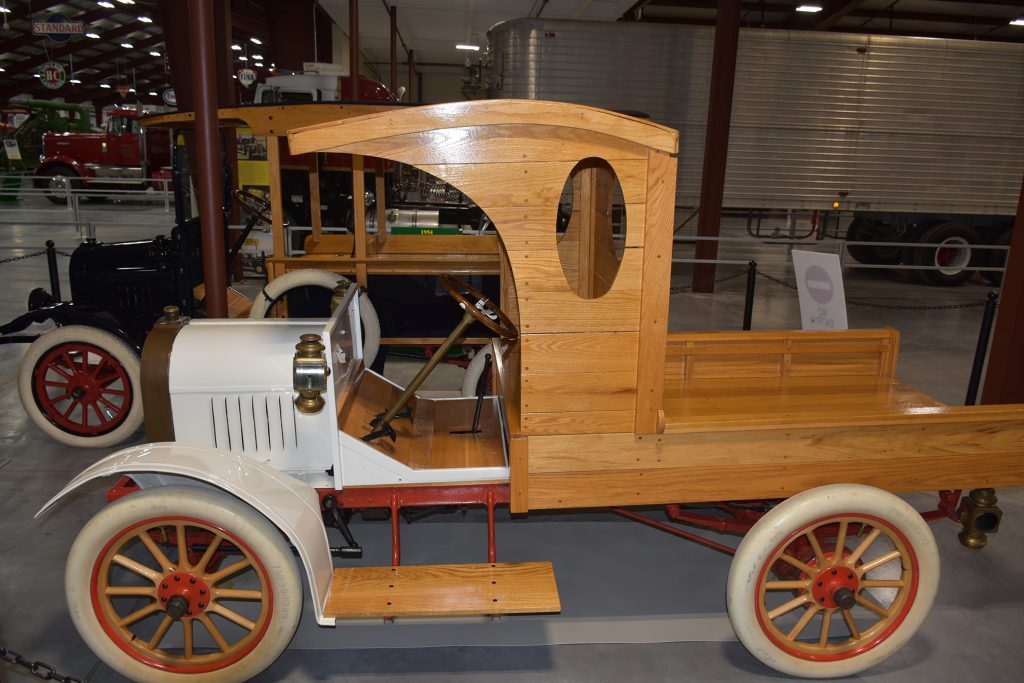 1913 RAMBLER
⇒Engine 4-cylinder
⇒HP: 42
Thomas B. Jeffrey built and sold Rambler bicycles from 1878 to 1900. He was one of America's first men interested in building automobiles. His experimental prototypes in the early 1900's included such radical ideas as steering wheels and front mounted engines. A wide variety of styles of cars were built under the Rambler name, including trucks. Upon Jeffrey's death in 1902, his took Charles took over the business and in 1914 renamed it Jeffrey, which became the world's largest producer of trucks during WWII.
This 1913 Rambler was purchased new for $2,350 and used by a plumber in Rock Island, Illinois. The maximum load amount this truck can carry is 2,000 pounds. This could handle the weight because it weighs 4,150 pounds itself. The engine has a 4 1/2 inch bore with a 5 inch stroke and includes a 7-port adjustable external oiling system.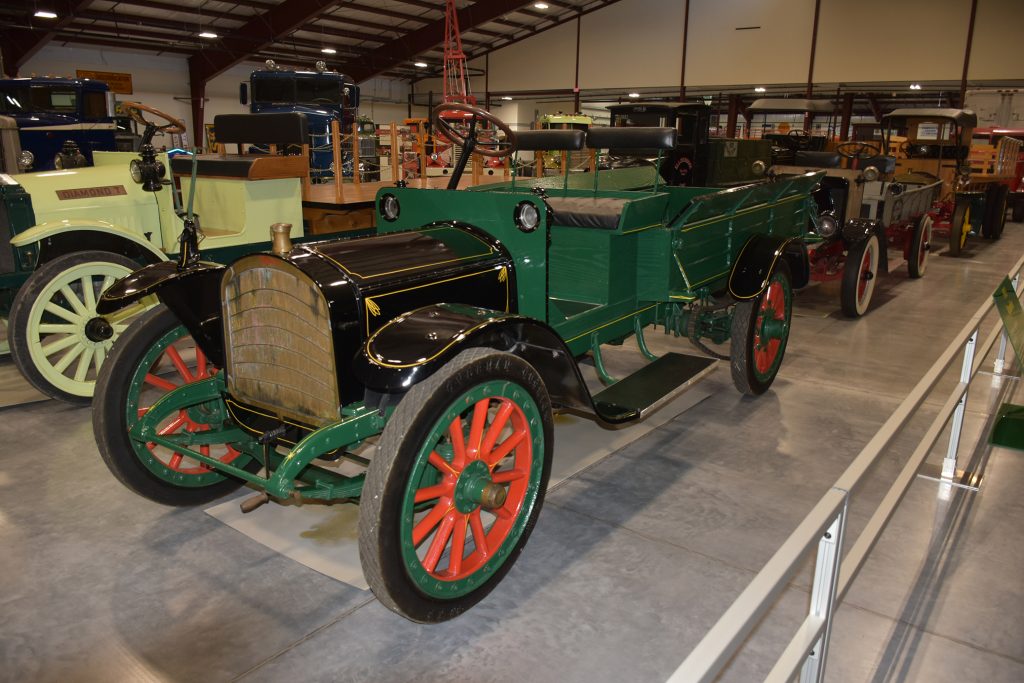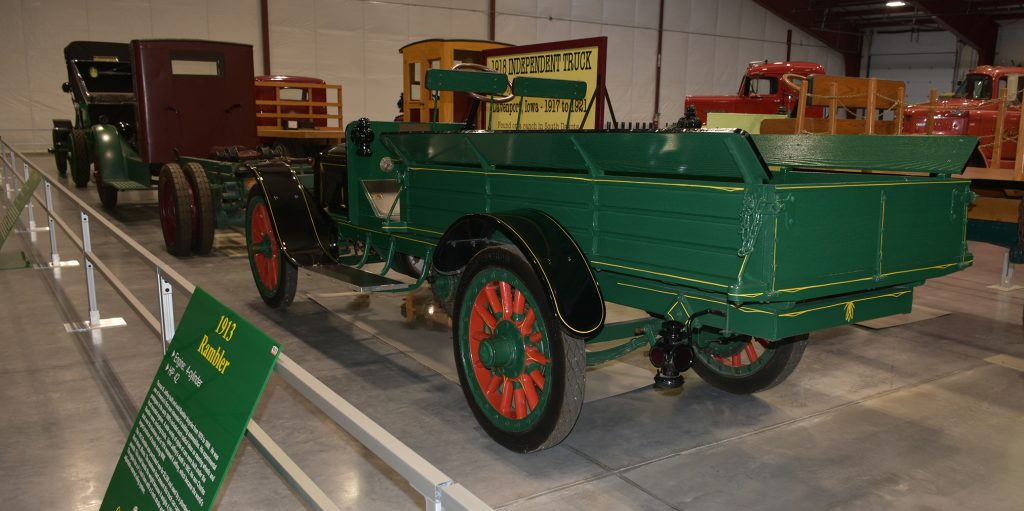 1914 DIAMOND T
⇒ Engine: 4-cylinder Continental

⇒ Transmission: 4 speed
⇒ Top Speed: 15 MPH
Sometimes referred to as the Cadillac of trucks, Diamond T Motor Car Company was founded in Chicago in 1905 by a gentleman named C.A. Tilt. His father had been in the shoe business and put Diamond T on the soles of his shoes, which stands for quality and that's where the name came from. This 1914 Diamond T is oldest in our collection we believe this is it the oldest Diamond T in existence. The steering wheel is on the right side and it has hard rubber tires, wood wheels, and brakes on the front axle.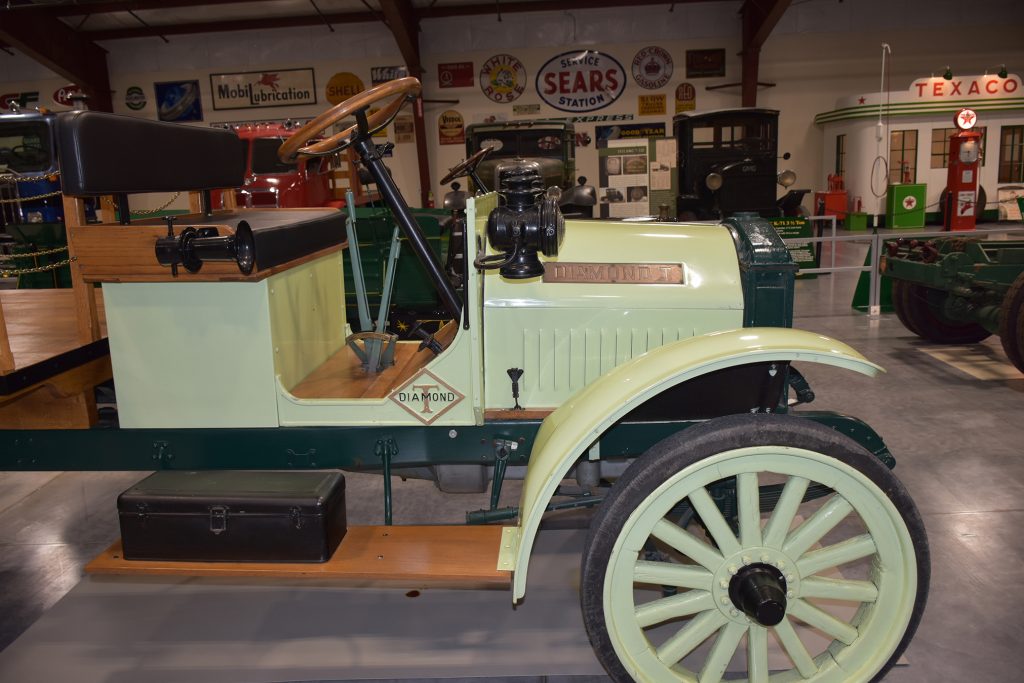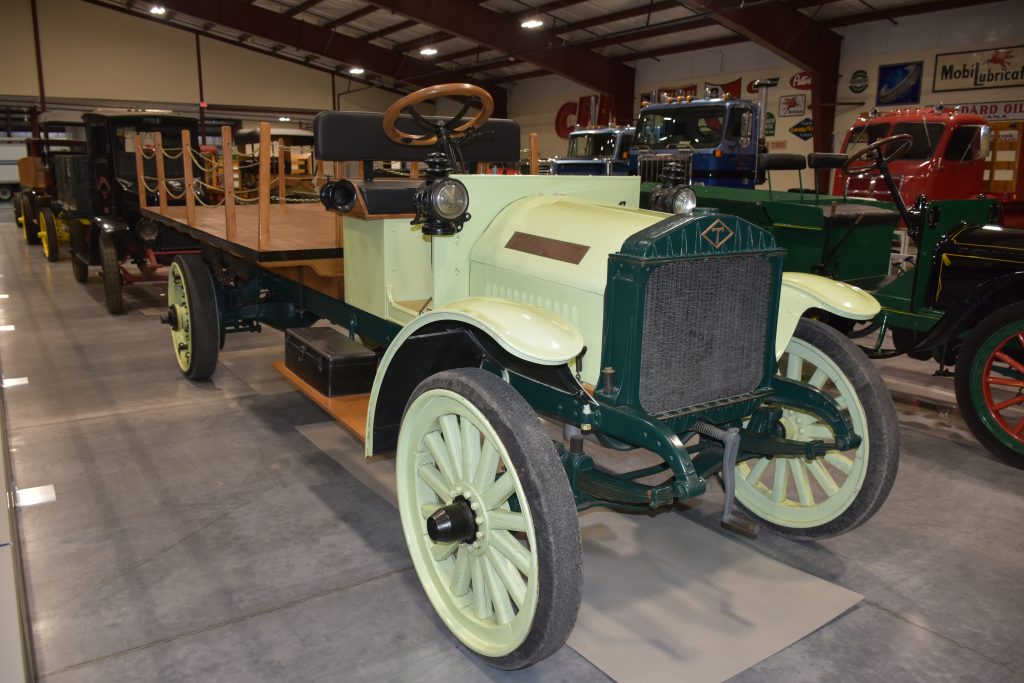 1915 MACK AB
⇒Engine: 255.33 cubic in. 4-cylinder
⇒Transmission: 4 forward speeds 1 reverse
⇒Top Speed: 24 MPH
This Mack, Serial Number 361, is the oldest Mack AB known to still exist. The AB model was Mack's first standardized high volume truck model. According to Mack, 51,364 AB models were made from 1914 to 1937. The AB used either chain or worm drive and the truck's design stayed relatively the same for the entire production run. Gear ratios available at the time were from 5.7 to 1 all the way to 10.5 to 1 all the way to a blistering 24 miles per hour with the 5.75 to 1 ratio. The engine is a 251.33 cubic inch 4-cylinder with cylinders cast in pairs. The bore is 4 inches and the stroke is 5 inches developing 35 brake horsepower. This truck has a magneto ignition. The AB was made in 1.5 and 2.5 ton capacity ratings. There were a total of 383 Mack AB models built in 1915.
G
1917 VELIE 26 B 3.5 TON
⇒ Engine f4
⇒Transmission Type 4-Speed, Brown-Lip
⇒ Speed: 12 MPH

Velie Motor Corporation was founded in 1908 by Moline-native Willard Velie, grandson of John Deere, and sold more than 1000 cars in its first three years of business. In 1911, the company began production of trucks. Velie decided to branch out even more and in 1927, He started manufacturing aircraft under the name Mono Aircraft Inc. However, this venture was short-lived; the airplane company was sold off just 2 years later. Velie automobile production also ended around that time after the passing of both the company's founder and his succeeding son within a year of each other. Part of the factory is still standing in Moline, Illinois. This Velie 26 B 3.5-Ton was originally used in Silver City, New Mexico by T.C. Watkins to haul mining equipment and supplies along the Mogollon Rim. It is only one of five Velie trucks know to still exist. Old work-horse trucks like this are rare. Many were shipped to Europe by the Army during World War I. It is a heavy truck; most were bought up for scrap and the metal was reused for tanks, bombs, torpedoes, and ships in WWII. Its solid rubber tires weight 700 pounds each. The truck has had much use as evidenced by the repaired and braced frame. The engine mounts have even worn into the frame. You can't buy parts for these trucks anymore. Its engine is obsolete and has been for years; we had completely rebuild it. All trucks in the early days were the bare minimum when they came out of the factory unless a part was special ordered. Dump beds could be provided by the factory, but they were expensive. Some people just made their own.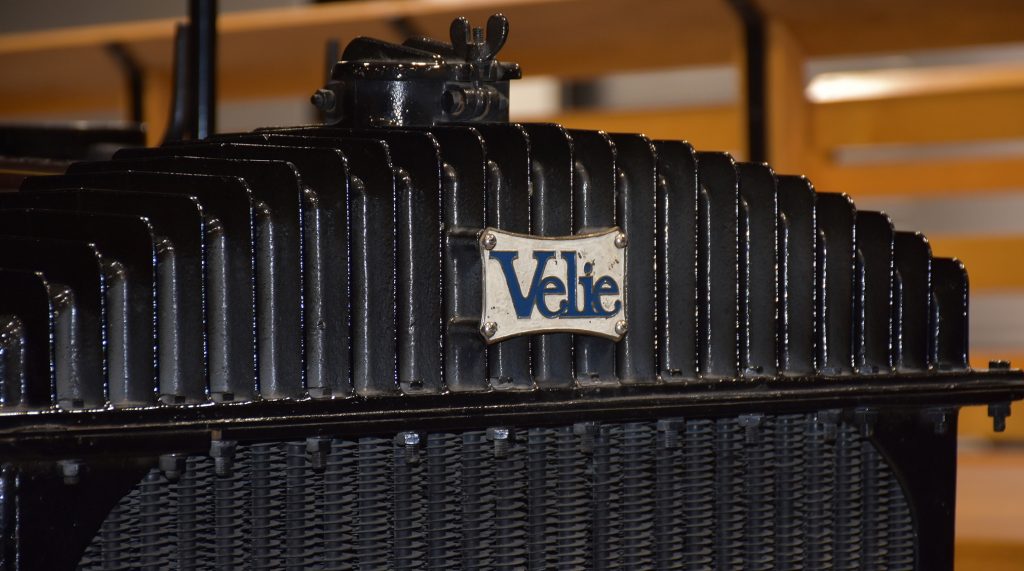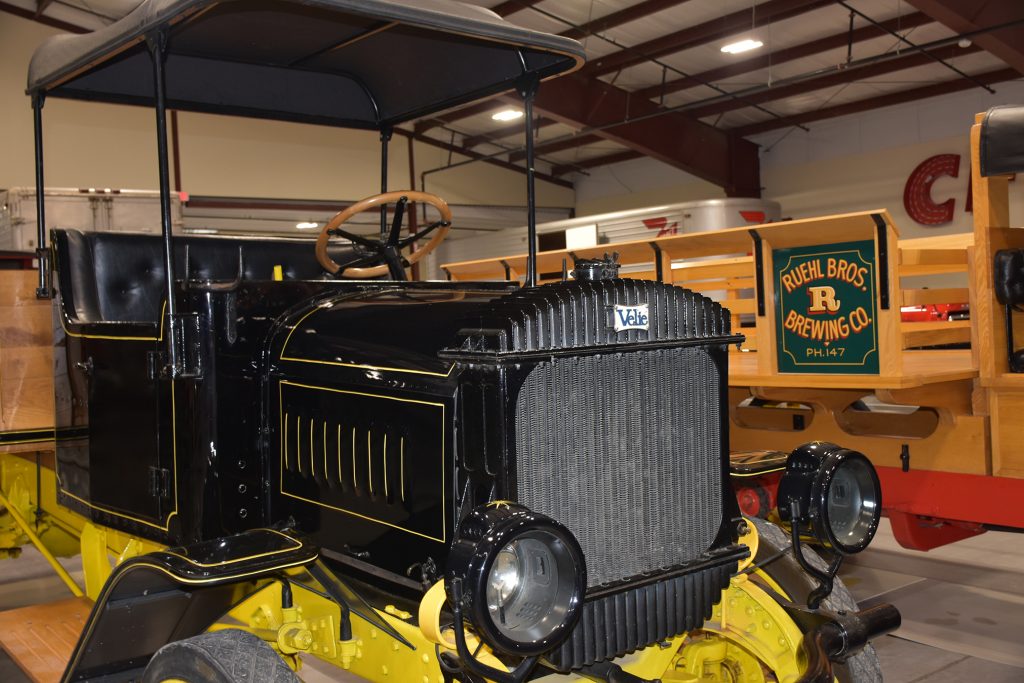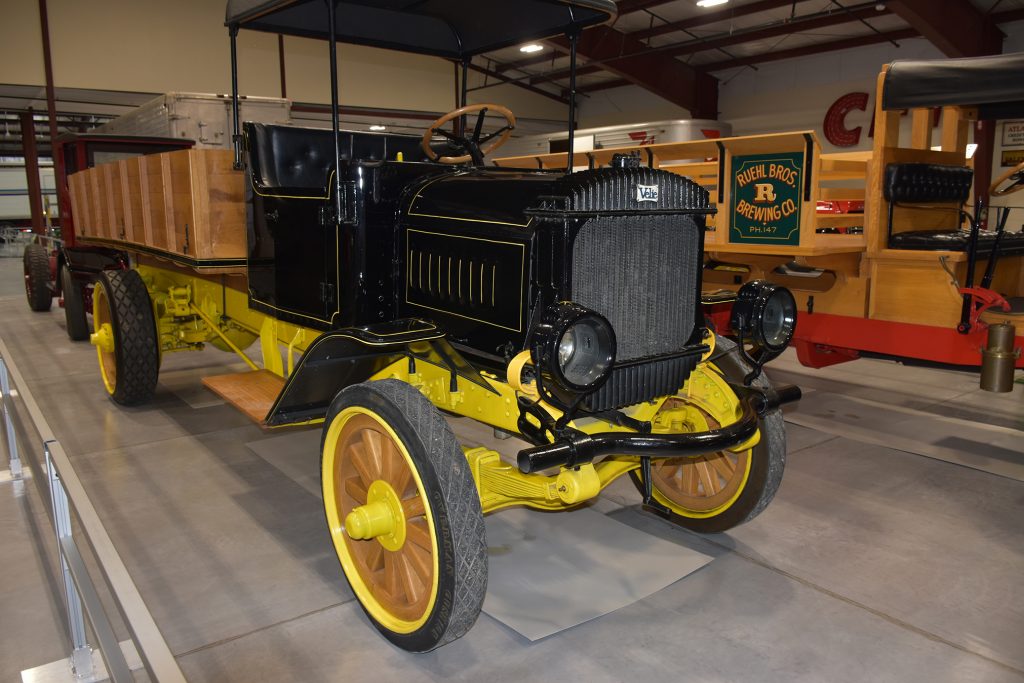 1918 INDEPENDENT
⇒ Engine: 4 cylinder Continental
⇒ Transmission: 3 speed
⇒ Top Speed: 15 MPH
This 1918 Independent is a local truck that was made in Davenport, Iowa. This was the only truck brand manufactured in Davenport, Iowa and was made from 1918-1923. Two sizes were built under this name, a 1-tonand a 2-ton. This is a 1-ton. There is a glass windshield, but no wipers. The front window opens partially which would be considered air conditioning back in the day. Independent was one of the smaller truck brands that did not last very long. It is an assembled truck as many were during that time. Different parts were bought from various sources and put together into trucks which were then branded Independent.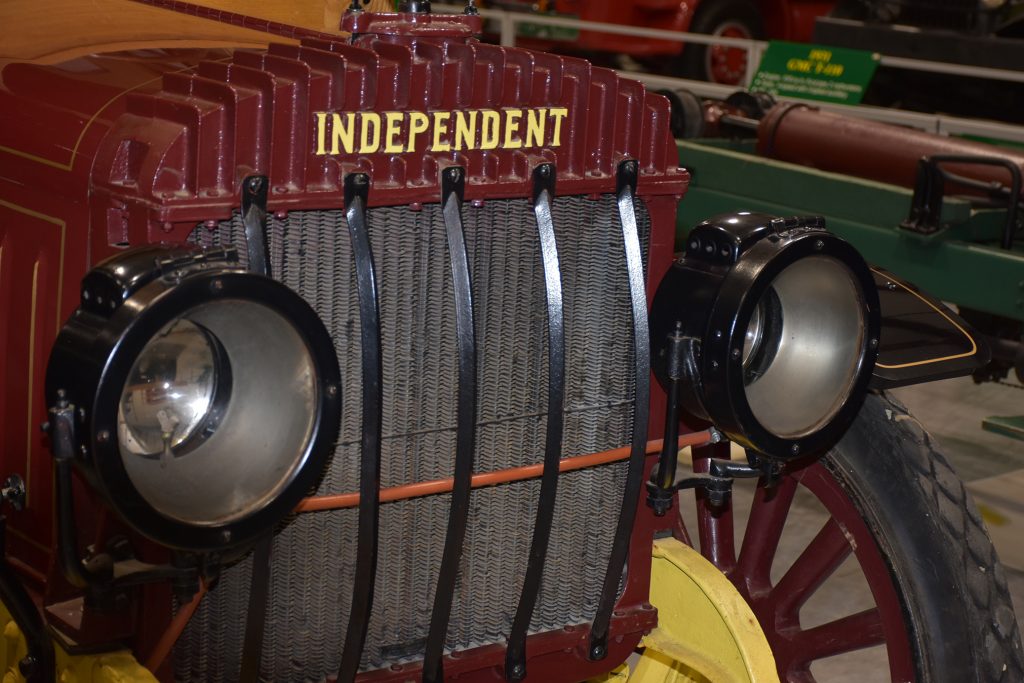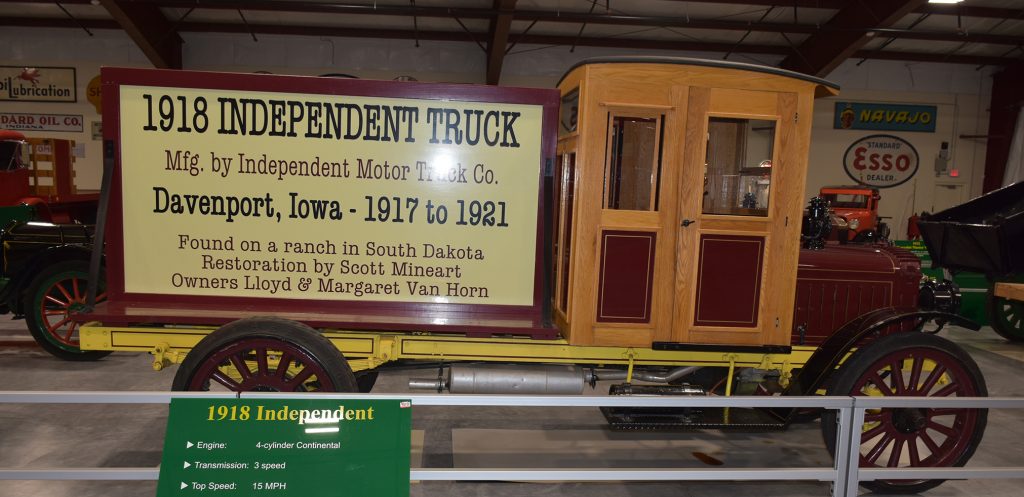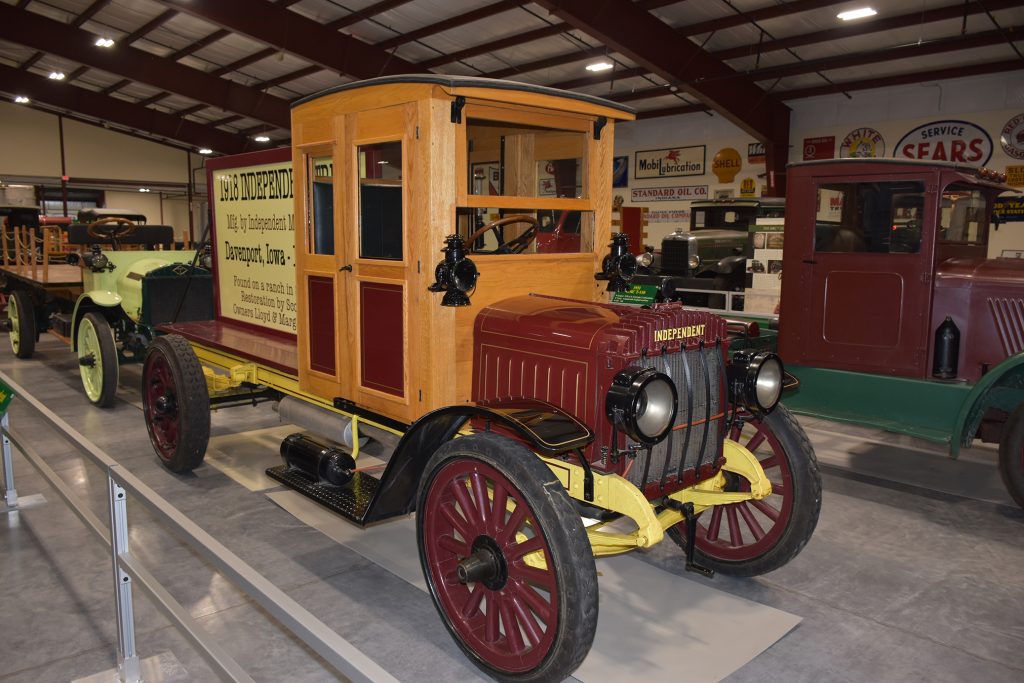 1918 VIM HALF TON DELIVERY TRUCK
⇒Engine: 22 HP VIM truck motor, 3 inch bore
4½ inch stroke, 4-cylinder water cooled
⇒Transmission: 3 speed & reverse selective sliding gears
⇒Top Speed: 25 MPH
This particular truck model was built by the VIM Motor Truck Co. (formerly Touraine Company). VIM Trucks ranged in price from $620 to $1050. Cost was dependent upon the sizes of wagonettes, tires, canvas tops, or cabs. The VIM Delivery Trucks covered greater distances, and did more work in less time and at a lower cost than a horse and wagon could. These trucks were advertised as sturdy dependable trucks which could stand up under the strain of strenuous commercial service. The VIM Delivery Truck has a wheelbase that measures 89 inches with a 56 inch tread and wights about 1,575 pounds. The 1918 model was the first year to feature electric lighting.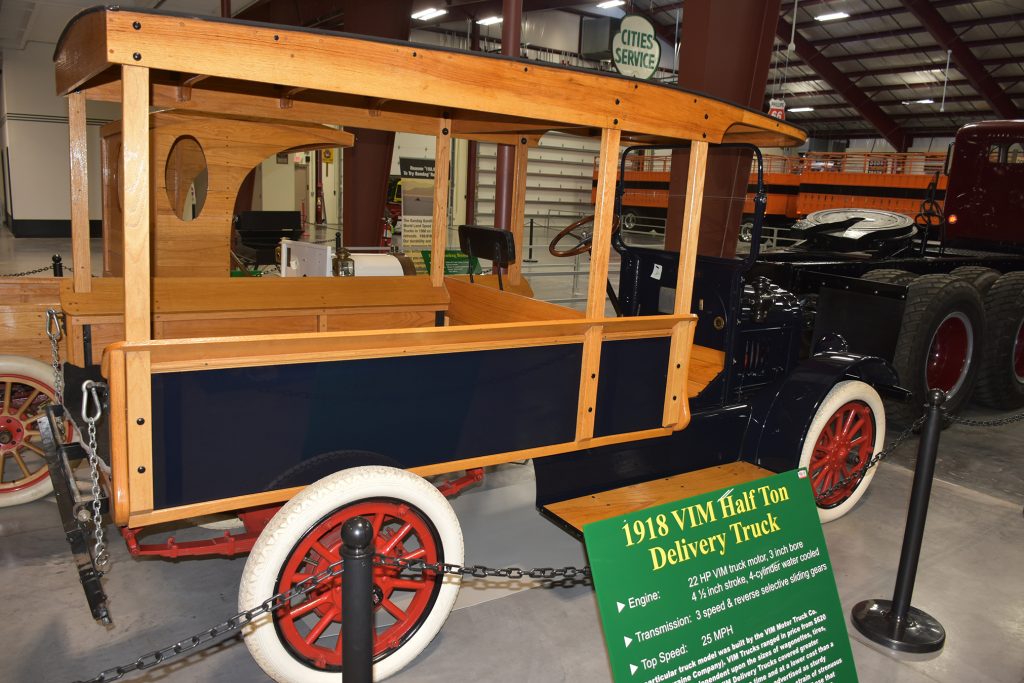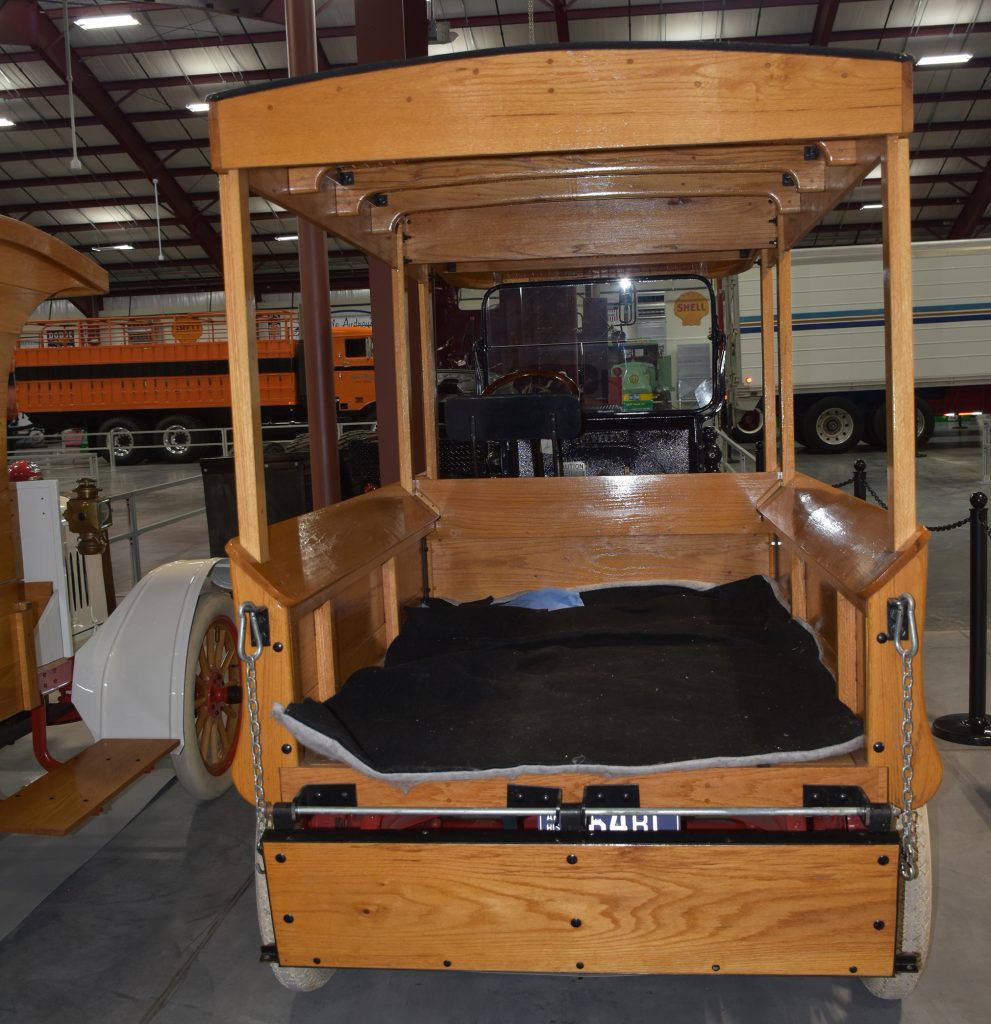 1918 WALKER ELECTRIC
⇒Engine: 3.5 HP, 84v electric motor in rear
⇒Transmission: none
⇒Top Speed: 20 MPH
This is an all-electric truck and the electric engine is the rear axle. The truck is believed to have been used by Edison Electric Service. There is a winch inside the box which was used to erect utility poles. It is a line truck that was likely used in a city during the World War I time frame. One of the downfalls of an electric vehicle is the weight of the batteries. With an electric vehicle, the faster the speed, the faster the batteries are used up. A driver would always need to be cognizant of their charge so they did not run out of battery.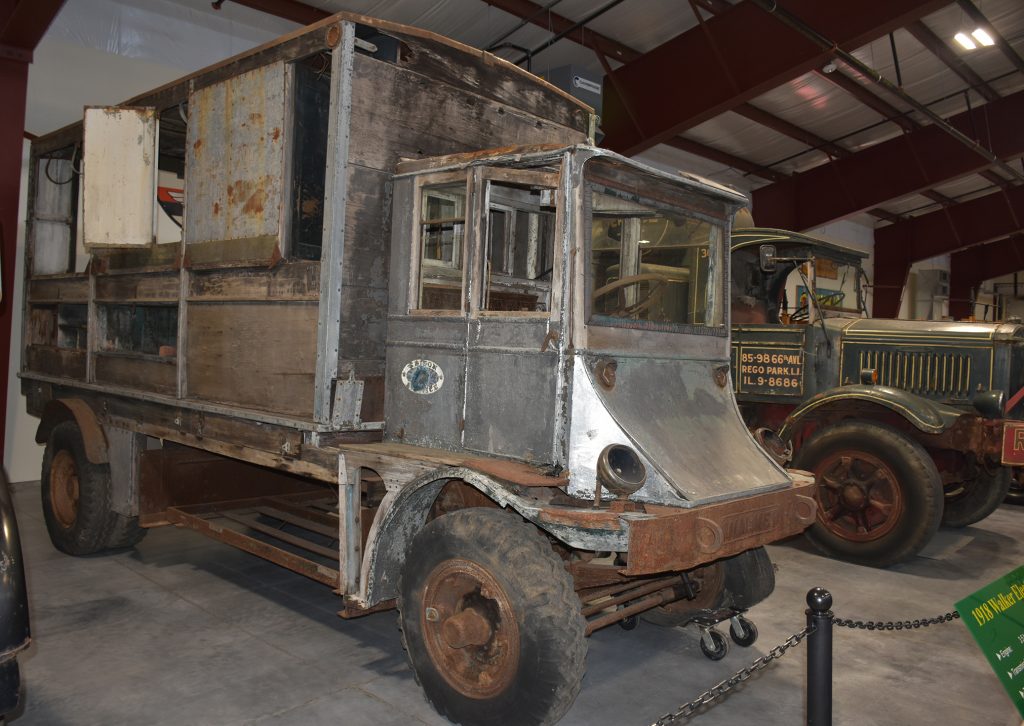 1919 FORD MODEL TT
(1 TON)
⇒Engine: 4 cylinder, 20HP, electric starter
⇒Transmission: Planetary 2-speed with 3-speed aux.
⇒Top Speed: 25MPH
In In 1917, Henry Ford built his first TT model truck. The front end was the same as the Model T car. From the transmission back it had a heavier rear spring mounted crossways over the rear axle and heavier rear wheels. For six years this model was sold as a chassis only. This particular truck is an example of an after-market bolt on cab and body. The current owner purchased it from a construction worker in 1964. The truck then resided in a machine shed in Apple Valley, Minnesota for 40 years. Restoration took place over the course of four years and was completed in 2008. This truck is on loan from John & Elaine Fischer of Hasting, Minnesota.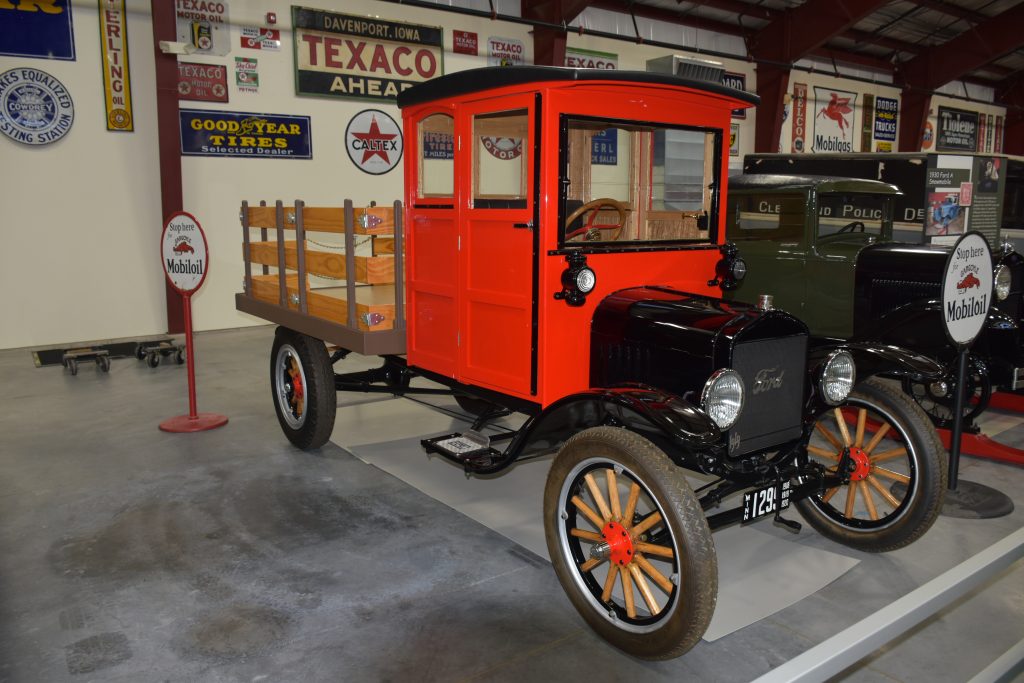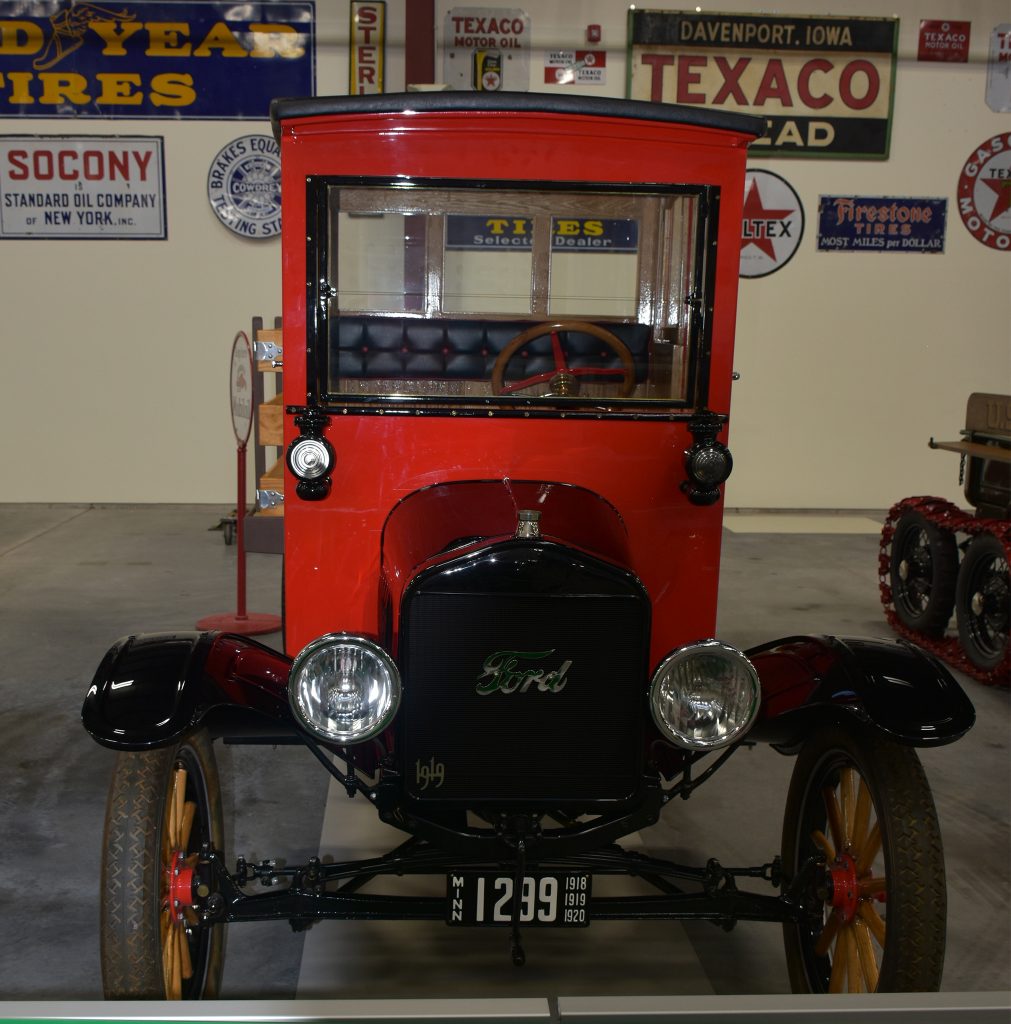 1919 PIERCE-ARROW X-3
⇒Engine: 4 Cylinder Pierce Arrow
⇒Transmission: 4 Speed
⇒ Top Speed: 20 MPH
Pierce-Arrow was well known for production of luxury cars when they brought their first trucks to market in 1912. While the Pierce-Arrow truck was not as luxurious as their cars, the company's trucks were made with careful engineering, using high quality materials to create a well-built truck that performed well and lasted under heavy use. This model uses solid rubber tires in its design, along with a wooden cab, steel dump body, and a hydraulic lift mechanism to raise and lower the bed. Due to the high quality of engineering and materials, Pierce-Arrow was able to market their 1919 truck as being the "cheapest truck to buy" despite its $4,500 price tag-claiming a lower cost due to the lack of operating and repair coast, and low maintenance requirements for proper upkeep of their trucks.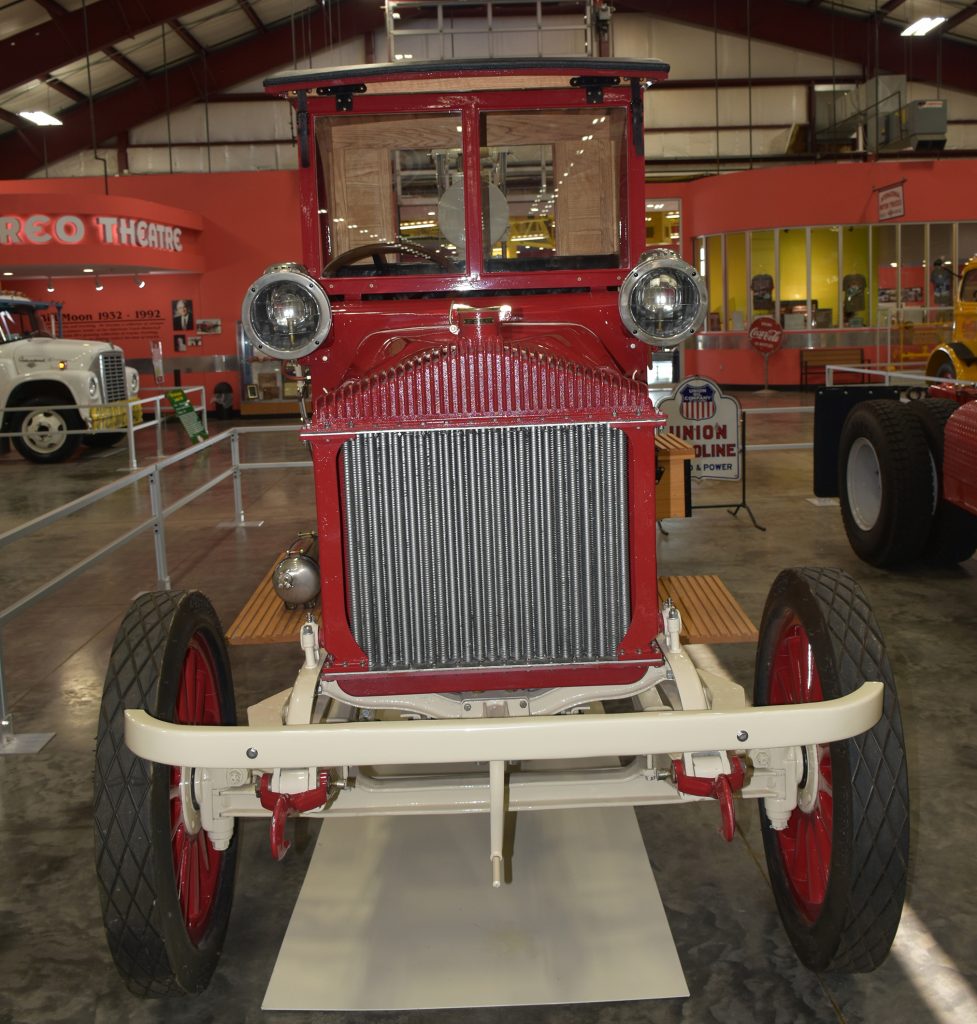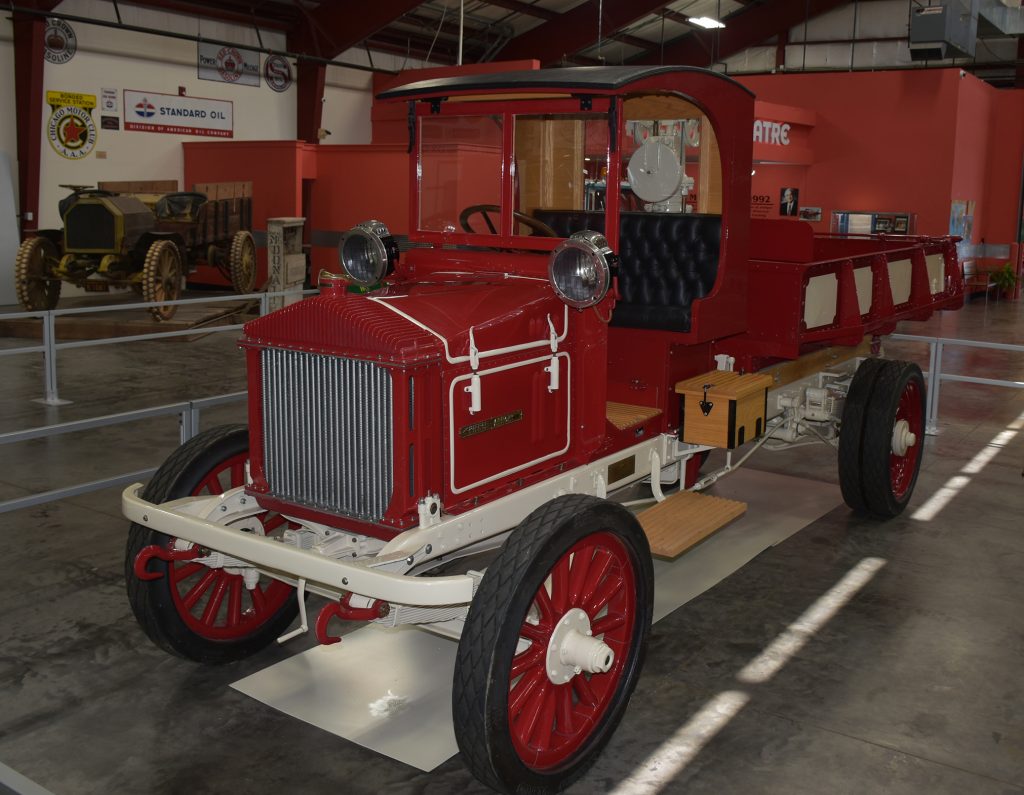 1919
INTERNATIONAL HARVESTER F 1 TON
⇒ International 201 cu. in. 4-cylinder "L " head engine
⇒ International 3-speed sliding gear transmission
⇒ Top speed – 17 MPH at 1275 RPM
Made for only five years from 1915 to 1920. a brand new F 1 Ton cost $1,500. This model is equipped with a magneto ignition that was very common for trucks of that era. The IH F 1 ton truck was the first truck to climb Pike's Peak. This particular1 Ton was the first truck purchased by Bill Moon. In 1919, 1,591 of these were manufactured. In 1921, this model was renamed Model 31.