THIS PAGE IS BEING CONSTRUCTED.
Great Cars For 50 Years.
1952 Nash Metopolitan Model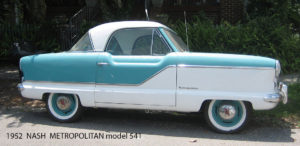 541
AMC, GONE BUT REMEMBERED
This year (1988) we saw another auto manufacturer disappear from the list of auto independence. American Motors was purchased by Chrysler Corporation. Chrysler kept two Marques, the famous Jeep and Eagle. American Motors was the decendant of Nah Motors. Charles W. Nash, a former president of General Motors, in 1916 purchased the Thomas B. Jeffery Company of Kenosha, Wisconsin. Jeffery had first built the Rambler in 1902.

Above picture is of the 1952 Nash, so add another 35 years which would make it 85 years for this company. This company was around for many years, and many Marques have come from their factory. The first being "Rambler" which name Jeffery retained from his bikes which He manufactured. He also became well known for his invention of the clincher tire. When Nash took over, he had the cars named for himself.

Farewell to AMC




AMC started life at the turn of the century producing cars by Thomas Jeffery under the Rambler name. In 1916 the company was sold to Charles Nash, who resigned as president of General motors to produce cars under his own name. In 1954, Nash merged with Hudson to form American Motors Corp., which continued to produce cars until the buyout of Chrysler ended the AMC nameplate in 1987

.